April 25, 2011 -
Andrew Brandt
New world order: Draft before Free Agency
For the first time since the advent of free agency in the NFL in 1993, the sequence of roster-assembling exercises for NFL teams will be reversed. With the lockout allowing for no other NFL business other than the drafting of college talent this week, we have missed the normal window for the opening bell for teams to sign free agents. Free agency will not commence this year until, well, who-knows-when. What we do know is that it will come after the Draft.
With the order reversed, it will be interesting to see how teams operate in building out their roster from where it was left at the end of the 2010 season. I have talked to general managers and personnel directors over the years that relished the idea of having the Draft prior to free agency. Well, their wish has been granted.
Free agency: a quick fix
I have always looked at free agency as the price that teams pay for not drafting well. Usually, the reason a team is overspending with veteran players from other teams is that they have missed on a relatively high draft pick at the same position.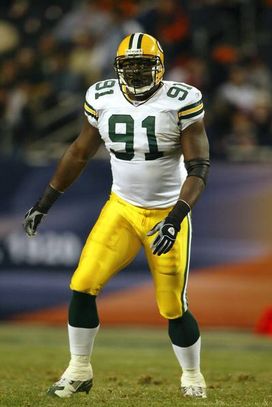 ICONJohnson's overpriced free agent signing compounded a draft mistake.
In my nine years in Green Bay, we signed two major free agents. In 2002 we inked Pro Bowl defensive lineman Joe Johnson from the Saints. Overspending on Johnson was the price we paid for swinging and missing on a defensive end, Jamal Reynolds, the 10th pick in the 2001 Draft. And in 2006 we signed Charles Woodson after failures in drafting cornerbacks in the first and third rounds in 2004 (Ahmad Carroll and Joey Thomas, respectively).
As I have often said, free agency in football is far riskier than in baseball and basketball. Football is all about schemes, styles, 3-4 defenses, 4-3 defenses, press coverage, West Coast offenses, etc. It is not a seamless transition as in other sports where, for instance in baseball, players pitch, bat and catch similarly as they would on any team.
Another fact about free agency in the NFL (and other sports): usually the reason the veteran free agent is on the market is that his incumbent team did not want him anymore. I always worried about free agents that were not being pursued by their former teams.
Free agency in the NFL is a quick fix of a part of the team that is broken. Unfortunately, in many cases, it is an expensive band-aid at best.
Draft a long-term plan
In direct contrast to free agency, the Draft represents a long-term play. Draft choices are brought in to serve as the infrastructure to the team, young players ascending behind the team's established stars until they – hopefully -- grow to that role themselves.
Of course, there are draft picks that become productive right away and move to the top of the team's star base. The optimal model, however, is for the team to have patience with the plan to have players in the pipeline ready to step up when needed, whether sooner or later.
Despite the noise about rookie contracts and how much top picks have made, the vast majority of players in rookie contracts represent relatively cheap and affordable costs. These players balance out the high cash and Cap charges of established players and provide a fixed and reasonable labor cost to teams. In fighting about rookie salaries, the NFL should be careful what it wishes for.
New timing
It will be interesting to see if teams continue to look at the Draft as a long-term proposition without free agency preceding it. There will be teams where long-term planning is pushed aside to address short-term needs without having had the opportunity to address them in free agency.
There will be other teams where the lack of free agency will not have an effect on the longstanding philosophy of drafting the best player available, regardless of need.
Free agency closer to free
My sense is that whenever free agency does open, the spending levels will not be great. Of course, it depends on when and how free agency does come about.
In the event the lockout is lifted and, either during or after the appeals process, the NFL is told to open for business, it will likely do so with the 2010 rules. That would mean that six years of service, not four, would be required for free agency. And that would mean a diluted group of players eligible to sign with other teams. And that would mean less spending than in a year with four years required for free agency.
When signing a player, the first question I would always ask is which player on the roster would be pushed off with the signing? With free agency later than the Draft this year, it is unlikely that a free agent signing will push a draft choice off the roster.
Beyond all of that, NFL teams will be inhibited from spending until there is an established CBA. If we thought 2010 was a down year for spending due to labor uncertainty, imagine if business opens up in 2011 while the Players are still suing the Owners? Free agents can brace for a tough time.
Welcome to the new reality of the NFL offseason in Courtroom football...
Follow me on Twitter at adbrandt.