January 03, 2012 -
Andrew Brandt
New Year, New Questions
Entering 2012, little is known for sure as to what is ahead for the business of football (except that we will not have a lockout). With so many questions coming in over the holiday season, let's start the New Year with some answers to the four areas for which I have received the most questions: the Cap, the Colts, Santonio Holmes and Matt Flynn:
Cap control
Why so few contract extensions at the end of the year?
Not sure, although certainly not for lack of Cap room. NFL teams collectively had more than $300 million</strong> of unused Cap room when the 2011 books closed Saturday.
What happens to all that unspent Cap room?
The new CBA allows teams to carry forward unused Cap room. Thus, some teams will be bringing over $20 million of 2011 Cap room with them into 2012, adjusting their Cap upwards by that amount.
Don't teams have to spend a minimum amount with this new CBA?
For 2011 and 2012, the minimums are based on league-wide spending. Team minimums do not apply until 2013.
Which teams will have the most Cap room entering into 2012?
Jacksonville, Kansas City and Tampa Bay (Don't let Jack Del Rio, Todd Haley or Raheem Morris read this:)
Colts/Polians/Luck/Manning
Would you take Andrew Luck if you were the Colts?
I would have already turned in the card.
Peyton Manning is the past and perhaps the present in Indianapolis; Andrew Luck can secure their future. The Colts need to evolve.
What did you think of the firing of Bill Polian?
Owner Jim Irsay's decision to part with longtime president Bill Polian and his son Chris has reverberated around the NFL. More than anything, it is Irsay's statement that it is time for a change. Polian's presence had dominated the organization.
Polian has long been respected and admired as an executive in the NFL. He has been a key member of the NFL's Competition Committee and influential with many proposed – and rejected -- rule changes. It is unclear whether he will continue in that role, but I would expect him to. And I would expect the Colts to choose someone with a different style of management.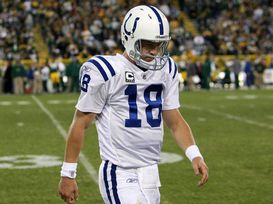 Circumstances may dictate the Colts' moving on from Manning.
What about Peyton's contract?
Manning and agent Tom Condon leveraged a contract that forces the Colts to decide on Manning before the start of the 2012 League Year.
You mean they can't trade Peyton?
No. Manning is due a $28 million option bonus due five days prior to the start of the 2012 League Year, on March 8th. The start of the 2012 League Year and trading is March 13th. Thus, the Colts have to either pay Manning $28 million – which means they will keep him for the foreseeable future – or not pay him, which means he will become a free agent available to sign with any team.
Could the Colts carry both Manning and Luck?
In 2012, Manning will cost $35.4 million -- the $28 million option bonus plus $7.4 million salary. Luck, although limited to about $23 million over four years, will get a signing bonus and salary of around $15.4 million. Thus, to carry both, in 2012 along, would cost close to $51 million. It is Jim Irsay's money and he can do as he wish, but that seems unwieldy.
Wouldn't the Colts renegotiate to try to push the option date back?
They can try, but it is hard to see the incentive that Manning would have to do so, as he would like his situation resolved as soon as possible. The only reason Manning may do so is to facilitate a trade or to take less money to accomodate another situation such as Luck. Both seem unlikely.
So what would you think you the Colts do?
Emotion will run high with Jim Irsay here in leaning to keep Manning, but it may make more sense to move on. Saying goodbye to the face of the franchise is difficult, but the confluence of (1) having the top pick in the Draft with a special quarterback available, (2) Manning's uncertain health -- he has now had three neck surgeries -- and (3) Manning's burdensome contract may all conspire to make a change.
Here's a thought: maybe the new president/general manager of the Colts is Peyton Manning.....