August 31, 2010 -
Andrew Brandt
No money down: Broncos bucking
With the NFL operating without a Salary Cap for the first time since 1993, there were rules in place to offset the expected bounce in player spending (which never happened). The most impactful rule, in my opinion, changed the number of years required for unrestricted free agency from four to six, taking 212 players off the market and saving teams tens of millions of dollars in player spending.
The Broncos entered free agency with five of their prime players in this limbo restricted free agent (RFA) group. Now all five have been addressed without any money spent in 2010 beyond their initial RFA valuation in March.
The traded
Keeping talented yet discontented Brandon Marshall under his RFA tender would have certainly caused him to ratchet up the volume on his unhappiness with his contract and Josh McDaniels. The April trade to the Dolphins eliminated any further obligation to Marshall. Also traded was tight end Tony Scheffler, a player the Broncos had been shopping for two years.
The long-term extended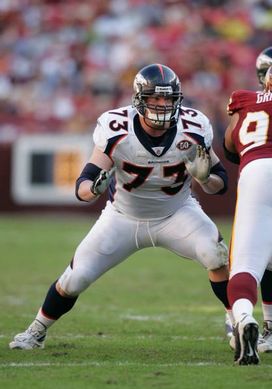 ICONKuper got a $25 million extension with no new money in 2010.
Chris Kuper, the Broncos' right guard, signed an extension worth $25 million in new money, with $13.25 million guaranteed.
Game-changing pass rusher Elvis Dumervil signed a record-setting $61 million contract with a $43 million "rolling guarantee" that triggers in February.
The Broncos will pay no new 2010 money to Kuper of Dumervil beyond their RFA tender valuations of $2.521 million.
The short-term extended
Starting quarterback Kyle Orton agreed to a one-year extension adding $9 million to his existing contract for the 2011 season. As with Dumervil, there is no new money in 2010 and Orton continues to play under his $2.6 million RFA tender valuation.
The Broncos did not spend one penny more in 2010 on these five talented players than they were scheduled to spend on March 4 when they applied the tenders, actually saving $2.5 million and $1.177 million that were applied to Marshall and Scheffler before trading those tenders to other teams.
For a team with cash issues, the Broncos handled them adroitly in this unique 2010. In the midst of the NFL declaring to the union that player costs have spiraled away from them, the Broncos may be an example for both sides to use in how they operated in 2010.
Follow me on Twitter at adbrandt.
Click here to purchase the Total Access Pass / Fantasy Draft Guide from the NFP and win a free jersey from Aaron Rodgers, Greg Jennings, Phillip Rivers, Ray Rice or many more!