July 27, 2011 -
Barry Dorey
Notes on the quarterback carousel
Some notes as we hit the true business of football, after months of the labor of football. Keep in mind: nothing – except for rookie contracts, both drafted and undrafted – can become official until Friday night. But the deals are starting to fly in. Here are some initial thoughts on the quarterback carousel:
1. The Tennessee Titans may have improved the most of anyone in one transaction (with another transaction, the release of Vince Young, to come). I am admittedly biased as his former agent, neighbor in Green Bay, and close friend, but Matthew Hasselbeck is a gem of a player and person. He will step in and lead that team from Day One, taking Jake Locker -- who he knows well -- under his wing and bringing high character and poise to a team that has had some issues there. Matthew got the "break- up call" from the Seahawks, who want to get younger and rely on a ball-control offense, but the teams looking for a quarterback knew his value. San Francisco and Miami were interested, and they will move on to other options.
2. Speaking of the Seahawks, their landing of Tavaris Jackson was a bit of a surprise, although he has a fan in former Vikings offensive coordinator Darrell Bevell, now with the Seahawks. Jackson received a two-year $8 million contract with Seattle, a deal very similar to the one given a year ago to Charlie Whitehurst. He will receive a $1.5 million signing bonus, a $500,000 roster bonus and a $2 million salary this year, with another nonguaranteed $4 million next year. Those two will compete for the starting position, with someone like Matt Leinart behind them.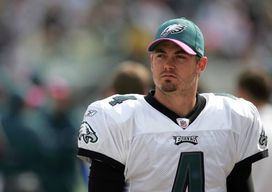 ICONContract negotiation likely at heart of Kolb trade.
3. Though some seem to be wondering about the timing of a potential trade of Kevin Kolb to the Cardinals, there are two deals that need to happen. The Cardinals and Eagles need to work out trade compensation and, I strongly believe, the Cardinals and Kolb need to work out a contract. Kolb does not want to play for his scheduled $1.4 million, although he made over $10 million last year, and the Cardinals don't want to invest a high draft pick for a player than may leave in a few months. It is likely that the contract part of the deal is more the issue than the trade part.
4. The same issue is obviously true of a pending trade between the Vikings and Redskins for Donovan McNabb. McNabb is due a $10 million option bonus in September and has little chance of receiving that – from Washington or Minnesota – as you or I do. That is likely the focus of the discussions now. McNabb – and people around him – are understandably hurt that his market value has dropped so significantly in the last two seasons. It's business, but as I know so well from doing player contracts, it is always personal.
Follow me on Twitter at adbrandt.