August 15, 2011 -
Andrew Brandt
On Guard: Mankins' Millions
The labor dispute between Logan Mankins and the Patriots-- which lasted longer than the labor dispute between the NFL and the NFLPA – is finally resolved.
Two-years of restrictions
In 2010 Mankins was a victim of the uncapped system – a restricted free agent in limbo due to the new free agency requirement of six instead of four years. After some acrimony including feelings that the Patriots might had made some false promises, Mankins reluctantly signed his tender last November and played out the season.
Enter 2011, and Mankins was restricted from total free agency once more, given the Franchise tag designation by the Patriots. Against this backdrop, Mankins joined teammate Tom Brady in Brady v. NFL as one the name plaintiffs in the suit.
Plaintiff perks?
Brady v. NFL – potentially worth billions of dollars – was dismissed and replaced by a new CBA ensuring a decade of labor peace in the NFL. Mankins, quiet during the process, was reported to be asking for special compensation as a name plaintiff to resolve the litigation. Whether he did or not isn't clear, but neither he nor any of the name plaintiffs received it.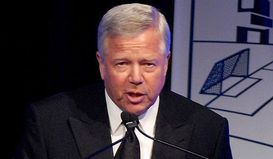 Kraft made Mankins a "Patriot for life."
Once the lockout ended and the 2011 NFL League Year began, Mankins resumed his role as a Franchise tag player scheduled to make $10 million, still hoping for a long-term commitment from the Patriots. It has now come. As owner Robert Kraft hinted at last week, Logan Mankins will be a "Patriot for life", signing a six-year contract (which is a "life" in the NFL).
The deal
Here is the contract that was two years in the making:
Signing Bonus: $20 million
Salaries:
2011: $1.5 million
2012: $3 million
2013: $6 million
2014: $6.5 million
2015: $7 million
2016: $7 million
The contract also has $250,000 offseason workout bonuses in each of the final five years. Thus, the total is $52.25 million over six years, with an APY (Average Per Year) of $8.7 million.
Cash over Cap
The Mankins contract shows how teams can spend significantly more in cash than in Cap. For cash purposes, Mankins is on the ledger for $21.5 million this year (even though there are deferred payments on the signing bonus).
For Cap purposes, as discussed here, signing bonuses are prorated up to a maximum of five years. Thus, Mankins' signing bonus will count $4 million each of the first five years of the contract – the sixth year is not prorated -- including this year. With the salary for 2011 added, this year's Cap charge to the Patriots on Mankins is $5.5 million.
Thus, Mankins' cash charge is $16 million more than his Cap charge in 2011. This illustrates how teams can collectively meet the 99% of Cap cash spending requirement, yet allow individual teams to "free-ride" without any team spending minimum requirements this year (or next).
The market
The guard market has been an interesting one, as many teams "go light" on this position in terms of spending. In Green Bay, we decided to let guards Marco Rivera and Mike Wahle leave rather than pay top of market prices, choosing to allocate our resources to tackles Chad Clifton and Mark Tauscher at the time.
The guard market cracked $7 million APY in 2006 when the Vikings pilfered Steve Hutchinson from the Seahawks with a seven-year, $49 million deal with $16 million guaranteed. And in 2007, the Browns and Cowboys signed Eric Steinbach and Leonard Davis, respectively, to that same seven-year $49 million mark.
In 2008 Alan Faneca and the Jets set a new standard with a four-year, $32 million deal with the Jets (only to release Faneca in 2010 despite still owing him $5.25 million of guaranteed money).
The new market
The market stayed flat until last May when the Saints entered into a seven-year, $56.7 million deal with Jahri Evans. The $8.1 million average surpassed Faneca by $100,000 a year, making Evans the highest paid guard in terms of APY.
Evans-Mankins comparisons
The following are the comparisons in key categories of the two largest guard deals, one in May of last year and one last week (amounts in millions of dollars):
Evans Mankins
APY 8.1 8.7
First-year money 19 21.5
Three-year total 25.6 31
It should be noted, however, that Evans negotiated his contract while scheduled to make $3.17 million. Mankins – in his year of negotiation -- was scheduled to make $10.1 million. Thus, Mankins is receiving almost $7 million less than Evans in "new money" – money that otherwise would not have come to the player.
Mankins – and Evans – have set a new frontier for interior offensive linemen. Yes, guards can get paid too.
And the long-running drama between the New England Patriots and Logan Mankins has ended, much like the long-running drama between the NFL and the NFLPA. Peace has broken out all over the NFL...
Follow me on Twitter at adbrandt.