December 20, 2011 -
Andrew Brandt
On the Firing Line
Black Monday: Part One came last week when Chiefs coach Todd Haley and Dolphins' coach Tony Sparano were terminated – their contracts, not them. And, as if on cue, both teams had inspired performances on Sunday under new and interim-for-now head coaches Romeo Crennel and Todd Bowles.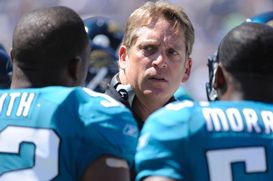 Del Rio was dismissed earlier this season.
The parade of exiled head coaches was not supposed to come until the season's end following New Year's Day but three teams – Jacksonville discarded Jack Del Rio a couple weeks ago – spared their coaches the agony of waiting until that time. In all three cases, there appear to be symptoms underlying the root cause of the problem.
Three Phases in Concert
There are three components of an NFL football operation: (1) player personnel, (2) coaching, and (3) Cap/contracts management. The leader of the operation – the general manager – typically has a background in scouting and player evaluation. In a few cases, the general manager is also the head coach – Andy Reid of the Eagles and Bill Belichick of the Patriots come to mind – with large responsibilities and even larger sway in their organizaations. And, in recent years, there have been an increasing number of general managers from the Cap/contracts background, including Mike Tannenbaum with the Jets, Mickey Loomis with the Saints, and Bruce Allen with the Redskins.
The key to sustained success in the NFL is having buy-in from all three facets, with a singular focus and purpose. For instance, if a team is a "draft and develop" team reflecting a philosophy of the general manager to build from within – as the Packers – the coach and the contracts person (which I was in Green Bay) have to operate with that philosophy front of mind.
The coaching staff must be willing to play young players and suffer through such inexperience. They must accept that they will not be rewarded with quick fixes or insurance policies to plug holes due to injury. "Draft and develop" coaching staffs must trust their scouts and must be willing to endure growing pains on the fly. Similarly, the contract side of the organization must allocate resources to securing core young players for the long-term rather than chasing high-priced players from other teams in free agency.
Potential Discord
Problems arise in organizations – whether football teams or otherwise – when different branches are not working in concert and perhaps even working against each other.
My sense is that all of the coaches recently fired were told – subtly or not so subtly – to give more time to developing certain young players at the expense of established players. And I also sense that the suggestion was not received warmly by the coaches.
With differing views on what is best for the team, things can fester and sides can harden. The general manager grumbles to his scouts that the coaches aren't using players the right way; the head coach whines to his staff that the scouts burden them with lesser talent. Communication becomes shorter and more distant to the point where there may be no communication at all. And as the losses mount, so does the finger-pointing.
This is when changes have to be made. And they were in these situations.
DIfferent Teams, Same Problems
In Jacksonville, general manager Gene Smith received a contract extension on the day Jack Del Rio was fired. Enough said.
In Miami, it appeared that there was no definitive plan. The Dolphins made deep dives into free agency and trades for name-brand players such as Brandon Marshall, Reggie Bush and Karlos Dansby yet appear to lack a solid foundation and a disconnect between scouting and coaching.
In Kansas City, the relationship between general manager Scott Pioli and Haley turned into, as Billy Joel sang, "the cold remains of a passionate start." I remember seeing general manager Scott Pioli and Haley together at the Combine; they seemed inseparable and joined at the hip. Obviously, that changed due to time, losing and different philosophies about the team. I am told that the lack of communication recently between the two was palpable and affecting the rest of the building.
Finding the Fit
When new coaches are interviewed for these positions and more openings to come in a couple of weeks, general managers will be looking for a "fit" that is aligned with their own vision, mission, personality and style of team building. Of course, Pioli initially thought he had that with Haley – but it is not as easy as it sounds.
For now, in Miami and Kansas City there is hope and excitement about a coach that could be that "fit". Time will tell if this week's success is a blip on the radar or something more lasting.
Meanwhile, stay tuned for Black Monday: Part Two coming January 2nd to a town near you.
Follow me on Twitter at adbrandt.