November 03, 2011 -
Andrew Brandt
Paying the Bill
At the season's halfway point, the Buffalo Bills have surprised us in a couple of ways: (1) despite winning only four games last season, they now sit atop the ultra-competitive AFC East at 5-2, and (2) Ralph Wilson, a typically frugal owner in one of the NFL's smallest markets, rewarded quarterback Ryan Fitzpatrick with a hefty new contract extension – a deal that has the potential to become the most exorbitant in Bills history.
Fitzpatrick has played a prominent role in the Bills' newfound success. Due in large part to Fitzpatrick, the Bills rank third in the league in scoring (30 points per game) and tenth in total offense (380 yards a game).
The journey
Fitzpatrick's six-year odyssey from backup benchwarmer to franchise quarterback is inspiring and a true testament to his character.
An alumnus of Harvard, the Stanford of the East (sorry, I'm a former Cardinal), and 2004 Ivy League Player of the Year, I remember Fitzpatrick's pre-draft hype surrounded his rumored perfect Wonderlic score (he left one answer blank). He was selected by the Rams at #250 overall with a handful of picks remaining in the 2005 Draft.
After scant playing time in St. Louis, Fitzpatrick was traded to the Bengals in 2007 in exchange for a seventh round pick. In 2008 he played some for the Bengals after Carson Palmer suffered a season-ending elbow injury. Fitzpatrick then signed as a free agent with the Bills in 2009 and showed enough potential in 2010 to earn the starting role down the stretch. And the Bills showed sufficient confidence in Fitzpatrick to refrain from picking a quarterback in this year's quarterback-laden draft.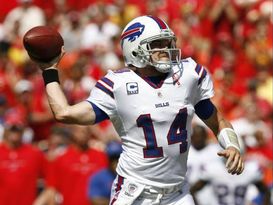 Fitzpatrick was able to negotiate $33 million over the next three years.
The marketplace
Fitzpatrick's new contract fits in line with two comparable ranges: (1) second contracts given to rising stars from a couple years ago, and (2) contracts given to rising players who were acquired in trades after favorable showings in a relatively small sample of games.
Dated second deals
In 2008, after starting seven games, the Packers extended Aaron Rodgers with a six-year $60 million contract, a $10 million average per year (APY) including $20 million guaranteed. The following year, the Bears extended Jay Cutler with a five-year $50 million deal ($10 million APY) including $20 million guaranteed.
Fitzpatrick's deal nets him a larger guarantee than these deals, now three and four years old, respectively, although a slightly smaller APY.
Flashing before a trade
Teams are not shy to give long-term extensions after trading for young quarterbacks who have flashed potential in a relatively small number of games. For example:
In 2007, the Texans traded for Matt Schaub and rewarded him with a six-year $48 million ($8 million APY) deal.
In 2009, the Chiefs acquired Matt Cassel – drafted 20 picks ahead of Fitzpatrick in 2005 – and gave him a six-year $63 million deal ($10.5 million APY), with $28 million guaranteed.
And this year the Cardinals obtained Kevin Kolb and then signed him to a six-year $65 million ($10.8 million APY) deal with $21.5 million guaranteed.
Ryan's riches
Fitzpatrick was scheduled to -- and will still -- make $3.22 million this season as he was in the final year of a three-year $7.4 million contract.
He will now receive a $10 million signing bonus on top of that. And in March, Fitzpatrick will receive a $5 million option bonus. Thus, within the next five months, he will add $15 million to his career earnings, dwarfing what has been already made.
What was important to Fitzpatrick and agent Jimmy Sexton was a three-year APY of $11 million. They were able to achieve that, with $33 million due between now and 2014. In exchange for the three year APY, they were willing give the Bills some less onerous numbers in the later years of the deal, with a total deal of $59 million over six years.
Another goal for the Fitzpatrick camp was to achieve a guarantee of $24 million, which they were successful in doing. In exchange for that, the Bills did not provide any skill guarantees – meaning no money is guaranteed even if Fitzpatrick is not good enough to be on the roster. Beyond the $15 million of signing and option bonuses, the additional $9 million guaranteed are for injury-only guarantees.
Thus, this appears to be a deal that works for both sides. Fitzpatrick receives his preferred three-year average and guarantee, and will collect $15 million over the next few months. The Bills' maintain a precedent of injury-only guarantees and will have reasonable numbers in the "out" years of 2015-17.
Though I dislike the phrase, it's a win-win. Not bad for a Harvard alumnus, which probably puts him in line with earnings of his Crimson peers from the class of 2004…
Follow me on Twitter at adbrandt.