July 13, 2011 -
Barry Dorey
Paying the picks
As we lurch into a bumpy ride to the finish of this two-year negotiation between NFL Owners and Players, one issue represents the same turf that has been battled over previously -- and is being chewed up again -- holding up an agreement that both sides have claimed to want for several months.
Let's look at the continuing drama about rookie salaries:
First round sacrifice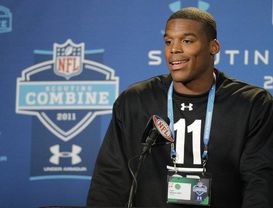 Newton will feel the impact of the new Rookie system.
This dispute is all about the first round; rounds 2-7 are receiving scant attention in this negotiation. Both sides agree that the top picks have made too much; that is the easy part and they will definitely make less in the future in terms of guarantee and total value. As an example, this year's top pick, Cam Newton, may make roughly half of what last year's top pick, Sam Bradford, will make over the first four years of the contract. Over that time frame, Bradford will make $48 million; Newton may receive roughly $22-24 million.
The top pick contracts have clearly embarrassed Owners to the point where they have made this issue a focal point of the overall CBA negotiation.
The 5th year
The bulk of negotiations regarding this issue really come down to the fifth year of the deal for rookies. The Players have wanted -- in exhange for reduced numbers on the deal -- the length to be four years, as buying out a year of free agency is a big concession to them. However, they are agreeable to a fifth year option on these first-round deals, something they resisted for some time. Here are the two positions:
Players: the team would have an option that would make the fifth year a very high level corresponding to top veteran, not rookie, contracts. Picks 1-16 would have a fifth-year option of a Transition-tag formula of the top 10 average salaries at their position; picks 17-32 would have a fifth-year option the top 15-20 average salaries at their position.
Owners: they would like more fixed and lower cost to that fifth year. Picks 1-8 would be optioned at a preset level of roughly $9 million; picks 9-16 would be optioned at preset level of roughly $7 million; and picks 17-32 would be optioned at a preset level equivalent to the average salary at their respective positions.
Obviously, the position most affected by this would be quarterback, with top quarterback average salaries to likely be over $15 million by this time.
One important note: neither proposal requires any money to be guaranteed. Thus, all of this haggling is about a number that will apply, at the earliest, to 2015, and none of the numbers will be guaranteed! The team can always release the player prior to whatever salary number becoming effective.
Also, the reality is that these deals rarely reach the fifth year anyway. If the player is highly productive, the team will usually renegotiate well in advance of the fifth year. If the player is not productive, he will likely be a former player with that team by then.
5th year upside always a challenge
Having negotiated many first-round picks, there is always an argument about the level and thresholds for the escalated 5th year. For example, when negotiating first-round contracts for players such as Aaron Rodgers of the Packers and Jeremy Maclin of the Eagles, 90% of the negotiation was about the fifth-year upside.
With Rodgers, the issue was Brett Favre's retirement. Not knowing when -- or if -- that retirement would happen, it was difficult to establish thresholds for an escalator and when they should kick in. With Maclin, his agents pressed that while the Eagles were a pass-happy team, they tended to spread the wealth among many receivers and a standard wide receiver escalator would not have been fair. We spent countless hours on those issues.
Now the issue of the fifth-year number is playing out on a macro scale as one of, if not the only sticking point left prior to resolution.
Isolated issue
To me, this issue has always been a curious one. Having done over 100 rookie contracts, I always felt these players represented the best value that teams have. Except for a handful of players per year who leverage weighty bonuses and all-too-easy escalators and guarantees, rookie contracts have always been a fixed and reasonable player cost, balancing out what is needed to compensate the star veteran players on the roster.
In Green Bay, I knew that Pro Bowl players such as Greg Jennings and Nick Collins in their third or fourth years making around $500,000 were an enormous value for the team.
Simplification necessary
The one area of first-round contracts that is broken are the endless restrictions from the Rookie Pool that make these contracts tomes. Due to the limits on the amount of the overall Cap allowed to be spent on rookies in their first year, much of the money had to be tied to NLTBE (Not Likely To Be Earned) incentives that kept the money from hitting the Cap initially and preserved the Rookie Pool.
For example, much of the top pick money comes only if the team improves in one of several statistical categories, categories picked to give the player the best chance to make the money. Further, top picks would get a "second Rookie Pool" with second-year option bonuses and "one-time incentives" -- more ways of funneling money that was "functionally guaranteed" though not guaranteed at the moment of signing.
This is how these contracts became paperweights. Every word or phrase is parsed by the NFL Management Council with most kicked back to teams for revisions. In 2006, I remember doing the deal for the fifth pick in the Draft, AJ Hawk, and writing a 33 page contract that seemed to never end.
Front offices and agents will think this lengthy negotiation is well worth it in the event these rookie contracts are simplified and shortened.
It sounds hard to believe, but this "rookie pay" issue is one of only a couple issues holding up resolution....for now. Stay tuned.
Follow me on Twitter at adbrandt.