November 22, 2011 -
Barry Dorey
Peyton or not, Colts need some Luck
What a strange focus we have had this year in the NFL. Barely a few games into the season, there was less attention paid to the best team – the Packers – than given to the the team that could end up as the worst. The reason, of course, is that the discussion revolves around a player thought to be a once-in-a-generation player: Andrew Luck.
Game-changer
I must first disclose some bias here. I am a Stanford alumnus, having attended during the time of another can't-miss quarterback, John Elway. I also was general manager of the Barcelona Dragons in the NFL's World League with a colleague in the same position with the Frankfurt Galaxy: Andrew's father, Oliver Luck. And, of course, I like Andrew's name.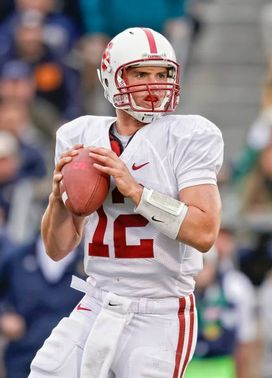 ICONLuck will bring good fortune to the Colts.
Disclaimers aside, from talking to NFL scouting directors, Luck grades out as someone that can change the fortunes of an NFL franchise. On the field, he has excellent football intelligence, mobility, arm strength, superior mechanics, presence, etc. Off the field he is a humble and respectful teammate while succeeding in a rigorous academic curriculum. A friend at Stanford told me Luck is completely without pretense and fits in seamlessly with his peers.
In watching Luck I am reminded of a player that I was around for three years, Aaron Rodgers (even though Aaron attended archrival Cal!). They both appear to be singular talents with natural leadership skills, off-the-charts intelligence, and an innate ability to tune out the extraneous noise and focus on what is important.
A Different Kid
College players with remaining eligibility – which Luck will still have – must declare for the NFL Draft in January. Luck is presumed to be entering.
However, we are not dealing with your average college football player. Luck has lived overseas and now lives in one of the more idyllic places in the country. Last year, he chose Stanford and Palo Alto over the Panthers and Charlotte. Might he again choose Stanford and Palo Alto over the Colts and Indianapolis? Do not be shocked if he does.
Unprecedented Value
Luck's can't-miss ability coincides with a sea change in rookie compensation in the NFL that makes the right to draft him even more valuable than ever.
In 2010, Sam Bradford received a contract that will pay him $48 million in the first four years of his career. In 2011, Cam Newton received a contract that will pay him $22 million in the first four years of his career. In 2012, Andrew Luck (if he turns pro) will receive a contract that will pay him $24 million in the first four years of his career, still roughly half of the cost of Bradford's.
The uniqueness of Luck combined with his discounted cost creates the perfect storm of value for the team with the worst record this season. Leading to…