March 20, 2012 -
Andrew Brandt
Peyton picks his place
In the story of the 2012 offseason, the Peyton Predicament is coming to a conclusion. Manning has agreed to join the Denver Broncos, setting in motion movement to come for Tim Tebow. Here are ten thoughts on Peyton's soft landing in Denver after his turbulent exit from Indianapolis:
1. It is not always the case, but in this situation, the first visit mattered. Just as it was telling when Mario Williams began free agency with a visit to Buffalo, there was a reason that Manning took his first trip to Denver. Of the dozen teams contacting Manning following his release from the Colts, he chose the Broncos as his first meeting. And they were also the last, watching him throw at Duke on Friday. First in, last out was telling in this case.
2. My sense is John Elway was a major factor for a couple of reasons. First, he may be the only team executive with the experience and gravitas that Manning can say "I want to hear what this guy has to tell me." In other cases, Manning would have respect for his bosses, but not respect borne of someone who has been through similar experiences and more. I also think that a laid-back defensive coach in John Fox was a plus to Manning. Fox will not get in Manning's way.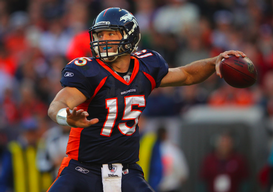 Fox and Elway liked Tebow, but craved Manning.
3. As to Elway and Fox's comments about Tebow during his extraordinary run this year, what else could they say? They couldn't state "We are happy with Tim, unless someone like Peyton Manning comes along!" Not only was Tebow taking the country by storm but he was their quarterback for the foreseeable future. My sense is that Elway and Fox had to know there was a strong possibility that Manning would be released, as the contract was set up for his release with the Colts careening towards Andrew Luck.
4. As to Denver having an advantage over other teams with Cap room, that may have helped but I don't think it was a major factor. Believe me: Cap room or not, the 49ers, Titans, and other teams would have done what was necessary to sign Manning.
5. Speaking of finances, I found it interesting that Peyton's decision was made in advance of instructing his agent Tom Condon to negotiate a contract. Of course, my sense is that the parameters of the deal -- reportedly five years for $95 million -- were in place from all finalist-teams prior to making a choice. Although detailed negotiations did not commence, these teams were "pre-qualified" to be finalists.
6. The contract price would not have been a surprise to anyone here. As I noted here, this was never going to be an "incentive-laden contract." It will be interesting to see the structure of the deal in terms of risk allocation: How are the Broncos protected if Peyton is compromised and cannot play? How much is completely guaranteed? How much in the early years of the deal? And how much upside potential is there if he becomes the Peyton Manning of old?
7. Athletes are known to say that "It's not about the money," which usually means "It's all about the money". Here, however, it truly may not be about the money. Manning had several teams prepared to make a serious contract offer, four neck surgeries and all. Indeed, Titans' owner Bud Adams said he was willing to "do what it takes" to sign Manning, words that surely made the Titans front office quiver. In the end, however, Manning did not leverage that statement to get a mega-contract from the Titans.
8. Interestingly, the person negotiating the contract for the Broncos is Mike Sullivan, the former agent at Octagon who certainly knows what players look for in contracts. Mike and I negotiated Aaron Rodgers' first contract together, and I am proud he is following in my footsteps from the agent to the team side.
9. As I have said before, the impact of Luck cannot be overestimated. If the Colts did not have a grooved path to Luck, they would have had to pay Manning his $28 million option bonus and he would have been their quarterback. Can you imagine the Colts with, say, the 3rd pick in the Draft cutting Peyton Manning to take an offensive lineman? No chance. Had the Colts won one more game, Manning would still be in Indianapolis and Tebow would be the Broncos quarterback for the foreseeable future.
10. Speaking of the Colts, it will soon sink in with their fans that they will get nothing in return for the loss of Peyton. No draft picks and no compensatory draft picks. They released Peyton Manning, entitling them to no compensation. That is sad for those fans.
The chase is over; the press conference is set. Colts out, Broncos in. The business of football continues.
Follow me on Twitter at adbrandt.