February 21, 2012 -
Andrew Brandt
Peyton Predicament: Part 4
Here are the Peyton Predicament previous entries Part 1, Part 2 and Part 3.
As the NFL world once again descends on Indianapolis, the epicenter of the biggest offseason decision in the league, this is just getting weird. Colts owner, rock paraphernalia collector and tweet maven Jim Irsay has turned the decision on whether Peyton Manning stays with the Colts into its own reality show/soap opera. Unfortunately for Irsay, he is not the party with leverage in this negotiation.
The latest
We are now smack in the middle of a one-month window where Irsay must either exercise the option on Manning's contract or release him into the open market. As I have written, the Colts cannot simply let the March 8th date pass (they would still owe him $28 million). They must exercise the option or release him.
All indications have been that the Colts would move on: Irsay first spun a potential split and advised the team's new coach and general manager to avoid the topic like the plague.
Now, Irsay is publicly floating the notion of trying to work something out with his iconic star if, and only if, Manning would accept a lesser contract reflecting his compromised physical condition. Hmmmm.
The spin
In following this saga, I am reminded of the spin between the NFL and the NFL Players Association exactly one year ago.
When the lockout appeared inevitable, there was posturing by both sides to win the hearts and minds of football fans. The NFL insisted the NFLPA only wanted to decertify and head to court instead of negotiating to resolve the dispute. The NFLPA asserted – through "Let Us Play" campaigns – that it was the NFL, not them, killing football. Both sides pointed fingers and screamed, "It's their fault!"
Here, Irsay and Manning have been similarly strategic. Irsay tweeted that he didn't mind paying Manning $26 million last year, a passive-aggressive move in light of the next approaching payout of $28 million. He has called Manning a "politician" and talked about keeping things "in-house" while politically using the media to take things public.
Manning made sure news was disseminated that he is medically cleared by renowned doctors to resume playing football. With that, he shifted the focus back to the Colts and Irsay, who was quietly hoping that Manning would retire and take some role with the team.
All of this spinning is fine, but …
The contract
The contract was negotiated for the Colts to decide to (1) have Manning on a one- year deal, the year he just completed for $26.4 million, or (2) have Manning on a five-year deal for $90 million, with $35.4 million due in 2012. The choice is theirs.
The Colts made this deal with Manning following multiple surgeries and after allowing his previous contract to expire. They also had no backup plan for Manning, hastily rustling up Kerry Collins from the couch with $4 million to play for them.
As to whether Manning would renegotiate either the date of the option or the terms of the contract, the Colts can certainly ask. And Manning can certainly say "no."
What's next?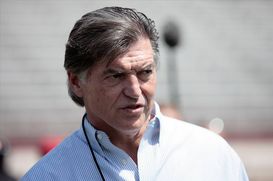 ICONCondon will bargain hard against a reduced contract.
If, as Irsay suggests, the Colts are actually negotiating with agent Tom Condon, my sense is they would be focusing on the reduction of the guaranteed money – $28 million – due to Manning as a result of his compromised physical condition.
For Manning to accept this type of deal, however, the Colts would have to provide enough upside to Manning in exchange for their reduced risk. For example, were the Colts to reduce the guaranteed portion from $28 million to, say, $20 million, Condon may require them to provide twice the amount of the reduction – $16 million – in upside potential performance incentives.
In this scenario, Manning would be able to make $36 million – a $20 million option bonus plus $16 million of incentives -- plus his $7.4 million salary for a total of $43.4 million. And, due to the fact that Manning did not play last season, these incentives would be NLTBE (not likely to be earned) and would not count against the Salary Cap until after the 2012 season.
As to moving the date back, again, it serves Manning little to no purpose to allow the Colts more time, and Manning wants to know their decision as soon as possible. Having said that, everything is negotiable. The Colts can try to "buy time" by paying Manning to move the date back.
Manning's options
My sense is Manning will have several teams interested despite his recent medical issues. And those options may include the Redskins and Dolphins, two teams with ownership history showing a willingness to pay a premium for name brands.
Options create leverage, and leverage creates large guaranteed contracts. Will that guarantee exceed the $28 million Manning is schedule to make? That's a good question, but my sense is it would be close.
To the future
My continuing belief is that the Colts and Manning will part. The Colts know Andrew Luck is their future; moving on with him is a reasonable and understandable business decision. Organizations need to evolve.
Irsay just needs to tell Manning that. It would be a difficult and uncomfortable conversation, but all parties would eventually be better for it.
Before we get to that, however, I am sure there is much more ahead to "As the Manning Turns". Part 5 of this series is inevitable.
Follow me on Twitter at adbrandt.