August 24, 2011 -
Barry Dorey
Pryor Restraint
Terrelle Pryor is an Oakland Raider…sort of. Pryor was drafted in the third round of the NFL's Supplemental Draft on Monday and is signing a contract with the team at any moment. The only problem, of course, is the small matter of a five-game NFL suspension, part of the NFL's decision to allow Pryor eligibility into Monday's Supplemental Draft.
There are a few things going on here: (1) the NFL's prominent and important relationship with college football; (2) the precedent of this ruling – or lack thereof; (3) the extent of Commissioner discipline to incoming players; and (4) the mechanics of an appeal by Pryor amidst conflicting reports as to whether or not he will appeal. Let's examine...
The Supplemental Draft
This ugly stepsister of the "real" Draft (the April Draft) has always lurked in the shadows, with few knowing much about these players and their circumstances. In a nutshell, the Supplemental Draft (SD) is for players whose circumstances have changed subsequent to the January eligibility deadline for the April Draft.
Players thus come into the SD with all kinds of extenuating circumstances, some nobler than others. Another player in Monday's SD – Caleb King of Georgia, who signed with the Vikings – was declared academically ineligible, meaning he flunked out of college yet was allowed entry without restriction. Pryor, who continued to take improper benefits from a booster which knowingly endangered his ability to continue to play at Ohio State, declared his intention to play professionally and hired an agent. These actions are considered much more detrimental -- in the eyes of the NFL -- than flunking out of college.
NFL Rationale
I understand and respect what the NFL is trying to do here, to: (1) preserve and protect their relationship with the NCAA, a relationship that has served them extremely well; and (2) prevent a player from "sabotaging" his eligibility to gain entry into the NFL. The NFL is worried about the specter of players getting kicked off college teams, signing with agents, and requesting draft eligibility subsequent to the January deadline for the April Draft.
NCAA Relationship
Coincidentally – or perhaps not so – the Pryor suspension follows the revelation of sordid details at the University of Miami with one booster over the last decade. Yahoo peeled away vestiges of the remaining innocence of big-time college athletics in showing its underbelly. The NFL knows it cannot do anything retroactively to punish the players now gone from Miami, but the Pryor case can serve as a "we got your back" from the NFL to the NCAA.
Of ocurse, the NCAA provides the NFL a feeder system for its $9 billion business. While other leagues develop their players through professional minor leagues, the overwhelming majority of NFL players come directly from the amateur NCAA system. The NFL must nurture that relationship however it can.
The question becomes whether Pryor is a sacrificial lamb towards that greater goal.
Commissioner Discipline
Normally, NFL teams research a player's background to discover any lurking issues that could affect his performance going forward. Teams have hot had to worry about an incoming player being suspended for conduct in college that ran afoul of the player's college or NCAA violations.
With the Pryor ruling, the Commissioner has entered this tricky sphere of discipline based on pre-employment actions by the player. Now, not only has the NFL – through collective bargaining – reduced the earning capacity of incoming players, it has them on notice for pre-entry discipline.
The NFL would like to distinguish the Pryor case as unique but that will be difficult. In the rash of allegations against University of Miami players, will University of Miami players -- and others who received improper benefits that enter the 2012 Draft -- April or Supplemental -- face NFL discipline? That is a question already being asked by NFL teams as they begin their scouting process.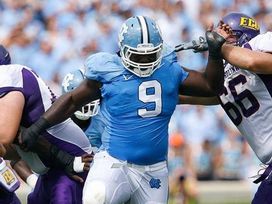 Austin was kicked off UNC and signed with an agent but allowed in April Draft.
It is also not clear that if Pryor had the same conduct prior to the January deadline for eligibility in the April Draft whether his actions would have carried a suspension. Based on the situation of players such as Reggie Bush and 2011 second-round draft pick Marvin Austin – kicked off the University of North Carolina team and signed with an agent last fall – it appears that Pryor would not have had an incoming suspension.
Whither the NFLPA?
Agent Drew Rosenhaus and attorney David Cornwell have been representing Pryor, but curiously absent from comment about his situation has been the NFL Players Association.
Pryor has until three days after signing his Raiders contract to appeal his five-game suspension to the Commissioner. There have been conflicting reports on whether he will actually appeal, with the latest comment from Rosenhaus that he will not. Under new rules of the recently-negotiated CBA, Pryor must consent to the NFLPA appealing his case, the language stating: ". . . the player affected thereby, or the NFLPA with the player's approval, may appeal in writing to the Commissioner."
One would think Pryor would appeal. Why would he not? Yes, he could have not been allowed into the SD at all, although that would have perhaps caused legal action from Pryor. And yes, he is allowed to be around the Raiders facility, unlike players serving suspensions for substance abuse. And yes, the Raiders are a renegade franchise that may test the boundaries of what Pryor can do in the first five weeks of the season.
However, by not appealing, Pryor will forego five weeks of badly needed practice reps and forfeit $110,000 of his $375,000 salary for 2011. That certainly seems worth an appeal that could forge a settlement to allow Pryor to practice and perhaps shave off $25,000-$50,000 of lost wages.
For his individual circumstances and perhaps those of countless college players behind him, it would seem that Pryor could stake a claim here and appeal. I understand that Pryor is thankful to be allowed into the NFL at all. However, Pryor and Rosenhaus may be falling on their sword here for something bigger than them.
Follow me on Twitter at adbrandt.