March 01, 2012 -
Andrew Brandt
Receiver Roulette: Part 2
My first installment dissecting elite free agent wide receivers is here.
There is a surplus of talent at the wide receiver position in the free agent pool this offseason. Beyond the five players discussed in the first installment, six other notable receivers – Mike Wallace, Stevie Johnson, Reggie Wayne, Pierre Garcon, Mario Manningham, and Robert Meachem – may be available when the bell rings for free agency on March 13th. Let's examine:
Mike Wallace
Wallace is a Restricted Free Agent (RFA), so the Steelers have two options: (1) tender the highest qualifying offer – about $2.75 million – giving them the right to match any offer sheet Wallace receives, or (2) apply the Franchise Tag (Tag) to hold Wallace's rights for an amount north of $9.4 million. Despite mortgaging $26 million of players' contracts to stay afloat amidst their severe Cap issues, the Steelers are still highly leveraged and probably cannot afford to tag Wallace. Thus, the likely course is an RFA tender while the team holds it collective breath.
A quiet win for players in the recent Collective Bargaining Agreement (CBA) negotiations was a decrease in the maximum RFA tender available. The "super tender" of first and third round picks – the highest tender in the previous CBA – was eliminated, making it less prohibitive for other teams to poach RFAs.
Teams in need of a receiver drafting at the back end of the first round – Chicago (19), Cleveland (22), Baltimore (28) or San Francisco (30), among others – could possibly make a play for Wallace. Many have asked about the Patriots making a run at Wallace, having picks 27 and 31. I don't see it due to (1) greater needs on defense; (2) an organizational philosophy to not reward other teams' free agents at that level; and (3) the standard operating procedure of Bill Belichick is to use low first-round picks to secure additional second-round picks or future selections.
Prediction: Wallace receives a first-round RFA tender and the Steelers hold their breath that Cap-rich teams such as the Bengals, Browns, Redskins or Jaguars do not present front-loaded offer sheets.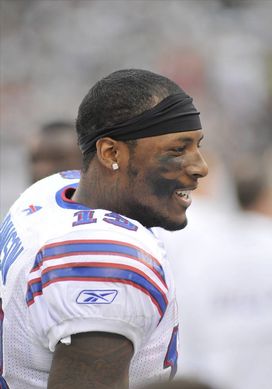 Johnson may be allowed by the Bills to test the market.
Stevie Johnson
After stellar 2010 and 2011 campaigns in which Johnson posted at least 75 catches, 1000 yards and 7 touchdowns each season, Johnson is looking for the Bills or another suitor to show him the money.
The Bills and Johnson exchanged proposals at the Combine, but no deal was reached. While the two sides appear close, if a long-term agreement is not made by March 5th then the Bills will most likely let the market decide Johnson's worth. I don't see a Tag here.
Despite his production, Johnson has some question marks. More important to him will be whether some of these other receivers make it to the market, pushing him down the list of top players available at the position.
Prediction: Johnson enters free agency, with the Bills hoping to match what the market bears.
Reggie Wayne/Pierre Garcon
While the Peyton Predicament continues, Manning's reliable receiver Wayne is set to test free agency for the first time in his eleven-year career as his six-year $39.5 million contract expires. There has even been some chatter that the pair could come as a package deal.
Teams will focus on Wayne's age (33), but his agent will emphasize the 75 receptions and three 100-yard games catching passes from the likes of Kerry Collins and Curtis Painter in 2011. Wayne still has value; the key will be structuring a contract that allows a team to separate with limited risk after a year or two.
Unlike Wayne, the Colts have shown interest in retaining Garcon, who reportedly turned down a deal with a total value of $35 million. Whether due to the probable release of Manning or otherwise, Garcon appears ready and willing to become a former Colt.
Prediction: Wayne goes to the market and receives a one or two-year deal with a veteran team. Garcon goes to the market and receives a significant contract, although less than what the Colts had offered.
Mario Manningham
While his 2011 overall numbers (39 catches, 523 yards, 4 touchdowns) aren't nearly as gaudy as his counterparts, Manningham made the biggest play of the 2011 season in Super Bowl 46. Will this single catch increase his value? That will be hard to determine, although we have seen the value of players with memorable Super Bowl plays – such as Santonio Holmes – increase in part due to that moment.
With the emergence of -- and a future investment ahead in -- Victor Cruz and previous investment in Hakeem Nicks, the Giants are likely to move on from Manningham. And with the Giants' quarterbacks coach, known to be a fan of Manningham, moving to Tampa Bay, the Cap-rich Buccaneers look to be the clear favorite here.
Prediction: Manningham signs a four-year deal with the Buccaneers that is front-loaded to eat up some of their excess Cap room.
Robert Meachem
Despite showing flashes of promise, Meachem – the 27th pick in the 2007 Draft – has been overshadowed in the Saints' crowded wide receiver corps.
The Saints are overwhelmed with decisions on Pro Bowl free agents Drew Brees, Carl Nicks, and Marques Colston, so re-signing Meachem is a lower priority. Although Meachem's money won't be nearly as exorbitant as these other names, the Saints may let him walk.
Prediction: Meachem goes to the market and slots under the players mentioned above.
In what will be a fascinating offseason free agent period, the first true offseason under the new CBA, the wide receiver position may be the most interesting group of all.
Follow me on Twitter at adbrandt