February 16, 2012 -
Andrew Brandt
Receiver Roulette
The longest offseason in major professional sports has begun. While we wait for the next edition of "As Peyton Turns," let's examine a high-profile position group – wide receiver – that offers a substantial amount of talent. Among the group, five upper-tier players – Wes Welker, Vincent Jackson, DeSean Jackson, Marques Colston and Dwayne Bowe – are set to receive the Franchise Tag ("Tag")or hit the open market. Let's examine:
Wes Welker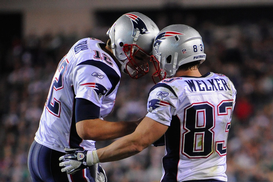 My sense is Brady will continue to have his favorite wide receiver on the Patriots.
Welker had a remarkable 2011 season (122 receptions, 1569 yards, 9 touchdowns) despite the disappointment of his last play. Regardless, his rapport with Tom Brady and prolific work product in New England – 554 receptions in five seasons – speaks for him being retained.
My sense is Welker will return to the Patriots, whether via a long-term deal or the Tag. Bill Belichick had long coveted Welker when he played for Miami and the Patriots will be competitive with Welker as long as his contract demands are not astronomical.
The Tag number for wide receivers is projected to be around $9.4 million and would represent a substantial increase for Welker, who earned $2.5 million last season.
Prediction: a deal gets done with the Patriots.
Vincent Jackson
The contentious relationship between Chargers general manager A.J. Smith and Jackson may finally end. In 2010 as a Restricted Free Agent – due to the uncapped rules in place – Jackson held out most of the season. Smith, who relishes a good battle with a player, responded by placing Jackson on the roster exempt list, suspended him three games and reduced the $3.7 million tender to the minimum – $583,000, prorated to $171,000 for the balance of the season.
In 2011, Jackson unhappily received the Tag once the lockout ended (if one can be unhappy earning $11.4 million). To tag him again in 2012, Jackson would receive $13.8 million – 120% of last year's salary – and considerably more than the $9.4 million Tag number for receivers.
Prediction: the Chargers are prepared to move on from Jackson, who is said to be seeking a 5-year $50 million deal (aren't we all?).
DeSean Jackson
After ending his training camp holdout, Jackson arrived in July with an expectation of being compensated for outperforming a contract that paid $600,000 in 2011. That new deal never arrived, and Jackson watched as the Eagles spent cash freely on big tickets such as Nnamdi Asomugha and Michael Vick as well as mid-tier players such as Vince Young, Ronnie Brown and Steve Smith.
Jackson – admittedly distracted by his contract situation – was marred by inconsistency all season.
The Eagles thus find themselves in a precarious position. Jackson's big-play potential is undeniable yet his attitude, slight build, and concussion history are mitigating factors for a long-term deal. Also, Jackson's view of his value is in a different sphere than that of the Eagles front office.
Prediction: the Tag, while the Eagles subtly let teams know Jackson can be had for an attractive offer.
Marques Colston
Colston, a 7th round pick out of Hofstra in 2006, has been pure treasure for the Saints, topping 70 catches, 1000 yards and 7 touchdowns in each of the last three seasons.
Colston's stay in New Orleans may be directly related to that of his quarterback Drew Brees. The Saints are in heavy negotiations with Brees and if they cannot secure him by March 5th they will certainly use their Tag.
The team may then be forced to choose between Colston or Pro Bowl guard Carl Nicks, also set to become a free agent. Ultimately, with other priorities, a talented stable of receivers and concerns about Colston's balky knee may rule the Saints decision.
Prediction: the Saints let Colston enter the market.
Dwayne Bowe
Bowe followed up his breakout 2010 season (72 catches, 1162 yards, and 15 touchdowns) with a solid performance in 2011, despite a carousel of quarterbacks slinging the ball his way.
The Chiefs have made it known that retaining Bowe and cornerback Brandon Carr are their priorities. One player will likely receive the Tag; the other a long-term deal. With Bowe naturally wanting a contract reflective of the market set by Santonio Holmes – five years, $45 million, $24 million guaranteed – the Chiefs might prefer to go year-to-year with Bowe, applying the Tag.
Prediction: Bowe receives the Tag.
Stay tuned, more top players in position groups to come.
Follow me on Twitter at adbrandt.