February 14, 2012 -
Andrew Brandt
Re-Routted
Before dealing with the first significant move of the 2012 offseason -- the Raiders' release of Stanford Routt -- a note on former Raider Randy Moss wanting to play again.
Moss wants in
It is interesting that a good amount of attention was paid to Moss "UStreaming" that he wants to come back to the NFL. That is nice, but he needs a team to make that happen.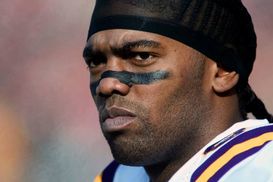 ICONMoss wants to be "unretired."
Moss "retired" last season after surveying the NFL and not finding any mutual interest. That is not likely to change now.
The vast majority of NFL players do not retire. As with Moss – a truly special player in his prime – these players are "retired" by NFL teams' lack of interest, hoping that someone will "unretire" them.
Brett Favre was one of the lucky ones: the Vikings "unretired" him twice. Now more than ever, teams move on with younger players that have futures ahead of them, not pasts behind them.
Let's be clear: whether Favre or Moss or Terrell Owens or Tiki Barber or any player returns to the NFL after being away a while is less about them than it is about a team willing to take them.
Moss may sign a one-year deal at some point, but I doubt it will be soon. My sense is teams will go through the offseason and perhaps bring him in for training camp with little risk in the contract.
And speaking of Moss and Favre, I will never forget trying to bring them together.
Raider woes
New Raiders general manager Reggie McKenzie inherited a thorny contract and Cap situation. The Raiders possess several, shall we say, "player-friendly" contracts and have long been a favorite team of the agent community.
Routt's deal was certainly one in that category. With his contract expiring last year at this time, Nnamdi Asomugha certain to sign elsewhere and the NFL heading into an indefinite lockout, the Raiders panicked and re-signed Routt to a three-year contract with total value of $31 million and potential guarantees up to $20 million. Around the same time, the Raiders also signed defensive end Richard Seymour to an eye-popping two-year, $30 million deal, a contract that was essentially fully guaranteed.
Now a year later, Routt is a former Raider and will receive approximately half of that $31 million – $15 million – for a performance of fifteen passes defended ($1 million per pass defended).
Routt's riches
Routt received $10 million in 2011 and was to earn an additional $5 million Friday were he on the Raiders roster. The Raiders released him Thursday to avoid that $5 million.
They cannot, however, avoid another $5 million. Routt has a $5 million guaranteed option bonus due in March. It was structured as a "second signing bonus" so the Raiders did not have to fund the payment in 2011, as per NFL rules. This structure is very similar to first-round rookie deals in the prior CBA, with large second-year option bonuses that shielded large sums from the Rookie Cap.
Here's a kicker -- that $5 million to Routt in March is not offset against future money from another team. Thus, in 2012, Routt will receive $5 million from the Raiders plus any new contract money from where he signs next. And with the leverage of several teams being interested – Bills, Titans, Texans, Chiefs, Cowboys, Vikings – he will again have a nice contract.
This can rarely be said about a player just fired, but it's good to be Stanford Routt.
Cap issues
The Raiders have some serious work to do just to get to a point that they can operate going into the 2012 League Year. Only the Steelers Cap situation is more dire (I'll have a separate column upcoming on their situation).
The Cap was $120.375 million in 2011, with an additional $3 million that each team could "draw down" from the future, thus a practical Cap of about $123 million. The exact figure for the 2012 Cap will not be known for a couple weeks, but I don't expect it to be much higher.
And, as discussed here in December, while teams can, for the first time, "bring forward" Cap room, those benefits are somewhat hollow for 2012 without team minimum spending requirements (not until 2013).
As we speak, teams such as these are restructuring contracts for short-term Cap relief while creating long-term consequences. Cap managers have to prepare for the 2012 Cap while accounting for tenders to their exclusive and restricted free agents, earned incentives from 2012, franchise or transition tenders, Rookie Pool, etc.
The business of football will dominate the next few months in the NFL, and the wheels have already started to turn.
Follow me on Twitter at adbrandt