August 11, 2010 -
Andrew Brandt
Rex on the fence
We knew that this was coming, we just did not know when. As the contentious negotiations and public feud between the Jets and Darrelle Revis intensifies, Rex Ryan has curbed his enthusiasm for Revis.
Sine the Jets' success last season, Ryan has become a larger than life figure as big a name that the Jets have on a team full of well-known names. He has become a rock star, a media darling full of bluster and bravado always willing to stir the pot for effect.
Ryan, like many coaches, stands up for his players. He supports them and is willing to take the spotlight off of them and on to him to protect them. The Revis holdout, however, presents something different situation for the coach.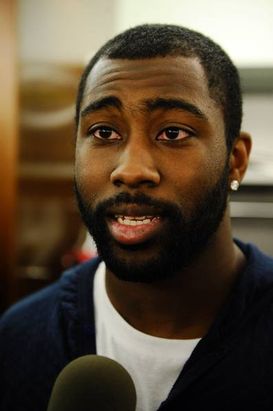 ICONRevis took Ryan's words to heart.
Revis cheerleader
Ryan has been a staunch supporter of Revis, going well beyond the standard "coach-speak" with statements appeared to have been scripted by Revis' agents.
When Charles Woodson was named Defensive Player of the Year in January, Ryan chastised voters: "For me, this is the best year a corner has ever had, the most impact a corner has ever had in the National Football League. That's my opinion. But apparently that wasn't the opinion of everybody who voted." In case anyone wanted to know how he really felt…
Statements matter to players
Jets management certainly loves Ryan's gusto for his players, but had to know what was coming. The coach was making a statement that couldn't have been made any better by Revis or his agents.
Ordinarily, the emotional bluster from a head coach about a player is taken with a grain of salt. This negotiation, however, has been combustible to the point of any such statement having the ability to light a fuse.
At the heart of this holdout is the issue of raised expectations for Revis and his agents. The Jets reached out immediately in the afterglow of their success last season and have done nothing to distill the thinking from Revis and his camp that they will be rewarded at the top of the market despite the remaining time on the contract.
Ryan's continued cheerleading has certainly not dampened those expectations.
Different tune?
Now Ryan's comments are a bit different in light of the ongoing feud. He is careful not to disparage the player he deemed the best in the league, but he now has to support management.
Ryan, who now will have to endure these questions daily, now is spreading praise to the replacements, saying: "Don't feel sorry for us. We have everything we need here on defense. The addition of (Antonio) Cromartie was enormous for this football team. And the fact that we drafted Kyle Wilson, who's an outstanding player. That helps us a great deal."
Ryan also added the obligatory line about holdouts from Football Management 101: "Right now, I'm just going to focus on the people that are here."
Further, Ryan has gone on the offensive to the agents, calling it a "blatant joke" that they would challenge his general manager and owner. Ryan will not attack Revis directly, but he will go after his agents.
Labor or management?
This illustrates the tricky position a coach is in when it comes to player contract disputes. He needs to support the player, who must be in his corner and motivated when he does return. He also needs to support his team's owner and general manager, the people behind the decision to not reward the player with all of what he wants. It is a tricky proposition that must be handled deftly.
In my experience, every time a coach, whether a head coach or assistant, talked up a player in the media, it was inevitable that it would be used by the agent at some point during a contract negotiation. I always passed these comments for the reasons cited above but from the player's perspective, these comments are real and important.
One of my most important lessons in negotiations is the following mantra: never underestimate the importance of ego and insecurity. Players equate public praise, especially from the head coach, as fodder for "getting paid," and that validation is important to them.
In the coming days and perhaps weeks, Ryan may not be as jovial and full of praise when it comes to Revis. Ultimately, he has to support the position of management, no matter how much he empathizes with labor.
As it plays out on national television with an HBO audience, the rock star will be on full display.
Follow me on Twitter at adbrandt.
Click here to purchase the Total Access Pass/ Fantasy Draft Guide from the NFP and receive a free Deuce Brand watch while supplies last.