December 08, 2011 -
Barry Dorey
Selling Green and Gold
What about Brett?
First, a note on old friend Brett Favre and his interest/non-interest in joining the Bears...
When news broke on Monday that a source close to Favre said he would be "receptive to hearing from the Bears," I laughed. I can see Brett and agent Bus Cook – both of them much smarter than their country folk image portrays – smiling at the other and saying, "Wanna start a little sh*tstorm?" The lure of Favre returning with the Packers' rival Bears for the stretch run would be too great for fans and the media to ignore.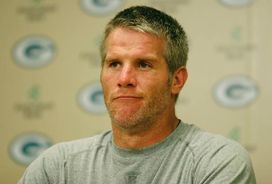 ICONFavre's 2008 retirement was short-lived, as I expected.
Through all of Brett's retirement talk – I lived through it in Green Bay – I never thought he would actually retire, even when he announced that he was. His 2008 retirement was not about being done; it was a response to the lack of warmth he felt from the Packers front office. Instead of simply hearing "It's up to you," he wanted to hear "We really want you!" from the team, something he had heard in previous years. Feeling indifference from management, Brett retired, only to come back to play three more seasons elsewhere.
As to returning again, that is more about a team than about Brett. The Vikings "unretired" Brett twice; will another team do so? I remember Brett noticing with interest when Roger Clemens joined baseball teams for playoff runs. Could I see him riding in on a white horse to join a team down the stretch? Yes, but he would have to be recruited.
Brett's star has dropped precipitously from his time in Green Bay where he could do no wrong. Often asked about Brett, I will say this: he is not the idol he was made out to be in Green Bay, nor is he the pariah he has been made out to be since.
And speaking of Green Bay…
On Tuesday morning the Packers did something unconventional and wholly unique to Green Bay: they held a public offering – the fifth in their history – selling shares of stock in the team. A Cheesehead version of Cyber Monday, Packer Nation flooded the Packers' website on Tuesday, placing 1600 online orders within the first 11 minutes of the sale. 28,000 shares were sold in a little over two hours of the opening!
It is hard to imagine better timing for the Packers to offer up a stock sale. The team is in the midst of an undefeated dream season, energizing an already-passionate fan base during the holiday season.
History Repeats
Green Bay is the NFL's only "publicly-owned" franchise, operating as such since 1923 when it held its first stock sale. The 1923 sale came with a caveat: it required purchasers to also buy six season tickets. How times have changed!
Always an easy source of revenue, the team held similar sales in 1935 and 1950 (raising $15,000 and $118,000, respectively).
The Packers' last stock drive took place in 1997 to cover part of a $293 million Lambeau revitalization project. Over 120,000 shares were sold at $200 a piece during the 17-week sale, raising more than $24 million used for Lambeau Field's 2003 renovation.
Prior to Tuesday's sale, 112,205 Packers shareholders owned 4.75 million shares in total.