July 15, 2011 -
Barry Dorey
Sense of urgency has arrived
Today is a big day: my anniversary. Oh, and yes, the NFL might resolve its two-year labor dispute as well.
NFL Owners and Players are now acting with a sense of purpose. As someone in the meetings told me last night: "The sense of urgency has arrived." Deadlines spur action.
The two sides have found common ground on the rookie pay dispute, which remained arguably the largest obstacle to settling their longstanding differences. The light at the end of the NFL's labor unrest tunnel is approaching; although, important issues remain which require resolution before an agreement in principle is reached. Here are some of the latest details emerging from the settlement discussions currently taking place in a Manhattan law firm.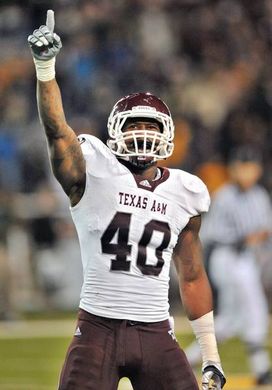 ICONMiller is one of the top ten picks affected by the compromise reached.
Rookie resolution
As outlined here, the majority of the disagreement concerned the fifth-year compensation for first-round picks. Owners wanted the fifth-year option set at a prefixed number. Players wanted the option to be set at the time of going into that fifth year, at a high "veteran rate," an average of the top veteran players at the same position.
Compromise was reached. For the top 10 picks in the Draft, Owners reportedly agreed to fifth-year options at an average of the top ten veteran salaries at a player's respective position. Players selected 11-32 would be paid an average of the top three to twenty-five salaries at a player's respective position.
The fifth year was extremely important to Players. That is their first free agent year and usually the prime year of a player's career; they wanted to be compensated at a top veteran rate, not a top rookie rate.
In return, Players compromised on renegotiation rules; previously teams were prohibited from renegotiating contracts with drafted players until after their third year and undrafted players until after their second year. These limits are expected to be relaxed slightly in the next CBA.
Revenue split and cash minimum
Significant progress has also been made on the big money issue – how to split approximately the $9.3 billion (and growing) pie. The sides have tentatively agreed on a salary cap of roughly $120-122 million, with another $20-21 million per team allocated to benefits (Minimum Salary Benefit, Player Performance Benefit, etc.)
However, as noted here, the more important figure for the Players is not the cap number, but the cash minimum – a "guaranteed spend." Cash is king; while caps can be manipulated and massaged (I spent many years doing so), cash cannot. During negotiations, Owners have offered a cash minimum of 90%; my understanding is that number is still being negotiated, and may increase.
In 2009, the last capped year, the salary cap stood at $123 million, later adjusted to $128 million after a unique CAM (Cash Adjustment Mechanism) addition – once it was clear 2009 would be the last capped year of the CBA. A salary cap of $120 million in 2011 would create a predicament for some teams that routinely spend above and beyond that amount. To remedy this situation, the sides have discussed the idea of a one-player cap exemption for each team, taking the form of a $3 million credit, vaguely similar to the "Mid-level exception" in the NBA. I'll have more to come on this later.
Arbitration, appeals, and judicial oversight
To date, while NFL team discipline is now appealable to an independent arbitrator, league discipline is only appealable to Commissioner Goodell. Players – the recalcitrant and well behaved alike – abhor this system, and have routinely clamored for an independent appeals process.
Players may be getting their wish. ESPN's Chris Mortensen has reported that the Owners and Players have discussed implementing a panel of ex-judges who would handle appeals, perhaps even those matters stemming from commissioner discipline.
This independent appeals process may apply to discipline levied due to violation of the league's drug policy and other discipline. However, it is unclear whether the ex-judges would rule on violations of the Personal Conduct Policy, as that has been a hallmark of the tenure of Goodell and he is personally protective of ruling on the integrity of the game. Knowing how important it is to him, I sense that he will try to hang on to that authority as much as possible.
In exchange, the NFL would free itself from the Minnesota federal courts and the dreaded pebble in their shoe, Judge Doty. Since 1993, the Owners have suffered numerous adverse rulings at the hands of Doty, and are eager to remove these judicial oversight restraints.
Lingering issues
1) Right of First Refusals
Owners continue to request rights of first refusals (ROFRs) on up to three of their own pending free agents. In what undoubtedly will be a condensed flurry of free agent activity, Owners wish to quell the apprehension of losing their team's top players by implementing this ROFR mechanism, limited to only the 2011 season.
Miffed by last year's restraints that prevented fourth and fifth-year players from hitting the open market, Players consider the ROFRs a deal-breaker. This "limbo" group of free agents – set to test the waters until the 2010 uncapped rules kicked in – feel as though they have been squeezed enough, and the Players are reluctant to budge on this issue.
As I have said before, teams should have a de facto ROFR with their free agents anyway, as a good relationship with the agent and player usually ensures them coming back to the team before committing elsewhere.
2) Doty and Brady $ettlement
Two court cases still linger: the TV rights fees damages under Judge Doty and the Brady v. NFL antitrust case under Judge Susan Nelson. Any settlement agreement would need to address these two matters.
3) Retiree benefits
Carl Eller and his contingent of retired players have expressed their utter irritation with being left out of discussions, even by going so far as to file a complaint against both the Owners and the Players. Despite this, the retirees are not expected to hold up an agreement.
The proposed "Legacy Fund" – which will provide money and benefits to retired players – is still in the works. This much is certain: both pre-1993 retirees and future retired players (current players) can expect to see an increase in benefits. However, it is still unknown from which sources this money will come from. Details regarding Player pensions also need to be addressed.
4) Workmen's compensation
Current Players have limited options when it comes to filing for workers' compensation. The present trend is to file in California; so long as a player has played in one game in the state. A loophole exists in that forum, and the California laws are more favorable to employees.
NFL teams have repeatedly engaged in disputes with insurance companies as to who is responsible for paying these claims. While the specifics are not yet clear, the Owners and Players are supposedly working out the minutiae regarding t his issue.
Still other issues being addressed include: drug and steroid testing, application of the Personal Conduct Policy during the lockout, bonus recovery for bad behavior, reduced offseason schedules, etc.