May 06, 2011 -
Andrew Brandt
Shooting the messenger
There has been quite a bit of acrimony coming the way of Commissioner Roger Goodell in recent weeks. Players are frustrated with the lockout and it preventing them from going to work and getting paid. And there is a public scapegoat for those feelings: the leader of their management adversary: Goodell.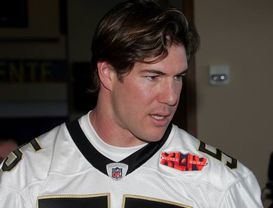 ICONNFLPA leader Fujita has made critical comments.
Recent comments in the news from players like Derrick Mason, Chester Pitts and Scott Fujita, an NFLPA executive committee member, have taken the Commissioner to task for the predicament that football finds itself in. Goodell has been called a "joke", "fraud" and more.
What to make of this?
Not much.
This labor lockout/litigation is a long and messy process that will eventually end in a negotiated settlement but leave a lot of hurt feelings in its wake.
The relationship between NFL and NFLPA leadership has been one lacking trust, honest communication and chemistry from the start. It has moved from two years of sporadic and inconsistent negotiations to two months – and counting -- of Courtroom football. It has gone from discussions of labor issues in bargaining to discussions of antitrust issues in court. To players – and fans -- it is messy, negative and seemingly with no light at the end of the tunnel.
Respect
The players have felt disrespected throughout the process. This was clearly apparent during the two weeks of mediation in Washington, DC with George Cohen prior to the union decertifying on March 11th.
The players felt talked down to, ignored and "dissed". To players, things are very results-oriented and they have felt the owners weren't looking for results in their mediations. They were left waiting one night to find out the owners had gone to dinner. And they received the most meaningful proposal from ownership in two years with little time remaining on their decertification clock.
Someone has to be a symbol for the players' feelings of disrespect and resentment. He cannot be one of the army of lawyers on the case; they're just hired guns. Nor can he be one of the owners -- although the players' don't like a few of them as well -- as they are too aligned with their individual clubs. Thus, the person at the heart of their anger is the face of the NFL: Goodell.
Response?
Goodell's response has been and should be the following: radio silence. By responding, he will only escalate the tension on what is already a nasty process. He can do no good, only harm, by engaging any players in this debate.
Just as Goodell expected and accepted the negative fan reaction at the Draft, he has to have expected and accepted the negative player reaction to the lockout.
This is not unlike the situation during the 2010 season when the NFL ramped up enforcement of violent hits. There was an immediate negative reaction from players such as James Harrison – "we'll lay a pillow down where I'm going to tackle them" –and that this was targeted and unfair. The reaction was aimed squarely at Goodell.
Goodell did not respond. He would have done no good to engage Harrison or any other player.
Soothing attempts
Goodell will continue to try to work the periphery for some damage control in public relations -- conference calls and town hall meetings with season-ticket holders, the use of nfllabor.com to spin the message, etc. And despite the booing at the Draft, Goodell signed hundreds of autographs and took photos with countless fans.
On the player side, Goodell has sent out a letter to all players seeking to ferret out some dissatisfaction with the decertification/litigation strategy. That seemed to have little effect, but it is still relatively early in the process.
His call to Chad Ochocinco and perhaps others shows that he is trying to distinguish the business and personal nature to his job.
Let it go
Like the violent hits issue, the name-calling from players about the lockout is a necessary evil that is part of the job of the Commissioner. Goodell has to treat these comments as runoff, and let them slide off his back. To do otherwise would escalate and already tense relationship.
Although it seems fantasy for now, there will be a day, perhaps in a matter of perhaps months, where Goodell and NFLPA leadership sign a new CBA amidst smiles, handshakes and perhaps even hugs (ala the first-round picks). Those smiles for the cameras will make all the name-calling and vitriol seem like ancient history...perhaps.
Follow me on Twitter at adbrandt.