February 07, 2012 -
Andrew Brandt
Super Memories
Before entering the offseason (my in-season), which is longer than the season, let's look back on Super Bowl XLVI, the most watched program in the history of television:
The game
The last of the 267 NFL games played this season certainly didn't disappoint. Much has been discussed about the game, but here are some thoughts:
In a sport where – theoretically – the regular season matters the most, it didn't this year nor when the Giants won in 2008. The Giants lost to teams quarterbacked by Rex Grossman (twice), Vince Young and Charlie Whitehurst along the way to this championship. As the Packers can relate, it isn't about playing well over a sustained season; it's about getting in and getting hot.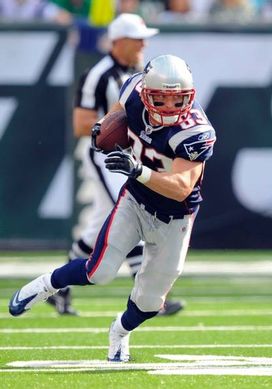 ICONWelker's memorable season ended with a forgettable play.
As a corollary, I feel for Wes Welker. He had a season to remember (122 receptions, 1569 yards), but his last play will be hard to forget. I don't think it will affect his free agent value, but it will be discussed. This is a cold business.
In contrast, Mario Manningham, also a free agent, had an unremarkable season (39 receptions, 523 yards), but his last play will live on in Super Bowl lore. Right before it, I tweeted "Who will be this year's Tyree?" Bingo.
As to Eli Manning, I am a believer. When he came into Lambeau four years ago and beat us in subzero conditions, I was sold. That stock keeps rising.
Not to undersell Eli, but much of the praise he is getting – and Tom Brady is not getting – is due to actions of others. Football is the ultimate team game. How would we perceive Manning or Brady if Welker made that catch and the Patriots held on to win? Football is not tennis; the best players play less than half the game.
As to the Patriots, it is sometimes astounding watching who trots out on the field for them, especially in the defensive backfield. Beyond a few blue chippers such as Brady, Vince Wilfork and Rob Gronkowski, they have a roster with many who have bounced around other teams, practice squads, etc. They somehow make it work.
Finally, as to Tiquan Underwood's release by the Patriots on Saturday, this is not an uncommon practice for the Patriots or other teams. Teams routinely tinker with the bottom of the roster depending on game plans and need for different body types. Players released on Saturday clear waivers on Monday – so the Giants couldn't have signed Underwood – and are paid for the week, as Underwood will be.
The people of Indianapolis
As I know from living in Green Bay for nine years, Midwestern people are extremely welcoming. Although they won't continue to say "Have a Super Day!" their kindness is part of the culture. Many asked: "Are these people really this nice?" Most are, yes.
The weather
Indianapolis received rave reviews, with an assist from Mother Nature. Had there been the exact same hospitality but typical February weather, there would have been grumbling about Indy.
Cowboys owner Jerry Jones must be shaking his head about the deep freeze he hosted last year. Weather matters.
The experience
Despite the unglamorous setting of Indianapolis, the A-listers were out in full force. Please indulge me with a couple personal memories.
When I started in the sports business as an agent, one of the first clients I worked with was Chris Doleman of the Minnesota Vikings. Given that I was an inexperienced agent fresh out of law school, Chris was a friend and treated me like an equal. On Saturday he was elected to the Pro Football Hall of Fame. It was an honor to – unexpectedly – be with him that day.
Also, at the ESPN party, Ravens' fullback Vonta Leach grabbed my shoulder and said "You cut me!" I said: "Well, it wasn't actually me at the Packers, but we did release you when I was there." I didn't remember the circumstances but he certainly did in great detail, as we needed a roster spot for Koren Robinson in 2006. Vonta, who made the Pro Bowl, and I had a nice laugh, and he has gotten over being cut...I think.
As everyone leaves Indianapolis, here are more thoughts on Peyton, who may well soon be leaving as well: