December 01, 2011 -
Barry Dorey
Teal Transfer
One of the least relevant NFL teams dominated the NFL news cycle on Tuesday, a whirlwind day of activity for the Jacksonville Jaguars. Head coach Jack Del Rio was terminated – his contract, not him – general manager Gene Smith was given a three-year contract extension, and most notably, the team was sold to Illinois business mogul Shahid Khan.
Garrard Cost Cut
It now seems clearer as to why the Jaguars released their starting quarterback only days before the season opener.
David Garrard, as a vested veteran, was about to receive his entire $8 million salary had he been on the roster opening day. He was even introduced at a team luncheon a couple hours before his release. However, in what was described as a "football decision," Garrard and his $8 million salary were shed later that day.
The Garrard release now appears a business decision by the owner to remove what would have been a sunk cost in preparation for a sale. Speaking of that owner…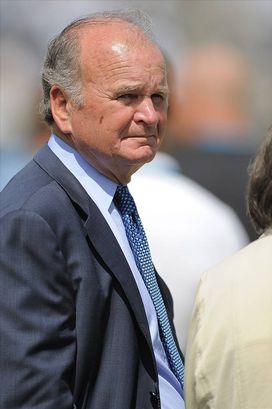 ICONWeaver fought hard for a more equitable spending model.
Wayne's World
With Khan entering – his approval should go smoothly as he has been comprehensively vetted and parsed by the NFL – Wayne Weaver, the only owner the Jaguars have known, will exit.
Weaver has been a loyal and conscientious owner during his time in the league. My sense, though, is that he tired of being a voice in the wilderness taking on some of the more powerful and larger market owners. Although he was not scoffed at in the way Mike Brown of the Bengals was, Weaver had some clashes.
I remember Jerry Jones and Weaver having vocal disagreements on revenue generation. Jones clearly felt that certain teams – such as the Bengals, Bills, and Jaguars – were not sufficiently aggressive in pursuing local revenues and that their complacence should not be rewarded with equal shares of national revenues. Jones and Weaver clearly sparred on this issue.
Capped Percentages
Weaver lobbied for spending restrictions using a formula tied to a capped percentage of overall revenues.
For example, whereas the Cowboys may have $300 million in gross revenues, the Jaguars may only have $200 million. However, in an effort to compete, both teams may be spending around $120 million on players. For the Cowboys, that $120 million represents 40% of their total revenues. For the Jaguars, that same $120 million represents 60% of their total revenues. Weaver tried to correct this inequity through either (1) an increased revenue sharing system, and/or (2) a capped percentage of gross revenues that teams could use for player costs. Jones' – and others' – response was always the same: just create more revenue. Leading to…