February 28, 2011 -
Andrew Brandt
The (CBA) end is near: a primer
It has now come down to this week in the two-year attempt to extend the current Collective Bargaining Agreement (CBA) before it expires Thursday night at midnight. Let's answer some questions about the days ahead.
What is the first key time this week in the last attempt to negotiate and agreement?
On Tuesday the two sides will reconvene after a three-day break from seven consecutive days of bargaining under the watchful eye of mediator George Cohen, and they will see if they can advance the ball.
The first few moments of that meeting will foretell a lot. If the sides come back to say that they have caucused and are willing to be flexible on one or more of the core issues, then we have a chance for a CBA, even by Friday. However, if the parties come back still entrenched in their positions, hopes are dashed and the seven days of mediation may have been for naught.
We will know early in the day tomorrow if progress can be made or we are back to the morass of divergence.
Why can't this deal get done?
Neither side is budging. Both sides are sufficiently frustrated with the tactics from their adversary that they simply will not move towards center.
The NFL asks why should it make a better offer when the union (1) threatens decertification; (2) parades through the halls of Congress and (3) challenges ownership on its negotiation of its broadcast contracts and accuses them of collusion.
The NFLPA asks itself why it should make a better offer when the owners (1)talk down to the players, (2) threaten to lock them out and cut off their benefits and (2) refuse to show them detailed accounting from each team to back up their claims of financial challenges.
With bargaining stunted by lack of trust and downright dislike in some cases, this negotiation appears to be on a bridge to nowhere. I thought mediation was potential answer, but perhaps not.
What happens if no decertification and no agreement by Thursday night?
All indications are that the NFL teams will cease to do business with its labor force, the players. There will be no contact with them, no benefits attaching to them, no bonuses or salaries paid to them, and the doors to the facilities will be locked to them.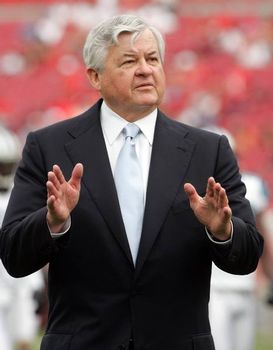 ICONRichardson is intent on a new system.
Why would the NFL do that?
Owners -- some more than others -- are determined to forge a new economic system with the players, using the lockout as leverage to negotiate improved terms from the existing CBA.
What is the NFL's big issue they want to address?
NFL owners are not claiming losses; they are claiming that they are on the path to a problematic future. They argue that player costs are outpacing incremental team revenues, with the potential for a downward spiral.
The owners have a chance to correct the problem now, having opted out of a deal that was supposed to end in 2013 two years early.
What does the union want?
We think they want status quo plus some other issues addressed, such as:
Better health benefits and post career coverage beyond the existing five years;
An independent appeals process for Commissioner discipline for conduct and drugs;
More revenue sharing among ownership with the allotment funneled to the players.
Does the union's decertification strategy have legs?
It is part of a plan hatched in August with the NFLPA Decertification Tour 2010, when the union got authorization from each team to take this step. Now they have bared this ammunition again to try to shift the leverage.
The fact that NFL owners took a preemptive strike a week on this issue --filing an unfair labor practice charge with the NLRB to have decertification ruled a "sham" – tells me that the decertification option scares them.
I do believe this: were the union to go down this path, any goodwill and relationship building with the NFL will be flushed down the drain. If litigation is the way they want to fight, the NFL has plenty of litigators on call. They will fight, delay and appeal the battle at least through the fall, counting on player solidarity in March to fade into the distance by September when the real money starts going in.
Decertification has some potential reward for the union but also high risk. With the late Gene Upshaw leading the charge twenty years ago, it was seen as innovative. Were DeMaurice Smith to repeat it, it would be seen as a legal strategy trying to duplicate the past.
Any hope for a negotiated settlement by Friday?
I have been that voice in the wilderness holding out optimism for that to happen, mainly because I feel that after Friday there will be little incentive to negotiate for a while.
My hope is that the deadline will cause each side to show more or all of their cards. Having done player contracts for twenty years, from both sides of the table, I know that neither side puts its best offer on the table until it absolutely has to. The question for which I do not know the answer is whether Friday is that true deadline or not.
Will Peyton Manning have a contract by the deadline?
This may be more likely than a CBA. Both Manning and the Colts know he will have the most lucrative contract in the history of the NFL; the question is only by how much. Manning has extraordinary leverage, with or without an expiring CBA.
What is the key time for whether we have a CBA?
Thursday night. At some point on Thursday in Washington, Commissioner Goodell will look his owners in the eye and ask whether they want to lock the players out. And at some point Thursday DeMaurice Smith – also in Washington -- will address his union leadership and get their vote on whether to decertify and cease to be a union.
These topics have been easy to talk about for two years. Actually putting a stake in the ground and doing it is a different animal.
Welcome to a week like no other in the NFL. The stakes are raised; let's see how this plays out now that the time for talk is over.
Follow me on Twitter at adbrandt.