August 01, 2011 -
Andrew Brandt
The Eagle has landed
There is so much to discuss about the NFL right now, as the past week in the business of football has given me weeks of material to write about (after months of writing about the non-business of football). We start with the biggest talent grab of them all, the signing of Nnamdi Asomugha in Philadelphia.
Eagles lay in wait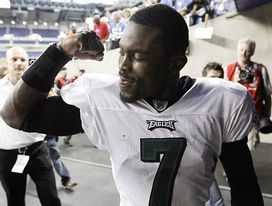 ICONThe Eagles also surprised with the Vick signing two years ago.
As they did with signing Michael Vick two years ago, the Eagles shocked the football world on Friday with the unexpected signing of Nnamdi Asomugha, the most coveted free agent in the large 2011 class of players.
In 2009, Vick was a free agent after being released from prison as reports speculated on various teams, none of which were the Eagles. However, Vick had set criteria, along with his agent Joel Segal and advisor Tony Dungy, to include a winning team and secure situation at starting quarterback. The Eagles fit those priorities more than other teams interested in Vick. I was helping out the Eagles at that time and the Vick pursuit was known only by a handful of people.
And this week, while the expectation was that Nnamdi would sign with teams such as the Cowboys, Texans, Jets or 49ers, the Eagles relied on a strong relationship with agent Ben Dogra and a knowledge that, like Vick, Asomugha had a strong interest – for some time – in playing in Philadelphia (in good part due to Vick). And, like the Vick negotiations, the pursuit was kept in a tight circle of people with that knowledge. The Eagles brass even leaked information that they were not involved to throw the media off the scent.
The Eagles like to be aggressive and to acquire name brands. In addition to Asomugha they have acquired Vince Young to back up Vick, an ironic choice as Young – like Vick two years ago – tries to resurrect his career. The Eagles were also a suitor as a potential trade partner with the Saints for Reggie Bush, although only willing to do so for a one-year deal at roughly $3.5 million; Bush is set to make $5 million this year in Miami.
Not finished yet, the Eagles also acquired a player I know well: Cullen Jenkins from the Packers, a powerful and versatile defensive lineman. It is never bad for business to bring in a productive player from the reigning Super Bowl champions.
Cap control
Although sometimes rumored to be a team that does not spend, I know firsthand that to not be the case with the Eagles. I consulted there in 2009 – considered a quiet offseason for them – and negotiated the then-largest deal for an offensive lineman, that of Jason Peters, as well as other large contracts. And I know firsthand from my time with the Packers that the Eagles are aggressive, as when I was in Green Bay they chased Kabeer Gbaja-Biamila aggressively and forced us to pay far more than we wanted to keep him.
As to the many questions about their Cap situation, the Cap is a product of years of careful management preparing for situations such as this. The Eagles are an extremely young team, meaning most of their contracts are quite reasonable. They have very few players on their roster with elite-level contracts for their position: Vick, Asomugha, Peters, Assante Samuel, and Trent Cole. As to DeSean Jackson, that discussion is for another day.
Nnamdi's numbers
Interestingly, as the clear prize of free agency, Nnamdi actually makes less than he did previously! In February 2009, he signed a three-year, $45.3 million contract with the Raiders that voided after two years, earning him $28.5 million. It voided when he played less in 2010 than he did in 2009, allowing him a chance to make the highest contract ever at his position, for the second time in three years!
I detailed that contract and the void here
Since that deal a couple of contracts have hit at the top of the market. On the eve of last season, Darrelle Revis signed a four-year $46 million deal ($11.5 million average) with $32 million guaranteed, including an $18 million option paid at the start of the 2011 League Year (this week). A couple weeks later, Charles Woodson re-upped with the Packers for five years and $55 million ($11 million average), including $21 million in bonuses and advances. And this week, the next best cornerback on the 2011 free agent market – Jonathan Joseph – signed a five-year, $48.75 million deal ($9.75 million average) with $23.5 million guaranteed.
Asomugha now signs a five-year deal worth $60 million and an average of $12 million both over the first three years – the true marker of a deal in my mind – and over its entirety (with $25 million guaranteed).
Showing the market
Asomugha was the focus of the Revis holdout/negotiation a year ago, with the agents for Revis concentrating on the Raiders contract and the Jets conversely calling it an outlier. Time has proven the deal to be outside of the market, with Asomugha's new deal coming in right at the $12 million number. However, it is not known how much more money Nnamdi turned down from other teams, including the Jets.
Kudos to the Eagles to land the biggest fish on the market at a (somewhat) reasonable price. Happy to have Nnamdi move to my area, even though I'm from Stanford and he's from Cal…
Some other notes from the weekend, with more analysis to come:
Peyton Manning finally received the contract that we knew would be the richest in the history of football, his owner Jim Irsay having promised that two years ago. While it is a nice story that Peyton did not want to exceed the $18 million a year given to Tom Brady a year ago, his $23 million a year average over the first three years is a staggering amount, blowing away any competition for that three-year period. More on the Manning contract as it comes in.
While the focus was on Asomugha, Joseph (numbers above) and Ike Taylor quietly negotiated some strong contracts at that position. Taylor will receive $9.25 million this year from the Steelers, not a traditionally high paying team.
The Eagles' $5.5 million one-year deal for Vince Young is essentially the same amount that Michael Vick was paid last year prior to the Franchise tag this year. Last year the Eagles paid Kevin Kolb over $12 million and Vick around $5.25 (plus incentives). Now they will pay Vick a few million more than they paid Kolb last year and Young will make the Vick backup money from last year (or so it was meant to be).
Much more to come on the busiest week ever in the business of football…
Follow me on Twitter at adbrandt