November 15, 2011 -
Barry Dorey
The End of Entitlement
My initial thoughts on the Penn State tragedy – it is more tragedy than scandal – was incredulity as to the breadth and length of its existence. Although much of the focus was on one night where assistant coach Mike McQueary came upon a horrific scene, that incident may be one of many -- dozens perhaps -- over the course of many years.
I realize I do not have all the facts and we presume innocence in this country. As the father of two young boys, however, my blood has boiled throughout watching this chapter. And, after watching a couple of minutes of Bob Costas' interview with Jerry Sandusky last night, I had to turn it off. Costas is a brilliant interviewer but to hear Sandusky enjoy "horsing around, touching boys legs and showering with boys" but deny improper contact was infuriating. <strong>Seriously?
I was speaking at an event last week where I addressed the issue. In the course of my comments I said "I don't want to use the term 'cover-up' but..." An audience member interrupted me: "Why wouldn't you use that term? Isn't that exactly what happened?" Perhaps.
Entitlement
I have been asked what change may come out of this. Simply, Penn State football will lose its sense of power and entitlement.
The Penn State scandal points to an unwritten rule there and probably at other top college football programs: there are different rules for football than for other departments in the institution. The football program at Penn State needs fixing.
The press conference held by the Board of Trustees last week was—while hastily arranged and lacking in decorum—an impressive and necessary show of leadership. John Surma, vice chairman of the Board and CEO of U.S. Steel, was controlled and poised in the face of chaos and high emotion. He stayed on task and didn't waver from his message: the Board made a decision based on what information they had. It was clear and decisive, traits lacking at the University for too long regarding this tragedy.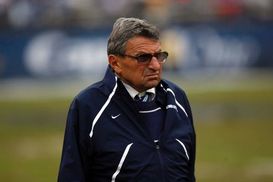 ICONPaterno was probably one of many that knew of Sandusky's behavior.
No isolated incident
The issue is far beyond Joe Paterno. He is simply the leader of a department that has been coddled. Penn State football appears to have lorded over all other departments in the vast University system.
So far we know that the athletic director, two administrators, Paterno, and McQueary knew what Sandusky was doing with young boys. To think that (1) the incident that McQueary witnessed was an isolated incident, or (2) these were the only people that knew about Sandusky would be incredibly na