October 13, 2011 -
Barry Dorey
The Future is Now in Denver
With the much-anticipated announcement in Denver that Tim Tebow is now the starting quarterback for the Broncos, let's look at a few angles of the decision (I think there is a cottage industry in the media simply discussing Tim Tebow).
Not about 2011
Although the Broncos would strongly deny that they are sacrificing the present for the future, this move is not about 2011. It is about the prospect – and hope – of solidifying their most important position for the foreseeable future. It is a decision reaching far beyond the remaining 11 games this season.
Following the nasty divorce between the Packers and Brett Favre in 2008, Green Bay finished 6-10 yet felt satisfied and hopeful for a bright future. The transition to a new face of the franchise -- Aaron Rodgers -- was clear; the won-loss record for that season was secondary. The same is now occurring in Carolina. The won-loss record for 2011 is secondary; Cam Newton has brought hope to the franchise for what they hope to be a long time.
The switch to Tebow is not about what happens now.
Tebow's Tally
Tebow is the only Bronco quarterback under contract past this season, with Kyle Orton and Brady Quinn set to become free agents (more on Orton below). As a first-round pick in 2010 – the last year of financial windfalls for top picks – Tebow received a five-year $9.75 million deal with $8.7 million guaranteed. He received a $6.275 million option bonus this summer and is making $1.62 million, about $100,000 per game, in salary this season.
The more important part of Tebow's contract is the "upside": escalators and incentives that could raise the total value of his deal up to $23 million.
In my negotiation of Aaron Rodgers' contract – picked in virtually the same slot as Tebow five years earlier (Aaron was 24th, Tebow 25th) – the bulk of the negotiation centered around escalators and trying to predict when Favre would retire (Rodgers' agent was convinced he never would) to layer in the thresholds. My sense is Tebow's negotiation was also dominated by trying to predict when he would unseat the starter. Speaking of which…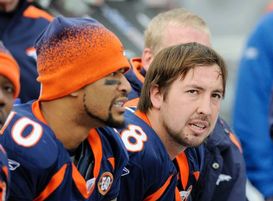 ICONOrton has $4.8 million left on his contract.
Orton: the $9 million Dollar Man
The Broncos gave Orton a one-year extension in 2010 while he continued to earn the $2.6 million he was previously scheduled to make.
In 2011, Orton receives a roster bonus of $1.5 million – already earned and paid – and a salary of $7.38 million, for a total of $8.88 million, solid compensation for a starting NFL quarterback.
Of the $7.38 salary, $2.88 million was paid in the form of a guaranteed salary advance. Unlike the roster bonus of $1.5 million, this obligation can be transferred to another team were there to be a trade. Speaking of which…
Trade now?
With the trade deadline looming on Tuesday, speculation turns to Orton. Were a team to acquire Orton after this Sunday, they would assume eleven weeks of his $7.38 million salary, or $4.78 million (which includes the $2.88 million advance that is paid back to the Broncos).
In this scenario, the Broncos would have paid Orton the $1.5 million roster bonus plus $2.6 million of salary for the first six weeks of the season, for a total of $4.1 million.
Although this is a significant amount of money to pay to a player for five weeks of play, I would not be shocked to see Orton moved.
Trading for Dollars
From the trade value perspective, Orton has become more valuable than he was this summer. With $4.1 million of his $8.88 million obligation taken care of, the Broncos would be in position to increase the asking price.
If, for instance, the Broncos were asking for a 2012 3rd round pick in the summer for for Orton and and his $8.88 million price tage, would they now ask for a 2012 2nd round pick with a $4.1 million price tag? In other words, is moving up from the 3rd to the 2nd round in the 2012 Draft worth $4.78 million? It poses an interesting question.
Unlike the NBA or Major League Baseball, the NFL does not allow cash transfers as part of trades. However, looking at it another way it may be happening.
In training camp the Buffalo Bills traded Lee Evans soon after handing him a $1.1 million roster bonus. Another way to look at that trade was the Bills providing the Ravens $1.1 million in value as part of the trade. Were Orton to be traded, f the Broncos would be providing the acquiring team $4.78 million of value as part of the deal.
Trades like these could potentially serve as precedent for setting value -- and a way around the limitation on cash as part of trade consideration -- where the incumbent team pays a portion of the contract in order to secure more value in a trade.
With the Tebow era beginning in Denver and the Orton era winding down, it will be interesting to see if the Broncos can garner value for their now-depreciating asset. Stay tuned.
Follow me on Twitter at adbrandt.