June 08, 2011 -
Andrew Brandt
The Plaxico Paradox
Before getting to Plaxico Burress, here's some good news. After the secret meetings in Chicago last week between some NFL Owners and NFLPA leaders, mediation scheduled for this week in Minnesota was canceled in favor of more private -- and hopefully more productive -- negotiations towards a new CBA. That is now happening, as sources confirmed last night that those meetings have started. The entire roster of who is attending is attending is not known, but NFL Commissioner Roger Goodell and NFLPA chief DeMaurice Smith are two of the confirmed participants. Hope floats. Now on to Plaxico…
After three months of Courtroom football, the football world salivated for a story involving an actual player. And the one they got involves a player's release from prison. Cameras rolled, statements were made, Drew Rosenhaus hugged and speculation (as well as odds) on a new team began. Plaxico Burress, a free agent-to-be, is a free man.
Market for Plaxico
Were I advising a team, I would tread very carefully with Burress, even for a low risk contract (see below). This is not just because he helped beat my Packers in the 2008 NFC Championship game:) My reasons are more practical.
Beyond any potential locker room baggage that he would bring, I would put Burress – turning 34 in August – in the same category as Terrell Owens and Randy Moss. After great success earlier in their careers, they are now rent-a-players, moving from team to team with short-term contracts trying to squeeze out bits and pieces of their earlier success.
Further, signing Burress – or Moss or Owens, for that matter – would retard the development of one or two young receivers that a team counts on for the future.
Finally, no matter how much people say they have changed – or coaches say that they can change them – they rarely do.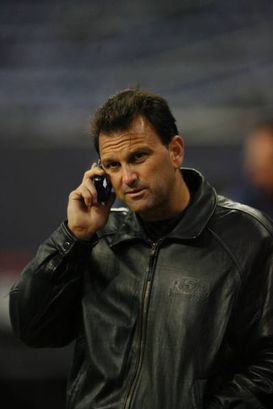 Rosenhaus negotiated a new contract for Burress after the Super Bowl victory.
New contract, same problems
Fresh off the Super Bowl victory in 2008, Burress and Rosenhaus made advances to Giants management about an adjustment to his existing deal he signed in 2005, a $25 million deal that had three years left on it. And the Giants eventually rewarded Burress with a 5-year, $35 million deal at the start of the 2008 season. As it turned out, after all of the suspensions, forfeitures, lost game checks, fines and missed workout bonuses, Burress' total new money received of that $35 million was around $3 million.
Twenty days into the contract, the Giants suspended Burress for one game for violating team rules - missing multiple team meetings and being unreachable by phone. Prior to an appeal by Burress, the Giants cut Burress' fine in half but retained the one-game suspension, costing Burress $117,500.
A month after that Burress was fined $45,000 by the NFL for verbally abusing an official and throwing the ball into the stands.
And, as we all know, a month after that, Burress – carrying a loaded and unlicensed firearm in his sweatpants – accidentally shot himself at a New York City nightclub, later charged with two felony counts of attempted criminal possession of a weapon, to which he pleaded guilty in August of 2009. He was incarcerated on November 22, 2009 and released on Monday.
A CBA issue
Burress' self-inflicted wound and its aftermath has become one of the big issues in the negotiations between the Owners and the Players.
Owners have been frustrated that players such as Burress and Michael Vick have been able to retain the vast majority of their bonus money despite willful bad behavior. Both the Giants and Falcons were unsuccessful in their attempts at bonus recovery, with arbitrators (and Judge Doty) ruling that their bonuses were already "earned" and therefore not recoverable.
This is an important issue on the agenda for Owners – and one that may be a topic of discussions in the meetings occurring right now – and one that the Players eventually accommodate them. With the caveat, of course, of something in return.
New team coming?
Burress will find a new employer (the Giants want no part of a return there) when the NFL returns for business. I will leave the speculation as to which team that will be to others. My interest is in what his eventual contract will look like. And that depends on one thing: leverage.
In the event Burress only has one or two suitors, the team will be able to secure a low risk deal. If there are many suitors, Burress has leverage to shift the risk to the team and secure committed cash that will be hard to recover.
Knowing Drew Rosenhaus -- who I enjoyed dealing with when the cameras were off -- there are two certainties here: (1) whether Plaxico has multiple suitors or not, Drew will say that he does, both to teams and to the media; and (2) cash is king and the team with the most upfront bonus money will likely rule the day.
Allocation of risk
Notwithstanding the fact that I would be hesitant to sign Burress, were I in the position of negotiating the deal with Drew, I would try to make as much of the contract as possible "earnable" through performance. Towards that end, a team negotiating this contract would attempt to have:
(1) Bonus money subject to a payment plan deferred in future installments, allowing the team collateral in the event of a breach by Burress;
(2) A significant percentage of the contract in easily achievable "45-man active roster bonuses" requiring Burress to be active on game day to receive the money. This would protect the team in case of injury – Burress hasn't played in two seasons – and/or further suspensions; and
(3) Performance incentives for receptions, yardage and touchdowns. The team could be liberal here with the thresholds required in ramping up to his pre-incarceration levels of performance.
Can a team negotiate these terms in a contract for Burress? Again, that depends on how many teams are interested.
When the lockout ends, Burress will be one of the more intriguing signings in what is sure to be a condensed free agent signing period. To me, it will be more interesting to see what he signs for rather than whom he signs with.
Follow me on Twitter at adbrandt