January 31, 2012 -
Andrew Brandt
The Pro Bowl Problem
After what can be charitably called some lackluster effort at the Pro Bowl Sunday night, I thought I'd outline a few issues surrounding the game, a game many think should not even be played.
While there was little action on the field, the action around the Pro Bowl is off the field. There is no gathering on the NFL calendar, including this week's Super Bowl, quite like it. It is a toxic mix of superstar players and their families, agents there to either protect their assets or poach on new ones, and assorted others. Before getting to that, here are some business aspects of the game itself:
Pro Bowl bonuses
A good percentage of veteran contracts in the NFL have incentives for making the Pro Bowl, with amounts ranging from around $25,000 up to $500,000. Of course, in elite contracts that average $10 million and higher, Pro Bowl bonuses are usually not part of them as teams maintain that the value of these contracts presumes Pro Bowl-level performance.
The contract language varies from team to team, but the standard Pro Bowl incentive triggers "in the event Player is selected on the original ballot." This means the player must be one of the three quarterbacks, four wide receivers, two centers, etc. actually voted in to play the game. While Pro Bowl alternates subsequently added to the roster do receive payment for the game itself (see below), they would not receive a Pro Bowl bonus unless their contract specifically stated that the bonus triggers "if selected as an alternate and later added to the roster." I am not aware of any of these clauses.
Injured players who are "medically excused" and Super Bowl participants selected on the original ballot do receive their bonuses as per their contract. Thus, any Patriots or Giants players with Pro Bowl bonuses who were selected to the game will receive that money – along with their Super Bowl money ($44,000 to each losing player; $88,000 to each winning player) despite not participating due to Super Bowl preparations. Contracts have been adjusted to reflect this since the NFL moved the game from the week after the Super Bowl to the week before.
As to injured players, the NFL requires documentation of injuries from the player's team for them to be medically excused from the game. I remember having to provide the NFL documentation of, ahem, "injuries" to Brett Favre to excuse him from making the trip.
Game amounts
For 2011 and 2012, the Pro Bowl amounts paid are $25,000 to the losing team's players and $50,000 to the winners. However, that extra $25,000 didn't seem to matter much on Sunday, as Brandon Marshall was catching touchdown passes with scant resistance from NFC defensive backs.
The Pro Bowl problem
In managing player contracts, I always dreaded the week after the Pro Bowl. That is when players returned to the mainland with lots of new opinions and demands learned from their trip to the islands. The calls from players and agents about what they learned in Hawaii would usually come in starting right about…now.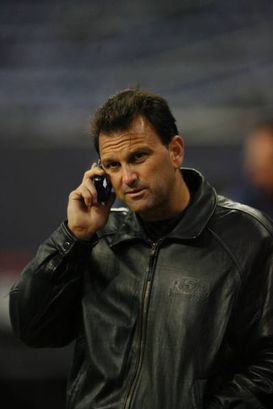 Drew Rosenhaus is a ubiquitous presence at the Pro Bowl.
The real action at the Pro Bowl – whether at the pool, the hotel lobby or around the half-hearted practices – is the search for the hearts, minds and wallets of these elite players. The "whisper crews" – agents, financial managers, marketing reps, advisors, enablers, family members, sycophants, etc. – are in players' ears with thoughts on how their team is not treating them properly, how they are underpaid, how their agent should be fired due to lack of aggressiveness in pursuing a better contract, how the player needs more personal attention, better treatment, etc.
The player hotel at the Pro Bowl is swarming with agents, some "playing defense" to protect their Pro Bowl player asset and others poised to strike on potential new marks. These "enterprising" agents find ways to visit with players who may be potential targets for future representation, using their significant powers of persuasion, sometimes accompanied by striking women.
I remember experiencing post-Pro Bowl dissatisfaction from players such as Mike McKenzie, Javon Walker, Ahman Green and Donald Driver . McKenzie and Walker became clients of Drew Rosenhaus and I was soon hearing requests/demands for more money and/or a trade (both were eventually traded for second-round picks). Green and Driver did not make demands but felt they deserved a better contract after spending a week listening to the whisper crews.
The Pro Bowl atmosphere plays on the emotions and heartstrings of top NFL players, especially ones making their first trip due to this great reward. One rule of negotiating that I always keep at the forefront: never underestimate the power of ego and insecurity. They are powerful emotions.
Teams around the league will be having some difficult conversations starting this week.
Follow me on Twitter at adbrandt.