March 25, 2011 -
Andrew Brandt
This could get ugly
Here are some reactions to the week's events in the NFL outside of the courtroom:
Meetings to vent
The NFLPA and NFL both had their annual meetings, in Florida and New Orleans, respectively. Both sides used the forum to vent about the labor battle.
The NFLPA actually spent a good part of their meetings crafting a response to the letter that Commissioner Goodell sent out to all NFL players. Goodell expected a negative reaction from some, hoping only to plant seeds of doubt in the minds of others.
The NFL leadership continues to want to take the matter back to negotiation and mediation. They will not engage the lawyers for Brady v. NFL, refusing to acknowledge that the union has decertified, calling that a "fake suicide."
The statements from both meetings echo what has been going on this relationship since DeMaurice Smith was elected two years ago: posturing, rhetoric, finger-pointing and a game of "he said/she said." It has long been clear that the two sides do not trust each other; it has come into focus that they simply do not like each other. And people want to do business with people they like.
Sides hardening
With a deteriorating relationship between NFL and NFLPA leadership, we may be approaching a point where positions will harden more than they already have. It may mean that the NFL reduces its offer from March 11; it may mean that if the lockout is not lifted there are no negotiations or settlement talks at all; it may mean that whatever posturing has gone on will look tame to what may be coming. This could get more unpleasant than it has been.
The NFLPA leadership has bought into DeMaurice Smith's and lead counsel Jeffrey Kessler's strategy of decertification and litigation. For now. In the event there is a negative result from the Preliminary Injunction hearing on April 6th, there could be some remorse about that strategy.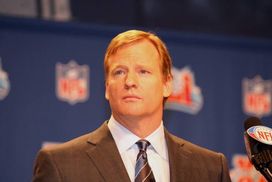 ICONGoodell has hinted at reducing the offer made on March 11th.
Reduced offer
Goodell hinted at the possibility that the owners could lower their offer from March 11th if it is not accepted. This continues the strategy of planting seeds of doubt in some NFL players that the decertification strategy may be steering down a losing path.
The key to reducing the offer is a willingness of everyone to commit to it. If the NFLPA knows that it is simply a negotiating tactic, and that the original – or better -- offer will be back on the table at some point to make a deal, it is certainly a hollow threat.
Illegal contact
Five NFL teams were disciplined for contact with players in recent weeks. However, as the NFL has noted, that discipline was for conduct prior to the March 12 lockout.
From the time the players leave their facility in January or February until they return for the start of offseason workouts, usually in late March, teams are admonished to not have contact with the players. I vividly remember the memos from the NFL advising of such "hands-off" time, usually coinciding with the Combine and the beginning of free agency.
Although not due to the lockout, the infractions were obviously lockout-related, as teams wanted to squeeze in as much time with players as they could before the lockout prohibited them from doing so.
Personal Conduct Policy, HGH testing in play?
There is considerable debate as to whether one of Goodell's hallmarks: the Personal Conduct Policy – will be applied retroactively once the lockout ends. And now there is a Fox Sports report that the NFL will request/demand players to submit to HGH testing.
The bottom line is these are two more issues -- along with so many others such as an 18-game schedule, bonus forfeiture, rookie pay, franchise tags, etc -- teed up for the final settlement of Brady v. NFL, whenever that may be. In the final negotiations, discipline for conduct during the lockout and HGH testing will be bargaining chips that one or both sides' uses to balance out the deal. In other words, like everything else about football right now, it is all part of the bigger negotiation about the money.
Stay tuned.
Follow me on Twitter at adbrandt.