October 18, 2011 -
Barry Dorey
Trading Deadline usually a Dud
Today is the NFL trading deadline, with no trading between teams allowed after 4 pm eastern time today until the start of the 2012 League Year in March. And my reaction, like that of most NFL teams, is ho-hum.
The NFL trading deadline has never created the "buzz" that other sports, particularly baseball, have caused. While there appear to be a few significant trades every year in March -- although this locked-out year meant August -- there have been scant few trades of consequence at the deadline in October. Let's examine why:
Game of Schemes
While drafting and developing players has proved a tried and true formula, results from free agent signings and trades have been spotty. While there have certainly been successful signings and trades over the years, free agency and trades have not proved to be optimal strategies for sustained success.
The reason trades don't work consistently is the same reason free agent signings don't work consistently well in the NFL: football is about interdependent parts, about eleven players playing in concert rather than as individuals. Football is the ultimate team sport; the MVP of the NFL plays in barely half of his team's plays from scrimmage!
Football is schematic: the West Coast offense, the 4-3 and 3-4 defenses, Cover Two, press coverage, wide-nine, etc. Fitting players into these schemes -- whether through free agency or trading -- is not seamless. In baseball, for example, a pitcher can move from team to team as a mercenary; there are no "curveball teams" or "fastball teams". How many times do we hear about players having trouble with their teams due to not having the benefit of a full training camp, of not knowing the system, or having to learn a different scheme, etc? Trades at this point of the season would force that adjustment on an even more accelerated pace.
Why is He Available?
There is usually an unstated reason why these players are available. As a front office executive, I always raised a red flag when the player's team was not trying to keep him rather than offering him up for trade or letting him leave in free agency. There is a reason the player is availabe.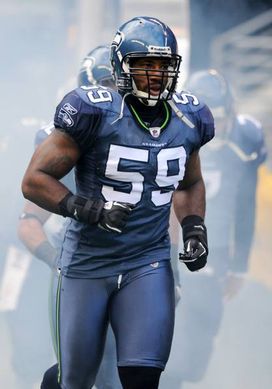 Curry went from treasure to trash for the Seahawks.
Last year at this time, the Vikings gave the Patriots a third-round pick for Randy Moss. However, the Vikings soon realized why they had traded Moss to the Raiders in 2005 (players usually don't change). Moss instantly clashed with head coach Brad Childress and the much-anticipated trade netted a player with minimal results before who was scuttled after 25 frustrating days.
Aaron Curry, the fourth pick in the 2009 Draft, was just moved for a couple low-round picks, meaning the Seahawks would have taken a ham sandwich just to trade him. Thankfully for the Seahawks, the Raiders have always been a team willing to roll the dice on players that other teams have given up on.
Similarly, the Broncos' productive receiver Brandon Lloyd was traded by the Broncos to the Rams yesterday for a low-round pick. Lloyd, whose contract expires after the season, will now join his fifth team, making one wonder why the first four teams did not keep this talented player.
The NFL seems just fine with the lack of trading and the lack of any excitement associated with the trading deadline. They have kept the trading deadline in the early part of the season to discourage the prospect of "renting" players for a stretch run, especially by contending teams. At this point in the NFL season, it is difficult to tell which teams should be buyers or sellers as is the usual analysis in baseball in late July, four months into their six-month season.
Financial Pain
If a player with a $10 million signing bonus on a five-year deal were traded in his second year, the unamortized $8 million charge would accelerate to the trading team's Cap in that season. Were that same player traded after June 1st -- which is true regarding players moved at the trading deadline -- only the $2 million charge for that season would stay on the books that year with the other $6 million pushed off until the following season.
Although the ability to push off Cap pain into next year may be seen as helpful to trading, more and more NFL teams are trying to "pay as you go" with Cap management rather than adding future charges, and the Cap is not expected to increase much in 2012.
As to salaries, a player's contract is assigned to the new team upon a trade, meaning that the new team will assume the remaining weeks of 2011 salary and anything else remaining on the contract. As discussed here regarding Kyle Orton, that could include paying back certain monies to the trading team.
My sense is that we will see little, if any, activity on this 2011 trading deadline in the NFL, which is fine with the NFL. And my further sense is that even if we do see some players moved, the impact of such movements will be limited at best. Football and trading don't appear to be a good match.
Follow me on Twitter at adbrandt.