July 04, 2011 -
National Football Post
Independence Day presents an ideal opportunity to reflect upon our nation's rich history and to commend those figures who sacrificed for the greater good. The NFL – the nation's most popular and successful sports league (when in business) – holds a special place in the fabric of American culture. In honor of the holiday and taking a break from the long-running labor dispute, let's pay tribute to the NFL Founding Fathers:
Executives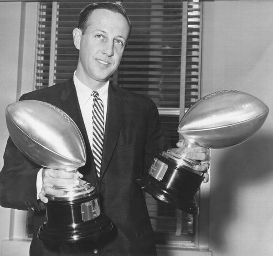 ICONRozelle was instrumental in creating the NFL brand.
Pete Rozelle: As Commissioner from 1960-1989, Rozelle grew the game – and business – of professional football. Under his watch, the NFL merged with the AFL, entered into the first leaguewide network television agreement, created the Super Bowl, launched Monday Night Football and introduced revenue sharing. In the words of the late Wellington Mara, Rozelle "moved the NFL from the back page to the front page – from daytime to prime time."
Paul Tagliabue: During Tagliabue's reign as Commissioner from 1989-2006, the NFL had extended labor peace, expanded from 28 to 32 teams, and built many state-of-the-art stadium facilities. And his calm manner guiding the NFL through the tragedies of 9/11 and Hurricane Katrina may ultimately define Tagliabue's legacy.
Gene Upshaw: As Executive Director of the NFL Players Association, Upshaw played a key role in the labor peace from 1987 until his death in 2008. Upshaw secured free agency for NFL players and established their marketing arm in Players Inc.
Roger Goodell: Revenues have soared under Goodell's watch. Goodell also forged the Personal Conduct Policy with a genuine goal of protecting the integrity of the league. Goodell is currently embroiled in a messy labor dispute; how – and when — he resolves the situation will help determine his legacy.
John Wooten: A former player and NFL executive, Wooten is the acting chairman of the Fritz Pollard Alliance, an organization promoting diversity within NFL front offices, coaching and scouting staffs.
Owners and team executives
Lamar Hunt: Founder of the American Football League and owner of the Dallas Texans (now Kansas City Chiefs), Hunt orchestrated the AFL-NFL merger and designated the NFL championship as the Super Bowl. Hunt's impact spans beyond football to tennis, soccer, and basketball – he's inducted into 11 different Halls of Fame!
Paul Brown: The founder of the Cincinnati Bengals, Brown coached the Cleveland Browns to three NFL titles. Some of his unique coaching innovations include: (1) intelligence tests; (2) classroom and film study; (3) grading of players; and (4) requiring players to stay at a hotel nights before games.
Tex Schramm: Schramm left his mark on both the Cowboys and the game. Schramm led the Cowboys to 20 straight winning seasons and five Super Bowl appearances. Some of his notable accomplishments include introducing instant replay, establishing three divisions and wildcard playoff teams, utilizing microphones for referees, playing games on Thanksgiving, shortening the play clock and more. I was fortunate to work with Schramm in 1990 when he led the formation of the NFL's World League and saw what a fascinating mind he had for innovation.
Al Davis: A true football renaissance man, Al Davis held various roles: (1) player personnel director; (2) assistant coach; (3) head coach; (4) general manager; (5) commissioner; and (6) owner/CEO. Eight weeks into his tenure as AFL commissioner, it successfully merged with the NFL. Always a maverick, in 1980 he moved the team to Los Angeles, challenging NFL policies and subsequently winning an antitrust lawsuit. And today is Davis's 82nd birthday.
Players
Reggie White: On the field, the "Minister of Defense" terrorized opposing quarterbacks on behalf of the Eagles, Packers, and Panthers. Off the field, White was lead-plaintiff in an antitrust lawsuit that culminated in large gains for NFL players in 1993, including the creation of free agency. I was privileged to know Reggie and cried with the rest of the football community when he suddenly died on Christmas day 2004.
John Mackey: An all-star player and NFLPA president, he lent his name to an antitrust lawsuit brought against the NFL, which successfully attacked the "Rozelle Rule" and brought gains to all future NFL players.
Jim Brown: Brown never missed a game and was MVP four times. Despite early retirement, he is fifth all-time in rushing touchdowns (106) and twelfth in rushing yards (12,312).
Coaches
Vince Lombardi: Having lived in Green Bay for nine years, I was reminded of Lombardi roughly every twelve seconds. The name bestowed upon the Super Bowl trophy, his patented overcoat, fedora, and sideline barking will never be forgotten nor repeated. Lombardi served as an inspiration to us all.
George Halas: "Papa Bear" was once player and owner and coach… simultaneously! During the 1920s, Halas organized and executed a countrywide tour which exposed professional football to the American community. Halas served the Bears in various roles from 1920 to 1983, coaching them to four championships.
Bill Walsh: The mastermind behind the west coast offense – a staple of today's game – Walsh dominated the NFL during the 1980s with three Super Bowl victories. His coaching disciples, including Mike Holmgren, Tony Dungy, and Mike Shanahan properly define Walsh's legacy. Walsh also spearheaded a management-training program for NFL executives at Stanford in his later years, a wonderful program that I was fortunate to both participate and teach in.
Media
Ed and Steve Sabol: Much of the NFL's success and popularity is due to the impressive artwork of this father and son. This upcoming August, Steve – battling a brain tumor – will present for induction into the NFL Hall of Fame. (Our thoughts and prayers are with Steve and his family).
Roone Arledge: Arledge took ABC and the NFL to new heights. Monday Night Football – his creation – improved the way in which football was televised and reported.
John Madden: Player. Coach. Commentator. Videogame endorser. Madden has been successful at each, creating a football brand unto himself.
Have a safe and happy Independence today!
Follow me on Twitter