August 30, 2011 -
Barry Dorey
Vick's Vault
Michael Vick is going to be an Eagle for a long time to come. Following a negotiation that began before the lockout and picked up steam this week, the Eagles have formalized their commitment to make Vick the face of the franchise for the foreseeable future.
Vick now becomes the first NFL player to sign two contracts potentially exceeding $100 million. The first one ended badly with the Falcons suing Vick for over $20 million in bonuses received. Hopefully this deal – and relationship with the team – continues to be positive. It appears it has been thus far.
Vick has been through quite the transformation since his incarceration for dog fighting, rising from those depths to become one of the true "it" guys in sports right now.
2009 deal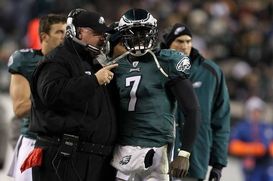 Reid was always a big fan of Vick.
I remember when Vick signed with the Eagles in 2009 following his release from prison, as I was consulting there. Vick had few options and Andy Reid – a huge fan of Vick – pushed for his signing in Philadelphia.
Vick wanted a one-year deal to rehabilitate his image and game and to be a free agent again in 2010 but the Eagles were insistent on two years. After Vick relented on the second year (the first year money took minutes to negotiate) the deal was done.
Popular guy
I will never forget when Vick walked onto the Eagles practice field for the first time. Players were elated, remembering the electrifying player that he was and many felt Vick was treated harshly by the criminal justice system. Vick was popular among all players (including Donovan McNabb and Kevin Kolb).
Prelude to 2011
Vick was used sparingly in 2009 as he tried to return to form (and shape). The Eagles then anointed Kolb the starter and extended his contract for another year and $12 million.
We know the rest of the story. Vick's electricity returned (I wish mine would); he was on everyone's short list of MVP candidates and became the unequivocal leader and most marketable face of the Eagles.
Deal priorities
Just as they extended Kolb a year ago, the Eagles did not want their starting quarterback to be a free agent after the season. It was important to remove the uncertainty of Vick and his future with the franchise. And the Eagles were fortunate that – due to the 2010 30% rule – they were unable to do a longer deal with Kolb, which may have hamstrung with Vick.
Vick was certainly willing to commit to the Eagles. He feels warmly about Andy Reid and the organization, a franchise that was interested when few others were. He also knows he has weapons that are young and ascending.
Here, then is the deal:
2011: $20 million
Vick has a $7 million signing bonus, a $3 million roster bonus and a $10 million salary this year. The bonus payments are within 15 days of execution, which is a nice payment schedule for Vick (and his creditors). The amounts are fully guaranteed.
The 2011 Cap number is the sum of prorated signing bonus ($1.4 million) plus roster bonus ($3 million) and salary ($10 million) for a total of $14.4 million, which is only a couple million below the $16.2 million that Vick was already counting. The Eagles did not need to drastically reduce Vick's Cap charge and prefer flatter numbers through the deal.
2012: $12.5 million
This salary is fully guaranteed.
2013: $16.5 million
Of this, $3 million is guaranteed for injury only. However, once the calendar hits the second day of waivers in 2013 – in mid-February – the guarantee converts to a full skill guarantee for that year. Vick allowed this for funding purposes, as any amounts guaranteed for skill prior to January 31 have to be funded by the team.
Vick can add to the total guarantee of $35.5 million by another $3 million should he win a Super Bowl in 2011 or 2012, making it a potential $38.5 million guaranteed.
Three-year amount: $49 million
This amount de-escalates (reduces) by $500,000 for each year that Vick does not win the Super Bowl, applicable to the 2013 salary, bringing the number down potentially to $48 million, or an even $16 million APY over the first three years.
2014: $15.5 million
Vick will receive a salary of $12.5 million with a March roster bonus of $3 million.
Vick also has an escalator in this year that ramps up his salary in the following manner: (1) $500,000 for an NFC Championship in 2011, 2012 or 2013; or (2) $1 million for a Super Bowl victory in 2011, 2012 or 2013; or (3) $2.5 million for two Super Bowl victories in that time frame.
2015: $16.5 million
Vick will receive a salary of $14.5 million with a March roster bonus of $2 million. The early roster bonuses are a benefit for the player to force the team to make a decision in March rather than August.
2016: $20 million
This year voids (disappears) with minimum playtime (35%) in any year, making the contract an actual five-year $81 million deal. It appears the year was added on to reach the $100 million figure, although it does not dramatically change the APY. And again, the contract is potentially reduced by $1 million if the Eagles do not win it all in the next two years and potentially increased by $2.5 million if the Eagles win two Super Bowls in the next three years.
Luxury Suite
Vick also is given the use of a luxury suite at Lincoln Financial Field, whose annual value is $165,000. Of course, the Eagles could not simply give this to Vick, as that would be a Cap violation. As fair market value consideration for the suite, Vick agreed to several obligations for the team: weekly segments on Eagles-produced television, website and radio programs; appearances at team events, sponsor appearances, etc.
The Eagles had a similar arrangement with Donovan McNabb in a previous contract.
Analysis
Kudos to the Eagles and agent Joel Segal: this deal works. The top-level quarterback contracts are those of Peyton Manning and Tom Brady, both done within the past year and both at an $18 million APY (although Manning is really a $23 million APY in the first three years). Vick fits in the level below that, with comparables of Eli Manning and Philip Rivers, both done two years ago, and also older deals of Carson Palmer and Ben Roethlisberger.
Of course, more deals are coming that will eclipse Vick. Drew Brees will likely pass the $17 million APY, and at some point Aaron Rodgers will do the same.
Interestingly, the Larry Fitzgerald contract had ramifications even for Vick. Once the $15 million APY was set for Fitzgerald, the Eagles had to move further from the $15 million APY that they were initially discussing (the Fitzgerald deal has caused some quiet cursing around NFL front offices).
Time will tell
How one feels about this deal is reflective of how one feels about Vick. The Eagles are convinced about Michael Vick as a player and a person after two years of being around him professionally and personally. That is reflected here as, compared to two years ago, the risk has shifted from Vick to the Eagles. Vick has proven to Andy Reid that he is every bit the player that Reid brought him in to be and an even better all-around quarterback than he was in Atlanta.
Once the decision was made that the Eagles were interested in extending Vick rather than letting him play out the Franchise tag – and potentially receive another Franchise tag in 2012 – this is about where the deal should have come in. Top quarterbacks below the Brady/Manning tier are making in the $16.5 APY and $35 million guarantee level. And that's what Michael Vick is; a top quarterback in the NFL right now.
Finally, Vick's "it" factor cannot be denied. He has become a player that other top players want to play with, something clearly reflected in comments by Nnamdi Asomugha, Vince Young and others.