October 04, 2011 -
Barry Dorey
What can Brown do for Carson?
Now a quarter of the way through the NFL season, one of the league's better quarterbacks is under contract yet nowhere near his team as we speak. The relationship between Carson Palmer and the Cincinnati Bengals appears past the point of no return. Let's examine:
No more Bengals
Except for an injury-shortened season in 2008, Palmer started virtually every game for the Bengals between 2004 and 2010. He has passed for almost 23,000 yards and 154 touchdowns versus 100 interceptions and is a two-time Pro Bowl selection (2005 and 2006).
Now, for several reasons – management, coaching, location, lifestyle, etc. – Carson Palmer would much prefer to be an ex-Bengal, requesting a trade in January.
Although Palmer has not been directly quoted, his longtime agent David Dunn announced, "Because of the lack of success that Carson and the Bengals have experienced together, Carson strongly feels that a separation between him and the Bengals would be in the best interest of both parties."
Translation: "The Bengals should trade him and get some value because he's not showing up!"
Not surprisingly, Bengals president Mike Brown has repeatedly rejected that request.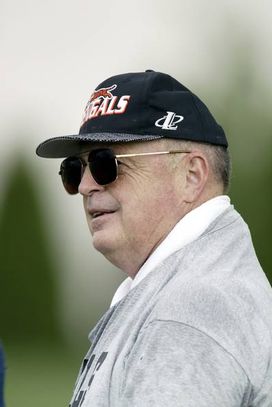 ICONBrown is rigid in his principles.
The enigma of Mike Brown
Brown is as principled and rigid a person as I have met in the NFL, to the annoyance of agents, players and some other NFL owners. Brown operates in a certain way and instills that mindset throughout the organization that includes his daughter Katie Blackburn – who handles player contracts – and son Paul, a scout.
When I started my career, I was an agent to Bengals such as quarterback Boomer Esiason and running back Eric Ball, ironically now the team's Director of Player Relations. In dealing with Brown, I found him to be confounding but respected him as a negotiator and learned from his style.
Later in my career with the Packers, I sat in league meetings and noticed some owners roll their eyes when Brown spoke. He felt the wrath of aggressive owners such as Jerry Jones and Dan Snyder who clearly felt Brown wasn't doing enough to market his product, preferring to sit back and collect his share of revenue produced by the disproportionate efforts of others.
In part because I always look at both sides of an argument – a hazard of my legal background -- and in part because I worked in the league's smallest market in Green Bay, I often found Brown's comments to be rational, frequently in the face of palpable sentiment against him in the room. Brown was one of only two owners (the other being Ralph Wilson of the Bills) to vote against the 2006 CBA, one that most owners soon regretted approving.
What can Brown do for Palmer?
Brown will not acquiesce to Palmer, even if it may become the popular thing to do. Brown knows that Palmer doesn't want to retire but is trying to leverage that to force a trade, remarking:
"Carson signed a contract. He made a commitment. He gave his word. We relied on his word. We relied on his commitment. We expected him to perform here. He's going to walk away from his commitment. We aren't going to reward him for doing it."
Translation: "Hope he enjoys retirement!"
There are certainly NFL owners and general managers that would trade Palmer to get value for a still-marketable player rather than letting him sit. And I suppose there is a chance Brown will eventually do so before the October 18 trading deadline. However, if I were Palmer, I wouldn't hold my breath.
So he sits
After failing to report to training camp, Palmer was placed on the reserve/did not report list, where he still sits, and his $11.5 million salary will stay off the books as long as he stays "retired".
Many ask if Palmer could leverage a trade by requesting to be put on active, forcing the Bengals to activate him. And were the Bengals a Cap-strapped team, Palmer would have some leverage.
However, the Bengals have plenty of Cap room. Were Palmer to request reinstatement, the Bengals could and would take on his remaining salary – presently $8.8 million, with 13 weeks left this season. And each week that goes by reduces that commitment by $676,000.
Palmer and Dunn also know that were he reinstated, Palmer, as an active member of the team, would be required to attend all meetings, practices, games, etc. That is certainly not what he wants.
Thus, Palmer is parked on the reserve list and sits in retirement in California – where he would love to play – and the Bengals move on with Andy Dalton as their quarterback, turning the page on the Palmer era perhaps for good.
Follow me on Twitter at adbrandt