October 27, 2010 -
Andrew Brandt
Why are we trading David Bowens?
While watching the highlights of the Browns' resounding upset of the Saints, I was floored to see two Drew Brees interceptions returned for a touchdown by a defensive lineman named David Bowens.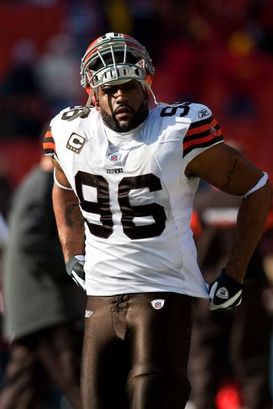 ICONBowens had a career day Sunday for the Browns.
Line of creditors
I admit to shock yet pleasant surprise that Bowens is still even in the NFL, now having received a decent free-agent contract to be a rotational player on the Browns' defensive line. Nine years ago with the Packers, I spent much time dealing with creditors chasing Bowens throughout Northeastern Wisconsin. Although his time in Green Bay was brief, Bowens' file was thick, full of unpaid bills and repossessed cars. I did suspect that behind that carelessness appeared to be a good person who had the smarts to get his act together -- and has evidently done so.
The trade from the beach
I will never forget the day we traded Bowens. After signing all our draft picks, I took off a couple of days to a local beach north of Green Bay when a call came in from the late Mark Hatley, our vice president of player personnel. We'd had a couple of tight ends go down and needed to get another tight end in camp. We had a tentative deal with the Buffalo Bills to bring in a tight end named Bobby Collins in exchange for our debt-ridden defensive lineman Bowens. I needed me to write up the language and confirm the deal with the league.
I was working out the trade language on my cell phone as I walked alongside Lake Michigan when my cell phone died. No service, no bars, nothing.
Dripping wet in my trunks and with my toddler son Sam in tow, I looked around the state park we were in and saw no public phones in sight, only a small ranger shack. I gathered Sam and trudged in the shack to see an official-looking park ranger sitting at his desk with, yes, and a phone which I asked to use.
He waved me off without a word. Undeterred, I said, "I'm with the Green Bay Packers and we're about to make a trade. My phone died and I really need to use a phone to complete this trade."
The park ranger now looked at us in our dripping bathing suits with an expression of disdain and waved me away again as if to say "Sure you are, and I'm with the FBI!".
"Why are we trading Bowens?"
This was going nowhere, and the clock was ticking. With no other option, I lowered my head to the desk, looked the park ranger dead in the eye and said "Listen, I do work for the Packers. We are trading David Bowens to the Buffalo Bills, and this trade won't happen unless I can use your phone right now!"
I knew I had an opening when he looked at me, looked at Sam, then looked back at me, squinted and said, "We're trading Bowens?"
"Yes, but only if I can use your phone!"
"Why are we trading Bowens?" he asked.
"I'd be happy to tell you after I use your phone!" I told him. He then mumbled something about trading Bowens and slowly pushed his old rotary-dial phone toward me.
I called the Packers, the Bills and the NFL and consummated the trade of Bowens. The park ranger sat there watching with obvious satisfaction of being involved (although clearly disapproving our decision to trade Bowens).
The deal went through and was published in the paper the next day. I stopped by the ranger shack to show him the headline, but it was already sitting on his desk, telling his colleagues and visiting beachgoers that he -- a proud member of Packer nation -- had been part of the trade. Indeed, he was.
David Bowens has come a long way through a lot of teams -- Broncos, Packers, Bills, Redskins, Dolphins, Jets and Browns -- culminating with his memorable day Sunday. Glad to see he's doing well; the park ranger may have been right in wondering why we were trading him.
Follow me on Twitter at adbrandt.