October 25, 2011 -
Barry Dorey
Will Forte, Jackson cash in?
Two game-changing players – Matt Forte and DeSean Jackson – have a lot in common, perhaps more than they'd like. Both Forte and Jackson were drafted in the second round of the 2008 NFL draft, a mere five picks apart (#44 and #49, respectively). And each is earning $600,000 this season, playing out the final year of their rookie deal. Over the past year, both have witnessed the market for top players at their position pass them by while they have outperformed their existing contracts. And although each had a low rumble of discontent in training camp, neither secured a contract extension before the season. Both have taken the high road (for the most part), putting their contract situations on hold for the time being. Let's analyze:
Preseason Dealings
After Forte voiced his displeasure, the Bears reportedly offered a deal in the $6 million average per year (APY) range, with about $13 million guaranteed. Forte declined, confident in his skill set and determined to allow his on-field performance -- which has been stellar -- increase his value.
Conversely, Jackson – whose one-day holdout was aborted due to the threat of penalties for staying out longer – has heard only deafening silence from the Eagles. While continuing to watch and wait, Jackson has seen the Eagles' free agent spending spree and the lucrative Michael Vick extension. And instead of signing a contract, Jackson signed an insurance policy.
Running Back Market
The running back market – which had remained stagnant for several years – advanced light years during the past month, with top deals signed by Adrian Peterson and Chris Johnson.
A seven-year, $100 million contract in name only, Peterson's new deal breaks down to $40 million over the first three years ($13.3 million APY), with $36 million guaranteed. Chris Johnson's extension is worth $31 million over the first three years ($10.3 million APY), with $30 million guaranteed.
Although the Bears earlier made the argument that Peterson and Johnson were in a class unto themselves, Forte seems to be knocking on that door. Agent Adisa Bakari will point to the gaudy numbers Forte has produced during his first three season and the fact he is on pace for another year of statistical brilliance. The Bears' MVP, Forte has thus far produced nearly 50% of the Bears' total offensive yardage.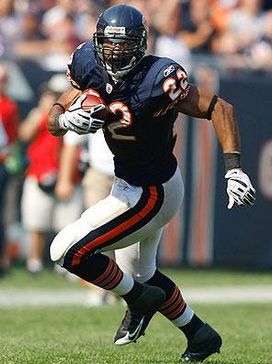 Forte's production has been strong despite his contract discontent.
From Forte's point of view, the longer the Bears wait, the greater Forte's value escalates. The Bears may have a different point of view.
The Bears know – as everyone does – that the shelf life of an NFL running back is brief. They are also seeing limited production from Johnson following his extension after seven games.
The dilemma for the Bears and Forte, who has averaged 327 touches over the last three seasons, is predicting when the large workload given to him by the team catch up to him?
I remember in Green Bay when running back Ahman Green and his agents were pushing hard for a new contract, having watched extensions for players such as Clinton Portis bolster the market. Although I was friends with Ahman I resisted, knowing the risk involved in rewarding running backs second or third contracts.
Running backs are the most disadvantaged position group in the NFL. Often, their prime playing years are performed both for free in college and for low earnings in the early years of their NFL career. Teams are hesitant to reward players who have produced significant numbers in second or third contracts despite that production or, more ominously, because of it!
Wide Receiver Market
Larry Fitzgerald and Santonio Holmes recently signed top of market deals. Fitzgerald's deal – $45.5 million guaranteed ($15 million APY) – is one of the most valuable contracts ever given to a non-quarterback. Holmes, a free agent, never really tested the free agent waters and returned to the Jets under a five-year $45 million contract ($9 million APY) with $24 million guaranteed.
Jackson will not be able to secure a similar deal to Fitzgerald but will press the Holmes deal as a comparable, both in terms of APY and guarantees.
The double-edged sword for Jackson, however, remains his uniqueness. Jackson is truly dynamic; he can score from anywhere on the field and is always a threat in the return game. However, the Eagles' concerns center around his slight build and the risks Jackson faces every Sunday.
With Vick signed and the Franchise Tag available for 2012, the Eagles know they can delay the situation another year despite whatever grumblings may come from Jackson or agent Drew Rosenhaus.
The Other Side of Rookie Pay
In the new 10-year Collective Bargaining Agreement (CBA), NFL owners prioritized curbing the excessive contracts in the top half of the first round, making these players the "sacrificial lambs" of the new CBA. Compensation paid to all other rookies including second-round picks, however, remains relatively flat. And as I know well from managing a Cap for a decade, NFL teams' best value players are those drafted in the second round or later. Unfortunately for dozens of productive players like Forte and Jackson, this aspect of draft compensation has not changed.
Time Will Tell
NFL teams can extend players and use up 2011 Cap room up until the tenth week of the season, a date that is looming soon. It will be interesting to see if either player receives an extension prior to then. The time is near for them to reap their financial reward; the question remains as to when, how much, and potentially where?
With both Forte and Jackson, the intriguing question is whether their success and uniqueness is helping their case for a new contract or, in an ominous twist, hurting it!
Stay tuned.
Follow me on Twitter at adbrandt.