January 03, 2012 -
Greg Gabriel
2011 NFP All-Rookie offensive team
After watching many rookies contribute this season, my feeling is the 2011 rookie class didn't have as many contributors as 2010. But still we saw many rookies make outstanding contributions. What follows is our All-Rookie offensive team. We will have the defensive team on Friday.
Quarterback
Cam Newton – Carolina
This one was easy. From a statistical viewpoint, Newton has been the most productive rookie quarterback in the history of the league, throwing for more than 4,000 yards and running for over 700 yards. The future looks bright in Carolina.
Running Backs
DeMarco Murray – Dallas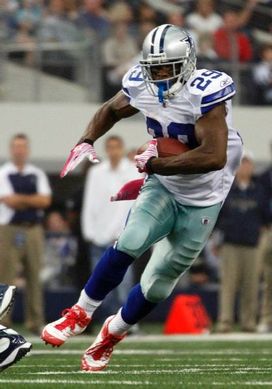 DeMarco Murray was the leading rookie rusher with 897 yards and a 5.4 average per carry.
Murray played a lot better than I thought he would, showing speed and creativity that I never saw while he was at Oklahoma. He was the leading rookie rusher with 897 yards and a 5.4 average per carry.
Roy Helu – Washington
Helu, a 4th round draft pick, became the Redskins leading rusher with 640 yards on 151 carries. He also was a very reliable receiver with 49 catches. He runs hard with very good instincts. He might not break a lot of long runs but he is very consistent and reliable.
Wide Receivers
This was a very productive group and I picked three for the team. I very easily could have picked five.
Julio Jones – Atlanta
Going back to last spring, I felt Jones was the best receiver in the draft. He had a strong rookie season with 54 catches for 959 yards and 8 touchdowns. Look for him to play well in the playoffs as he had a very strong late season for the Falcons.
A.J. Green – Cincinnati
Green was the first receiver taken in last April's draft and didn't disappoint. He led the Bengals in receptions with 65 for 1,057 yards and 7 touchdowns. Green isn't a "burner" but he is very athletic and can make the acrobatic catch.
Torrey Smith – Baltimore
His was a difficult choice. I was going back and forth between Smith, Doug Baldwin (the free agent rookie receiver for Seattle) and Denarius Moore (the Raiders 5th round receiver). I finally went with Smith because he didn't start playing until Week 3 and gave the Ravens a deep ball threat opposite Anquan Boldin. He averaged 16.8 yards on 50 catches with 7 touchdowns.
Tight End
Kyle Rudolph – Minnesota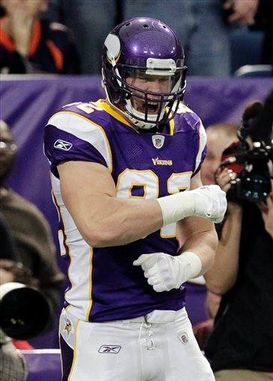 Kyle Rudolph made 39 catches and had 3 touchdowns in his first season with the Vikes.
2010 had one of the best tight end classes ever. This year wasn't quite as good. Two stood out from an average class and they were Rudolph and Lance Kendricks with St. Louis. Kendricks is more of a move tight end while Rudolph has the bulk, size and power to play as an inline tight end and the speed and finesse to be a move type. He put up good numbers with 39 catches and 3 touchdowns.
Offensive Line
Tyron Smith – Dallas
Smith started every game at right tackle for the Cowboys and flashed some outstanding ability. Smith just turned 21 less than a month ago, so we have yet to see how good this player can be. He already is one of the most athletic linemen in the league.
Anthony Castonzo – Indianapolis
The big rookie started at left tackle for the Colts. He was consistent as both a run and pass blocker. His run blocking turned out to be much better than I thought it would be when I was studying him a year ago. He has the whole package.
Mike Pouncey – Miami
Pouncey might not be as good as his twin brother Maurkice in Pittsburgh but he is a very good player in his own right. He shows consistency as both a run and pass blocker and will be the anchor of the Dolphins line for years to come
Nate Solder – New England
Solder, the Patriots first round pick, started most of the season at right tackle. His future may well be at left tackle when Matt Light retires. Solder is tall and long and uses his hands very well. While he has been a consistent run blocker, he still needs to add lower bulk and strength.
Stefan Wisniewski – Oakland
Wisniewski started at both guard and center this season. He is a tough, tenacious blocker with strength, power and balance. I saw the Raiders play 4 or 5 times during the year and Wisniewski's consistent play always stood out.