August 28, 2014 -
Greg Gabriel
A big night of football is on tap
On this Thursday night we have a choice: We can watch the final preseason games of the NFL's exhibition season or we can tune in for the start of the 2014 college football season. What's your preference?
Final preseason games
There will be 16 NFL preseason game on Thursday night. Over the years, I have come to believe that the fourth preseason contest for each club is the worst preseason game played. I used to think this was the case for the preseason opener because clubs only had two weeks of practice and they tried to play as many of their 90 players as they possibly could.
I have come to change my mind on that topic primarily because in the final preseason game, most clubs choose to sit any play that has significant value to the franchise. The game plan is, "Don't get hurt." If coaches had their way, there would be a running clock on the field so that the game could end as soon as possible.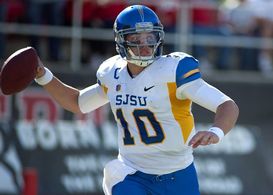 San Jose State product David Fales will lead the Bears against Cleveland.
Chicago visits Cleveland Thursday night and not only will starting quarterback Jay Cutler miss the contest, but so will backup Jimmy Clausen. Rookie fifth-round pick David Fales will quarterback the Bears throughout the entire game. At the running back position, undrafted free agent Jordan Lynch will get the bulk of the work. We will see similar scenarios played out at several other NFL stadiums Thursday night as well.
With the way coaches treat the final preseason game, the NFL and their member clubs ought to seriously think about deeply discounting the price of a ticket to these matchups. They sure aren't worth the cost of a full-price ticket.
The Logan Mankins trade
Sports radio in the Boston area is up in arms over the Tuesday trade that sent Patriots guard Logan Mankins to Tampa Bay. They shouldn't be. Head coach Bill Belichick has done the same thing countless times since his arrival in New England. He always trades or cuts a player a year before everyone else thinks he should get rid of that player.
Belichick is no fool. He knows when a player's performance is starting to slide. When he sees this happen he looks to trade the player for a value of much more than they are actually worth. It's very smart on his part and every time he has done it over the years, he has been right and had the last laugh. I am just surprised the New England fans and media haven't figured it out yet.
Belichick has done this with Ty Law, Richard Seymour and others over the years and every time it has turned out to be the right move. You can't ever underestimate Belichick when it comes to player evaluation.
Opening night in college football
Thursday night of Labor Day weekend has been the traditional opening night of the college football season for years. There will be games played every day for the next five days to celebrate the opening of the season.
The best games Thursday night feature #21 Texas A&M at #9 South Carolina. While rankings are totally meaningless this time of the year, this is still a quality SEC matchup.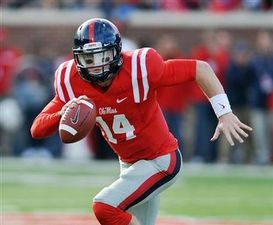 Ole Miss quarterback Bo Wallace leads the Rebels against Boise State on Thursday night.
The opening of the college football season also means the opening of the draftnik season. It won't be long before we start hearing how certain players are a lock to become top-five draft picks next spring. You can take all that talk with a grain of salt. Last year at this time all the "experts" were saying that Louisville's Teddy Bridgewater was going to be the first pick in the draft.
It takes NFL scouts months to sort things out and then there will be the underclassmen who enter the draft. Still, if you want to get a head start on scouting players for the next draft, there will be a few in this Texas A&M-South Carolina contest.
The top senior prospects at A&M are offensive tackle Cedric Ogbeuhi and corner DeShazor Everett. At South Carolina, the top seniors to watch should be safety Sharrod Golightly, guard A.J. Cann and tackle Corey Robinson.
The next best game to watch Thursday will be Boise St vs. Ole Miss in Atlanta. Mississippi has done a great job recruiting the last few years and while none of those recruits are seniors, the senior class still has NFL talent. Quarterback Bo Wallace and safety Cody Prewitt lead the senior prospects. Boise State has a senior receiver that goes into the season highly thought of by NFL people. Last year, Matt Miller had 88 receptions for 1,140 yards and 12 touchdowns. The other player worth noting is safety Jeremy Ioane.
Follow Greg on Twitter: @greggabe