September 02, 2011 -
Barry Dorey
A case against the preseason polls
Traditionally the first weekend of college football is made up of games that are in some cases huge mismatches. For example, Missouri State plays at Arkansas, Youngstown is at Michigan State and Tennessee-Chattanooga is at Nebraska. In many cases these games are over before they are played but it is a big payday for the smaller schools. A payday that helps keeps these programs going.
There are some good intersectional games such as Oregon at LSU, Boise St at Georgia and South Florida at Notre Dame this weekend. These games can prove to be very interesting. The one game that really caught my eye when I looked at this week's schedule was BYU at Mississippi. I can't remember when BYU opened a season at an SEC school or even traveled that far for an opening game. In the last 11 years they have only played two games in the southeast region. Last year they traveled to Florida St. and in 2002 they played at Georgia Tech. Neither of these games was to open a season but with BYU becoming an independent, we may see this happening often in the years ahead.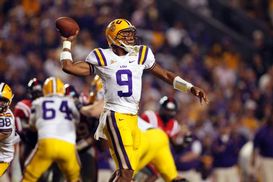 ICONJordan Jefferson may not see the field this season at LSU.
On paper and according to the polls, the Oregon-LSU game is labeled as the best game. Oregon is ranked 3rd and LSU 4th. For the life of me I can't figure that out. LSU has lost its starting quarterback (Jordan Jefferson) to suspension along with one other player and according to some reports more arrests and suspensions could be coming because of the off-campus incident. Oregon is currently being investigated by the NCAA for recruiting violations. How can either of these teams be ranked in the top 5?
Last year when I first started writing for NFP, I wrote a post about how absurd I felt the preseason pools were. A year later I feel no differently and here is why. Last year three of the top ten teams in the preseason AP poll were not in the top 25 at the end of the season (Florida, Texas and Iowa). Nine other teams that were ranked anywhere from 13 to 25 also were not in the top 25 when the AP's final poll came out. Those schools were Miami, USC, Pitt, Georgia, Georgia Tech, North Carolina, Penn State, West Virginia and Oregon State. That's almost 50 percent of the poll being off target. How can you have a poll that is that far off?
Last year's national champion, Auburn, was ranked 22nd in the preseason poll and schools that had great seasons and finished ranked like Stanford, Nevada, Texas A&M, Maryland, Oklahoma State and Tulsa were not mentioned. In fact many didn't even receive votes! Stanford finished 4th and Nevada 11th in the final poll.
As a scout in the NFL for over 25 years I have followed college football very closely over the years and I feel that there should be no polls before October 1st. That gives most schools four to five games under their belt and would give the voters a more educated guess as to who the top teams are. A poll in August is no better than a crap shoot and does nothing but set up false expectations…both good and bad. For now let's enjoy the games and see how the season unfolds. Maybe we will see another Cam Newton come out of nowhere and lead his school to the national championship.
A note on Pittsburgh Steelers GM Kevin Colbert
Earlier this week it came out that Kevin Colbert has been promoted to General Manager of the Pittsburgh Steelers. First I want to congratulate Kevin. I have known Kevin since 1984 and he is without a doubt one of the top front office leaders in the league. He is an outstanding evaluator and a top "Football Man." While he hasn't had the GM title, he has been performing GM duties for years. He is quiet and unassuming and stays out of the lime light…he just does a great job leading one of the best franchises in the NFL and he is one of the main reasons the Steelers are as good as they are. To date, I have not seen a press release from the Steelers about the promotion…that's typical Kevin. It's not about him it's about the TEAM. Too bad there is not more like Kevin in the league!