March 10, 2011 -
Greg Gabriel
A defensive look at the first round
On Tuesday we looked at the potential first-round players from the offensive side of the ball. Today we will look at the defense.
Defensive Line
Coaches and scouts tell me that as many as 8–10 defensive linemen could be drafted in this year's first round. It is clearly the strongest position in the early part of the draft. Unlike other drafts, a number of the defensive linemen can play multiple positions and should have no problem playing in either a 4-3 or 3-4 front. While at the combine, the defensive linemen group looked more athletic than they have in years. The two players that lead the pack are Nick Fairley of Auburn and Marcell Dareus of Alabama. Fairley is the first defensive lineman I have seen in years that has the talent to play anywhere along the defensive front in any scheme. He is very strong, powerful and athletic. To go along with that he is a top pass rusher from both inside and out and those guys are extremely hard to find. Dareus can play end in a 3-4 or tackle in a 4-3. While he isn't the pass rusher Fairley is he has pass rush traits and is a great run defender.
Next in the group is true junior Da'Quan Bowers of Clemson. Like Fairley he can play multiple positions. He will be a 21-year-old rookie with a high ceiling. He still hasn't totally matured from a physical standpoint and has a lot of untapped talent. Robert Quinn, another underclassman, is one of the best pure defensive ends. If he had played this past season he might be in the same class as Dareus and Fairley. He also had some concerning medical issues in his past, so I'm sure the doctors gave him a very close look. J.J. Watt from Wisconsin is player who should be able to play multiple positions and be a good player in both a 4-3 and 3-4 scheme. The star of the Senior Bowl practices was Cam Jordan of Cal. He followed that up with a strong combine. He is another player who has the talent to play more than one position and can play in just about any scheme. Missouri underclassman Aldon Smith is a natural pass rusher who needs to improve his run defense. He is another young player who hasn't quite matured physically and will get bigger and stronger.
Two big inside players will get long looks as potential first-round players. They are Phil Taylor of Baylor and Muhammad Wilkerson of Temple. Taylor is very explosive with a quick first step and Wilkerson has top athleticism for such a big man to go along with 35" arms. The other defensive linemen I'm hearing that could go in the first are Ryan Kerrigan of Purdue and Adrian Clayborn of Iowa. Kerrigan, at 6-3 and 267 pounds, is not a real big guy and may only fit some defenses as a defensive end but he showed at the combine that he has the speed, hips and overall body control to play on his feet and be an outside linebacker in a 3-4. That will increase his value. I felt Clayborn would run a little better than he did (4.81) but he is still a natural pass rusher and those players get drafted high.
Linebackers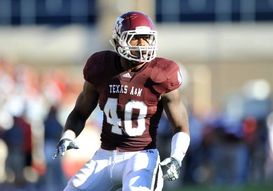 ICONFormer Texas A&M LB Von Miller is a potential top-five pick.
The top player at the linebacker position and a probable top 5 pick is Von Miller of Texas A&M. Miller has great size and speed to go along with elite natural pass rush skills. Both 3-4 and 4-3 teams have him rated high. After Miller, I'm told that only two other linebackers have a probable chance of getting drafted in the first round. They are Justin Houston from Georgia and Akeem Ayers of UCLA. Houston has very good athleticism for such a big guy. He weighed in at 270 yet still ran in the mid 4.6's. He's an ideal inside linebacker or Mike backer depending on the scheme. As I have said in earlier posts, the combine is more critical to underclassmen than seniors because clubs don't have any previous verified measurables on the underclassmen. From a speed standpoint, Ayers had a disappointing combine running only 4.86. He looked athletic but the explosiveness wasn't there. He will have a chance to redeem himself and run better at his pro day in late March. The player who surprised at the combine with his speed is Martez Wilson of Illinois. He ran a sub-4.5 40 at 250 pounds and showed some explosiveness but he doesn't play to that speed on tape and has some tightness in his hips.
Defensive Backs
This year is a normal year for corners, but the safety class is below average as compared to previous years. If April's draft follows others, 12-15 corners will be drafted in the first three rounds. Like always, if you want a corner, you better draft him early.
The first corner off the board should be Patrick Peterson of LSU. He has a rare combination of size and speed (6-0, 219, 4.35) to go along with top return skills. The next corner on many teams' boards is Prince Amukamara of Nebraska, who is also a size/speed player measuring 6-0 and 206 and running in the mid 4.4's. He has strong press coverage skills. Brandon Harris of Miami lacks ideal size (5-9 and 191) and didn't run as expected (4.53) but like Ayers in the linebacker group he will have a chance to run again at the Miami pro day. He has shown consistent cover skills throughout his career. Jimmy Smith of Colorado has the size, speed and coverage skills most teams look for in a corner but he has had some character flaws. While most teams agree he is a first-round talent, some clubs have him off their board because of character issues. It will be interesting to see how high he gets drafted.