September 06, 2011 -
Greg Gabriel
A favorite final cut story
The final cut to a 53-man roster is not an easy day for coaches, players and the front office. You have to tell a number of players that they just aren't good enough to make the team. These kids have put years and years of work in order to just get the opportunity to play football in the NFL only to find out that the work will not get rewarded. It happens every season. Many of the stories are the same year after year, only the faces change.
The person that has the hardest job is the "Turk." He's the guy who comes to you and says, "The coach wants to see you and bring your playbook with you." That's a sentence that no player wants to ever hear. For about 4 or 5 of my years in Chicago the "Turk" was Jeremy Snyder, who was a scouting assistant for both me and Pro Scouting Director Bobby DePaul. The young players quickly got to know who Jeremy was and would tell each other, "If you see him coming your way run the other way 'cause he's going to take you up stairs to get cut." I know it was a job that Jeremy didn't like doing but he was good at it and knew just what to say to the players to make them feel just a little better about themselves.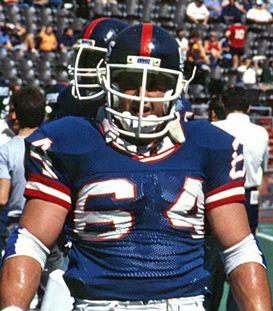 Former Giants star Jim Burt took every precaution on cut day.
Yesterday when I was writing the post on the number of undrafted free agents who had made clubs I started thinking about a rookie free agent years ago who was positive he was going to get cut and was going to do everything he could to prevent it. This happened back in 1981 at the New York Giants camp and the player was nose tackle Jim Burt. To give you a little history on Burt, like me he was from the Buffalo, NY, area. He played high school football at Orchard Park High School in suburban Buffalo. Jim's senior year was supposed to be a great one for Orchard Park but they never played a game because of a long teachers strike. Still there were three players on that squad that received Division I scholarships to play football. They were Burt, who went to Miami, Craig Wolfley, who went to Syracuse and then had a long career with the Pittsburgh Steelers, and a guy by the name of Larry Pfohl, who went to Penn State, later transferred to Miami and after bouncing around the NFL, CFL and USFL went on to a fairly good pro wrestling career using the ring name of Lex Luger. These were three pretty good players to have on one high school football team.
Burt had a very good college career at Miami but because he was undersized (6-0 and 260) he went undrafted. The Giants signed him as a free agent and like most rookies had an up and down training camp. The Giants defensive coordinator at that time was a guy by the name of Bill Parcells and Parcells was on Burt day after day…always yelling at him and getting him to do things better. What Burt didn't know at the time was that if Parcells paid a lot of attention to you that meant he liked his talent.
When the day of the final cut came around, Burt was positive he was going to get cut, so he barricaded himself in his room and hid under the bed. He thought that if the Giants were going to cut him they were going to have to work at it. The "Turk" for the Giants back then was a man by the name of Vinny Swerk, and anyone connected with the Giants back then can tell you that Vinny was not the most pleasant guy to be around. When Vinny came to tell you the coach wanted to see you, unlike Jeremy he showed no compassion. Anyway, after hiding under the bed for what seemed like hours, Burt finally realized that maybe he wasn't getting cut and would go over to the coaches' offices. When he got there he found out he had made the team and was late for practice and was fined for being so. Parcells just laughed at him and said, "I can't cut you, you have too much talent."
Burt ended up having an outstanding career with the Giants, playing from 1981 through the 1988 seasons and was voted to the Pro Bowl in 1986. Though undersized, he was one of the most explosive nose tackles I have ever been around. His initial quickness and explosive hitting was second to none. In the first round of the 1986 playoffs in a game versus San Francisco his hit on Joe Montana was so explosive it knocked Montana out and changed the game. The one thing I learned from watching Burt that I used when scouting was that if a lineman has a strong wrestling background then he has a chance and Burt was an excellent high school wrestler. Top wrestlers have quick hands and understand leverage, two traits that are very useful to both offensive and defensive linemen.
One added story on Burt. Though Harry Carson was thought to be the originator of the "Gatorade Shower" it was really Burt. During the '86 season, Parcells was very hard on Burt in practice one week. The Giants played Washington that Sunday, won easily and Burt had a strong game. To get his "revenge" for being yelled at so much during the week, Burt dumped the bucket of Gatorade on Parcells at the end of the game. It went on to become a ritual the rest of that season with Parcells getting Gatorade dumped on him after every win. Needless to say that season ended with the Giants beating Denver in Super Bowl XXI at the Rose Bowl. One of the best film clips from that game is Burt celebrating the victory walking on the field with his son Jim Jr. sitting on his shoulders.
And he thought he was going to get cut!