April 29, 2012 -
Greg Gabriel
A look at the AFC East drafts
A lot of fans want to see grades put on their favorite teams' draft; I am not going to do that for a variety of reasons.
Number one, I respect the work that scouts do. Most are very good at what they do and when a team makes a draft selection it is rarely if ever based on one person's opinion. It's more like a collective opinion.
Over the years I have questioned in my mind why a team drafted a certain player and there have been times when that player worked out well. There are a variety of circumstances that go into a player becoming successful. So who am I to question if the club made a good pick or a bad pick, especially if I haven't done work on the player? Trust me, the draftniks who write the draft books haven't seen most of the players they write up and I can guarantee you that they know little if anything about the players taken in the late rounds.
Fans don't like hearing that it takes 2-3 years to fairly grade a draft, but it's the truth. I have seen cases where after the first year a draft didn't look good but then some of the players develop and all of a sudden you have a strong draft. With that being said, here are my thoughts on how the AFC teams did in the draft.
New York Jets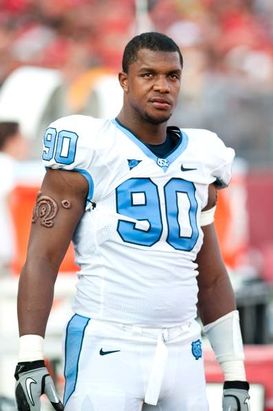 ICONHow does Quinton Coples fit in with the Jets?
Quinton Coples, the Jets first pick, is a very talented player but he underachieved his last year at North Carolina. In my opinion he is a hit or miss type prospect. I'm not sure how he fits into the Jets scheme unless they figure he can be a fulltime 5 technique. If they hit on this player he could be dominant but he also could disappoint. I love their second pick, receiver Stephen Hill from Georgia Tech. Hill is a freak athlete who is very raw. It may take a couple of years but by his 3rd year he may well be the best receiver taken in this draft. Demario Davis is interesting because of his athleticism and upside. He has some pass rush ability as well as the ability to drop into coverage.
Buffalo Bills
When Buddy Nix was named GM in Buffalo a few years ago there were many that questioned the hire because of his age. For some reason in the NFL the people who do the hiring around the league don't look at experience as a strong point. In any other businesses it's a prerequisite. Buddy has been a lifelong football guy and he has done an outstanding job since taking over in Buffalo. In this draft they were able to address many needs and filled them with capable players. Top pick Stephon Gilmore is a top talent. He can cover and support the run and will be a starter very quickly. Offensive lineman Cordy Glenn might not be the answer at left tackle where he played at Georgia but he can be a dominant right tackle or guard. He is a very powerful man. I thought that the Bills may have reached a little with receiver T.J. Graham but he has what the Bills wanted: deep speed. Going back to a 4-3 defense Buffalo needed an athletic OLB and got one in Nigel Bradham. LSU has a deeper group of corners than most NFL teams. Ron Brooks is one of those corners. At another school he may have been considered a star. Trust me, he can play! The Bills needed to add depth along the offensive line and did so with Zebrie Sanders and Mark Asper. Sanders can play either tackle position and Asper can play guard or center. Tank Carder will be a special teams terror while learning the system.
New England Patriots
With the Pats playing more 4-man fronts Chandler Jones will be a great addition. Right off the bat he replaces Mark Anderson, who signed with Buffalo. Jones is just beginning to scratch the surface of how good he can be. I'm not as high on Dont'a Hightower as others. I agree he is a very good player but in the tapes I watched he didn't make as many plays as he should. He may be best at OLB in the Pats scheme. I don't know much about Tavon Wilson other than he is an athletic safety/corner. I'll trust Belichick on that one. Jake Bequette is a tough, hardnosed overachiever. He may never start but he can be a good role player.
Miami Dolphins
I have hammered Ryan Tannehill enough on this site. My main complaint is not that he doesn't have a chance to become a good NFL quarterback but rather do you take that type of player in the top 10? It's a difference in philosophy. I've always thought that if you are going to take a player in the top 10 he has to have an instant impact on your team. If he is going to take 2 years to develop, take him lower in the draft. For Miami's sake I hope he does well. There are some teams that liked Jonathan Martin and other who felt he was overrated. I never thought that he was a first-round pick but getting him in the 2nd is a good choice. I don't see him as a right tackle. He needs to get stronger and more explosive to be a good right tackle in the NFL. Oliver Vernon will be a good player at the 5 technique. Michael Egnew is a move tight end who can create matchup problems for the defense. Don't expect him to be a good blocker, it's not his game. Lamar Miller is an explosive breakaway runner who needs work on the other parts of his game. Josh Kaddu isn't a finished product but he will be a core special teams player while he learns. B.J. Cunningham is a very dependable possession receiver. He has great hands and is a consistent route runner with just a degree of explosiveness.