May 04, 2012 -
Greg Gabriel
A look at the AFC North drafts
One of the stronger divisions and perhaps the strongest division in the AFC is the North. Pittsburgh and Baltimore are consistently at the top mainly because of the leadership of their strong GM's; Ozzie Newsome in Baltimore and Kevin Colbert in Pittsburgh. Last year Cincinnati made a jump and got into the playoffs and the Bengals should show improvement this year and challenge Pittsburgh and Baltimore. Cleveland, though improved, is still at the bottom of the division. Let's look at how each team did in the draft.
Pittsburgh Steelers

Year after year, no matter where they are picking, Kevin Colbert always gets it right. We can say the same this year. When it was the Steelers turn to pick, Stanford guard David DeCastro was there and the Steelers quickly chose him. DeCastro was the best inside offensive linemen in the draft and has Pro Bowl potential. No one has questioned tackle Mike Adams' talent -- it's the well-documented off field issues that have hurt him. Adams is a first round talent that the Steelers got in the second. If he toes the line it will be a great pick. Miami's Sean Spence is an instinctive playmaking linebacker who fits the mold of what the Steelers like at the position. Getting nose tackle Alameda Ta'amu in the fourth round is a steal. He could start right away and plug up the middle. Chris Rainey is an extremely fast situational back who gives the Steelers another big play threat. Like Adams he has had some issues but Pittsburgh's strong locker room should remedy that. This was a very strong draft that could keep the Steelers at the top of the division.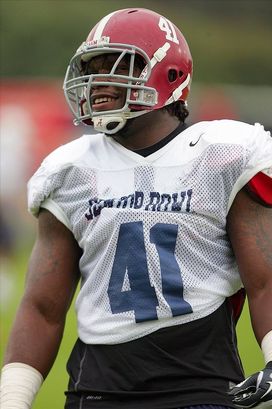 ICONCould Courtney Upshaw step in for Terrell Suggs?
It's amazing how things work out. The Ravens took Alabama OLB Courtney Upshaw because he was the best player available and a top talent. Little did they know that star player Terrell Suggs would tear an Achilles a few days after the draft. Now they have his replacement. Upshaw needs to get down to about 260-265 to be effective in the NFL. Keleche Osemele is a huge offensive tackle from Iowa State who may be best suited inside at guard. Osemele is very strong and powerful but may not have the quickness and range to survive outside. Bernard Pierce is a talented slasher with speed who can take some of the load off of Ray Rice. Safety Christian Thompson is an Auburn transfer with traits. He is not a finished product and will have to produce on special teams while he develops. He has very good speed and athleticism. Asa Jackson is a talented small college player who could end up being a steal. He still has to develop some but can very easily be the Ravens nickel corner in another year. Receiver Tommy Streeter could be another late round steal. He still is raw but has great speed and plenty of upside.
Cincinnati Bengals

I say this every year, but the Bengals -- who often take a lot of heat from fans and "experts" -- have done a great job in the draft the last few years. This sraft was no exception. Dre' Kirkpatrick may have been a top 10 pick if it wasn't for a drug arrest in which he was exonerated. Though he has a slight frame, he is very physical. Kevin Zeitler is another in a long line of excellent Wisconsin offensive linemen. He can play guard or center and will start right away. Many thought Devon Still was a sure first. He has shown some inconsistency but when he cranks it up he is one tough guy to block. Mohamed Sanu hurt his stock when he ran poorly at the combine but came back to run in the 4.55 area at his pro day. He is one of the underrated receivers in this draft and may start opposite A.J. Green. Bernard Thompson is another top flight defensive tackle with starter ability. Combined with Geno Atkins and Still this has the makings of a very good interior line. Shaun Prater is a very good cover corner with ball skills and George Iloka has starter talent at free safety. I thought receiver Marvin Jones was a third round type and gives the Bengals another receiver with speed (4.45).
Cleveland Browns

Cleveland made a great move trading up to get running back Trent Richardson. He doesn't have the rare open field run skills of Adrian Peterson but may be a better overall player. I don't get the Brandon Weeden pick. To me it's a reach based on need. Taking a 28-year-old quarterback who still needs to develop because of the system he played in at Oklahoma State goes against everything I have learned in scouting over 30 years. Weeden is no sure shot to have success in the NFL. Mitchell Schwartz might not win a beauty contest with his frame but he is a very good player and sound technician. John Hughes is a tough overachiever who holds the point but has limited athleticism and may have been a reach. Travis Benjamin is a slight framed burner who can stretch the field but don't expect much underneath.