May 11, 2012 -
Greg Gabriel
A look at the AFC South drafts
Last year both Houston and Tennessee came on to show improvement. Houston was in the playoffs for the first time. This year we see a changing of the guard in Indianapolis with the Colts going from Peyton Manning to first overall draft pick Andrew Luck. How did the rest of the division do in the draft?
Indianapolis Colts
There has been much written about Andrew Luck. I feel he is the best quarterback prospect I have seen since Peyton Manning. He has many of the same intangibles that Manning possesses such as work ethic and passion for the game. It won't be long before the league sees how good this player can be. Second pick Coby Fleener is another in the line of "new breed" tight ends. They are not really tight ends because they seldom line up as inline blockers. They are usually flexed out or in motion. Fleener is perfect for this role with his speed and athleticism and of course he has already played with Luck. Dwayne Allen is different than Fleener in that he is a more traditional tight end. He got a bum rap from some draftniks who said he wasn't a strong blocker. Wrong! All they had to do was go back and look at 2010 tape when Clemson ran a different offense and they could see what kind of blocker Allen really is. T.Y. Hilton is a very fast slot receiver who doubles as a more than adequate return specialist. Going to a 3-4 defense, the Colts had to find a traditional nose tackle. They found their guy in Josh Chapman from Alabama. He should do a good job anchoring the middle. Vick Ballard doesn't have any special trait but he is a tough and consistent inside runner. He won't be the bell cow type but should be excellent in a rotation.
Houston Texans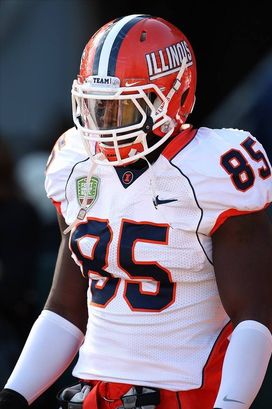 ICONWhitney Mercilus led the country with 16 sacks in 2011 and has the athleticism to play on his feet.
The biggest need Houston had going into the draft was finding a replacement for Mario Williams. They got the perfect guy in DE/OLB Whitney Mercilus from Illinois. A junior coming out, Mercilus led the country with 16 sacks and has the athleticism to play on his feet. I thought it was a great pick. Had DeVier Posey not missed the first 5 games because of an NCAA suspension he might very well have been thought of as a second round receiver. Posey has size and speed and is a good fit for the Texans offense. Third round pick guard Brandon Brooks from Miami (Ohio) is a huge player who despite his size is very athletic. This player has a lot of upside. Ben Jones is a tough, well coached center who can also play guard. Keyshawn Martin may be a fourth round steal. He is an ideal slot receiver to go along with having top return skills. Going into the 2011 season Jared Crick was thought of as a potential first round pick. He had a subpar beginning to the season and then tore a pectoral muscle which required surgery, ending his season. If he can revert back to his 2010 form the Texans got an excellent 5 technique player.
Jacksonville Jaguars
Jacksonville was in need of a big play receiver to help Blaine Gabbert. They got the receiver who most felt was the best receiver in the draft in Justin Blackmon. Blackmon has size, speed and hands to go along with big play ability and immediately becomes the best receiver on their roster. Andre Branch gives the Jags a top edge pass rusher. Some felt he was more of a 3-4 OLB but I feel that he is a great fit for what Jacksonville does on defense. Punter Bryan Anger has a big leg and should upgrade their punting game. Brandon Marshall is a productive four year starter at SAM linebacker but durability was an issue with some teams. Marshall has already had 2 knee scopes on his left knee. Mike Harris is a former JC transfer who was not a fulltime starter at Florida State but got a lot of playing time as the 3rd corner in the games he didn't start. Harris has adequate size and speed and should develop into a solid nickel corner for the Jags. Seventh round pick Jeris Pendleton is a developmental small school defensive tackle.
Tennessee Titans
Kendall Wright is an ideal NFL slot receiver. He is fast and explosive with big play ability. He is a threat to make a big play any time the ball is in his hands. Zach Brown may be the most athletic linebacker in the draft, but one scout told me the equipment manager loved him at North Carolina because he never had to wash his uniform….he never hit anyone or got dirty! Mike Martin is a short but explosive defensive tackle with a non-stop motor. He is active versus the run and pass and though he doesn't get a high number of sacks, he gets consistent pressure from the inside. Corner Coty Sensabaugh is only a one year starter at Clemson but played well and led the team in pass breakups. Sensabaugh has adequate size and speed and is still developing. He will help on special teams while he learns the nuances of playing corner in the NFL. Tight end Taylor Thompson isn't a top blocker but gives the Titans an athletic pass catching threat at the position. He too is a developmental type.