May 10, 2012 -
Greg Gabriel
A look at the AFC West drafts
I thought that the AFC West was going to be a fairly strong division last year; I wasn't close and two teams replaced their head coaches (Kansas City and Oakland). Now with Peyton Manning in the division and Kansas City returning to health the outlook for the division is much brighter. Here is a look at each team's drafts.
San Diego Chargers

The Chargers needed to upgrade their defense and did so with their first three picks. I would imagine that the San Diego brass had no idea that OLB Melvin Ingram would be there for them at 18. Ingram was one of the most highly talked about players before the draft. Going to San Diego, which plays a 3-4 defense, is a perfect fit for Ingram. He is a playmaker with outstanding instincts and he can also play down in some passing situations. Many felt Kendall Reyes would go at the bottom of the first round. Reyes is an active DT who is equally good versus the run and pass. Safety Brandon Taylor was an underrated safety at LSU. He is a bit undersized for the strong safety position but he is a tough physical player with eventual starter potential. Ladarius Green is Antonio Gates' eventual replacement. Green is a move tight end with speed and hands. He is going to have to improve his blocking skills. Penn State guard Johnnie Troutman was drafted even though he needed surgery. He will spend the year on PUP and learn the offense while he rehabs. David Molk is a strong tough guy at center but being less than 6-1 will limit him against NFL linemen. I don't see him being able to play guard, which will not help him dress on Sundays.
Kansas City Chiefs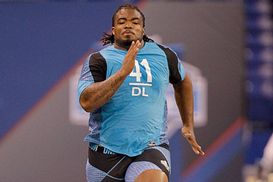 Dontari Poe possesses a rare combination of size, strength and athleticism.
Just as Ingram was talked about a lot before the draft, so was the Chiefs' first pick Dontari Poe. Poe possesses a rare combination of size, strength and athleticism. People criticize him because he didn't make enough plays in college; don't forget he is a junior coming out early and played on a poor team with not much around him to help. Poe is still raw, but he has the talent to be a dominating defensive lineman in the league. I have known Romeo Crennel for almost 30 years, and I know he is the right guy to get Poe to play to his awesome talent. Jeff Allen was a four year starter at tackle for Illinois and should start early in his career in KC. He can play inside or outside but because of his height and arm length may be better off inside. Tackle Donald Stephenson is still developing but has all the traits needed to be a top tackle in the league. Receiver/return man Devon Wylie is a natural slot receiver with great speed (4.39); he should play early. DeQuan Menzie doesn't have the notoriety or skill set of Alabama teammate Dre Kirkpatrick but he is still a good player in his own right. He is a quicker than fast type who will start off as probably the Chiefs 4th corner. Getting Cyrus Gray and Junior Hemingway late were steals. Gray is a good complementary back with hands, speed and vision. Hemingway is an explosive big receiver with hands and speed. If he had played at a school with a strong passing attack he would have been drafted much higher. I thought he was a 3rd to 4th round talent.
Oakland Raiders

The Raiders did not have a regular pick in the first four rounds because of trades and using a pick in last year's supplemental draft. The compensatory picks they had in the third and fourth round were the first picks they had. Their top pick was offensive lineman Tony Bergstrom from Utah. He played tackle in college but is best suited to play inside at the next level. Miles Burris is an explosive athletic outside linebacker with some pass rush skills. Jack Crawford has only been playing football for a few years and is still raw but has a ton of upside as a pass rusher. He needs to get stronger in the upper body. If Juron Criner had run better at the Combine he might have gone 2 rounds earlier. He is a sure handed guy who runs good routes and can be physical.
Denver Broncos

Some thought that Denver might draft weapons for Peyton Manning but instead they drafted players to add depth to the roster. Derek Wolfe is a high motor defensive tackle who improved every year. He had 9.5 sacks as a senior which is almost unheard of for an inside player. He will make his presence felt right away. I'm not as big a fan of Brock Osweiler as others. He has great size and an excellent arm but I question his accuracy and ability to "feel" pass rushers. While he tests out as a good athlete he shows just average ability to avoid pass rushers and takes a number of hits. At almost 6-7 you would think he would have no problem throwing the ball over the outstretched arms of defensive linemen, but that isn't the case. He delivers the ball at about ear height negating his height advantage. San Diego State's Ronnie Hillman is an excellent complementary back and should see a lot of action on passing downs. Omar Bolden missed the entire 2011 season with an ACL injury. As a junior he showed potential starter talent. Philip Blake is a big powerful inside lineman who should be able to play guard or center. Malik Jackson flashes talent but is inconsistent and needs strength work. He may be a year away.