April 30, 2012 -
Greg Gabriel
A look at the NFC East drafts
Yesterday I wrote the AFC East; today I will take a look at the NFC East -- in my opinion, always one of the best divisions in football.
Philadelphia Eagles
The Eagles wanted to upgrade their defensive line and did an outstanding job doing it. First pick Fletcher Cox was perhaps the best defensive lineman in this draft. He has outstanding size to go along with being a very good athlete with strength and explosion. Cox improved with every game. He is a force versus both the run and pass and at 21 years old will keep getting better. He has the talent to be an eventual Pro Bowl player. In the second round Philly got Mychal Kendricks and Vinny Curry. Curry is the perfect complement to Cox. He is an athletic outside pass rusher with a very quick first step, he has strength at the point and does a good job stopping the run. Kendricks might be a little short (5111) but this is one good football player. He is strong and explosive with excellent instincts. With 4.46 speed he is the fastest linebacker in this draft. He is a big time playmaker and has the tools to play either Mike or Will linebacker. Many teams have over drafted quarterbacks the last couple of years. Philly got Nick Foles where he should have been taken…in the third round. Foles isn't a finished product and still needs to develop but he has the tools to be a good pro. Georgia corner Brandon Boykin is similar to Kendricks in that he is a bit undersized but is an instinctive playmaker. He will be a nice replacement for Asante Samuel. The late pick that I liked the most is receiver Marvin McNutt from Iowa. McNutt is a former quarterback who is a very good route runner with soft hands. He ran faster than many thought he would clocking 4.49 at the Combine.
New York Giants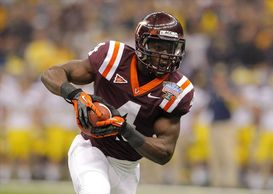 ICONDavid Wilson gives the Giants the fastest and most explosive back they have had in years.
Jerry Reese is "old school" in that he will always take the best available athlete. During the draft, the best available just happened to also fill a need. The Giants needed to get a replacement for Brandon Jacobs and in David Wilson they got the fastest and most explosive back they have had in years. There were reports that the Giants had Rueben Randle as a first round talent. I'm sure they did as did many other clubs. Randle is a speed receiver who should do well replacing Mario Manningham. He actually is bigger and faster than Manningham was. Jayron Hosley is a quick and athletic corner who fits in nicely with what the Giants do on defense. Why Cincinnati didn't use Adrien Robinson much in their passing game is beyond me. His workout numbers were off the charts. This is a 6040, 263-pound tight end who ran 4.56, had a vertical of 39.5, an 11'3 long jump and a 7.10 3 cone. I don't know if there is a tight end in the league with numbers that good! Brandon Mosley is an athletic offensive tackle who is still developing but has a lot of upside.
Washington Redskins
If the only person they drafted was RGIII they would have had a successful draft. Griffin III still needs to learn to play from under center, but he has all the tools to become a great pro. His deep ball accuracy is as good as I've seen in the last few years. Josh LeRibeus is a tough try hard guy who should be able to play guard or center. He is very strong with limited area quickness. The 'Skins drafting Kirk Cousins was a surprise to me after already getting RGIII. I don't see Cousins as having eventual starter type traits but I feel he can be a very good NFL backup. Tackle Tom Compton from South Dakota is a big strong left tackle who will probably have to move to the right side in the NFL. He should be a quality backup with a chance to start down the road.
Dallas Cowboys
The Cowboys drafted the best corner and one of the top players in the draft in LSU corner Mo Claiborne. He will start immediately and be an upgrade. Tyrone Crawford is a high motor tough 5 technique with better than average pass rush skills. Kyle Wilbur is another high motor, good athlete 3-4 OLB. He has good instincts but still needs to develop his strength. He is a down the road starter for Dallas. Matt Johnson from Washington State may have been a bit of a reach at this point of the draft but he has the skills to develop. Will be a backup and special teams performer to start out. Danny Coale is a sure handed possession receiver. While he ran 4.45 at the Combine he doesn't play to that speed. James Hanna from Oklahoma has excellent speed to go along with good hands. He will play the role of a move tight end as he is not much of a blocker.