May 01, 2012 -
Greg Gabriel
A look at the NFC North drafts
Probably one of the most competitive divisions in the NFL is the NFC North. Last year Detroit took a step forward and got to the playoffs for the first time in years. If Jay Cutler hadn't broken his thumb 3 teams in that division would have been in the playoffs. As usual all the teams made moves to improve their clubs. Let's take a look.
Minnesota Vikings
The Vikings went into the draft with two glaring needs: offensive tackle and defensive secondary. Knowing that they were safe in still getting tackle Matt Kalil with a trade down they moved down 1 slot, got some extra picks and then made the selection. Kalil, while not quite as good as the number 1 tackle in some previous drafts, still is a darn good player and instantly makes the Viking line better. With their next pick they selected safety Harrison Smith from Notre Dame. The Viking coaches worked with Smith for a week at the Senior Bowl and know what he brings to the table. With their next pick they were able to draft corner Josh Robinson, who may have been the fastest player at the Combine. Robinson is just beginning to scratch the surface of how good he can be and has a bright future. Jarius Wright gives the Vikings a speedy slot receiver and Rhett Ellison is a combo TE/FB. Greg Childs is a speedy big receiver with inconsistent hands and Robert Blanton is a physical corner/safety. Kicker Blair Walsh has a big leg but was inconsistent his last year at Georgia. This draft upgrades the Vikings in several areas and closes the gap between them and the rest of the division.
Detroit Lions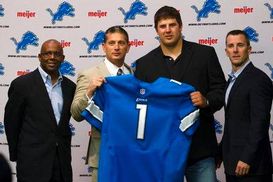 The Lions hope that Riley Reiff can eventually replace Jeff Backus.
Getting Riley Reiff with the 23rd pick I think is a steal. I felt he was a top 15 type of player. Some teams worried about his 33.5" arms but he is a very good technician and has been well coached. He is similar to the player he will eventually replace: Jeff Backus. You have to say receiver Ryan Broyles is a question mark. He tore his ACL late in the season and who knows when he will be 100 percent. Yes he was able to run a good 40 a week or so before the draft but that isn't contact. He has had a history of injuries while at Oklahoma. There are a number of scouts who like corner Dwight Bentley and he had a strong Senior Bowl week against top competition. Ronnell Lewis will be a good fit at SAM linebacker, he can also play with his hand in the dirt on passing downs. Chris Greenwood is a project coming from small school Albion but he has the natural tools to work with. After Reiff I felt this draft was questionable and not as good as they have done the last few years.
Green Bay Packers
Green Bay has an excellent scouting department and the Packers always seem to do a good job on draft day. Their first pick Nick Perry is an athletic OLB who can play up or down on third down. While not in the same class as Clay Mathews, he is a fit for what Green Bay does. Defensive tackle Jerel Worthy is another player who fits the scheme. He is not a top pass rusher but he is strong at the point, can occupy blockers and play the run. Casey Hayward is one of the most instinctive corners in the draft. He excels in all phases of coverage: press man, off and zone. Mike Daniels from Iowa is an undersized overachiever who gives Green Bay some pass rush ability from the defensive line. The most interesting late pick may well be quarterback B.J. Coleman from Tennessee-Chattanooga. This kid is a very heady player with a strong passion for the game. Green Bay may just be the perfect spot for him to learn. Tackle Andrew Datko from Florida State has talent but has had a number of injuries during his college career. He has to prove he can stay healthy.
Chicago Bears
The Chicago media naysayers say first pick Shea McClellin is an undersized 3-4 OLB not a DE. Wrong! After all these years you would figure they would know Lovie Smith's defense. The ideal DE in Lovie's scheme is an undersized up field pass rusher. That's McClellin's game, as he is in the mold of Alex Brown and Mark Anderson. He is a high motor guy with speed and very good hand use. He will fit in very nicely in this scheme. Second pick Alshon Jeffery is a tall rangy receiver with excellent hands. Combined with Brandon Marshall, they create some serious matchup problems for opposing defenses. Third pick Brandon Hardin from Oregon State missed the 2011 season with a shoulder injury. He is a big guy (6-3 and 217) with 4.45 speed who was a press corner in college. The Bears see him as safety who can match up with the athletic tight ends in the league. Evan Rodriquez is a combo move TE/FB who is similar in style of play to New England's Aaron Hernandez. The Bears last two picks, corners Isaiah Frey and Greg McCoy, are a bit undersized but very fast and athletic. Both run in the 4.4 range and have shown excellent return skills. McCoy has a chance of being a very good kickoff return man. In size, speed and athleticism they compare favorably to Green Bay's Sam Shields, who was an undrafted free agent 3 years ago. It remains to be seen if they play as well as Shields has with the Pack.