May 03, 2012 -
Greg Gabriel
A look at the NFC South drafts
For the last several years, New Orleans and Atlanta have been ruling the NFC South. This year I can see Carolina challenging for the top mostly because it will be Cam Newton's 2nd year. He had the greatest rookie year ever by an NFL quarterback and I'm afraid we have only begun to see how good this player can be. After last week's draft many of the clubs feel they improved themselves. Let's see how much.
Carolina Panthers
Like many around the league, until a few days before the draft I thought Carolina was going to take a big defensive lineman with one of their high picks. I then heard GM Marty Hurney in an interview explain that they felt good about their interior defensive line. Right before the start of training camp last year the Panthers signed DT Ron Edwards as a UFA. Two weeks into camp he tore a triceps muscle and was out for the year. He's back as well as e players who were rookies last year (Sione Fua, Terrell McClain and Frank Kearse), Just by the mere fact that they had a lot of play time last year means they will be better.
With that in mind, the Panthers chose Boston College linebacker Luke Kuechly in the first round. Kuechly was the best linebacker in this draft and may be the best linebacker prospect in the last few years. He can play all 3 positions and is an every down player with outstanding instincts. In the second round, the Panthers picked guard Amini Silatolu from Midwestern St in Texas. SIlatolu totally dominated a lower level of comp and has the traits to become a very good linman in the league. I have heard some say he could be the next Larry Allen. Defensive end Frank Alexander will start off as a rotational player at defensive end but should work his way into a stating roll by year 2. Joe Adams is an ideal slot receiver and could be an eventual replacement to Steve Smith. Corner Josh Norman is another small school player who dominated at a lower level of comp. He has eventual starter traits but needs to refine his skills. Sixth round punter Brad Nortman has a strong chance to win the punting job. This is two straight strong drafts by the Panthers and they are well on their way.
New Orleans Saints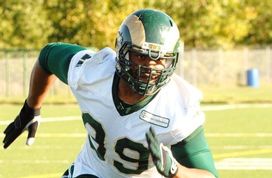 The Saints didn't have a pick until the third round and selected defensive tackle Akiem Hicks.
The Saints didn't have a pick until the third round and then selected defensive tackle Akiem Hicks from Regina in Canada. Hicks is fron California and originally went to a California JC. He then transferred to LSU but because of some impermissible benefits never enrolled there and ended up at the Canadian school. He dominated competition in Canada and then played well at the East-West game. This is a talented kid with size, strength and athletic ability who just needs to refine his techniques. Nick Toon form Wisconsin is a big sure handed receiver with some speed but lacks a degree of explosiveness. There are a lot of scouts who liked defensive back Corey White of Samford. He can play either corner or safety. Andrew Tiller is a tough guard form Syracuse with average athleticism.
Atlanta Falcons
The Falcons did not have a pick until the second round and selected center Peter Konz from Wisconsin. Konz can play either guard or tackle and like most Wisconsin linemen is well coached and technique sound. Tackle Lamar Holmes played on the left side at Southern Miss but will play right tackle for Atlanta. Like Konz he is a tough guy but he has to do a better job staying on his feet. You don't find many pure fullbacks anymore but that's just what Bradie Ewing is. He is a good blocker and special team's player. Like most fullbacks he seldom carries the ball but he does show some inside run skills. As a sophomore, defensive end Jonathan Massaquoi showed top pass rush potential with 13.5 sacks. He gained weight for 2011 and his production dropped off to 6.5 sacks. He flashes some special pass rush traits but is going to have to keep his weight under control. If that happens, the Falcons have a good situational pass rusher who can develop into an every down player.
Tampa Bay Buccaneers
There are some who felt the Bucs had the best draft in the league. While I feel it was very good, everything is on paper now and we have to see how they turn out. First pick safety Mark Barron was clearly the best safety in the draft. Some analysts described him as a box safety which can't be further from the truth. At Alabama he lined up at both strong and free safety and also played as the nickel linebacker in some sub packages. Barron has very good cover skills for a safety with loose hips. He often was put in man to man cover situations with inside receivers. He is also a top run support guy and leader. Running back Doug Martin is an every down back with the speed to get outside and the toughs and power to run inside. He is a very good blocker and receiver as well. Lavonte David is the perfect WILL linebacker. He has instincts, speed and suddenness. He should start from day 1. Najee Goode is another highly instinctive linebacker who excels versus the run. His blitz ability is good also having gotten 5 sacks in 2011. Keith Tandy is a good zone corner who may not have the play speed to excel in man coverage. Running back Michael Smith may have been a steal in the sixth round. He has good run skills, catches the ball well and is strong.