May 08, 2012 -
Greg Gabriel
A look at the NFC West drafts
With Seattle signing first round pick Bruce Irvin yesterday, it is time for me to write up the NFC West.
Seattle Seahawks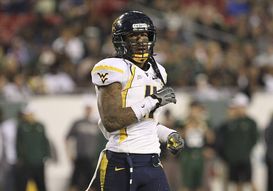 ICONBruce Irvin is a natural pass rusher with sub 4.5 speed.
One thing is evident, Pete Carroll and John Schneider could care less what others think of their draft. They take players that many experts thought were reaches, but they felt they were good fits for their offense and defense. Seattle had the first shocker of the first round when they selected defensive end Bruce Irvin from West Virginia. Irvin is undersized at 6-3 and 245, but he has the frame to easily carry 255. He is a natural pass rusher with sub 4.5 speed. While many were surprised that Irvin went as high as he did, there were at least 2 other teams waiting to take him later in the round. Second pick Bobby Wagner is an instinctive playmaker who is a bit undersized. Third pick quarterback Russell Wilson was a surprise. Wilson is only 5-10 and short quarterbacks have struggled in the NFL but Wilson has been successful at both N.C. State and Wisconsin. He is a very strong leader and consistently comes up with big plays. Robert Turbin will be a good complement to Marshawn Lynch. While he has speed, he is more of a power back. Jaye Howard is an athletic, active defensive tackle who fits in well with what Seattle does. Korey Toomer is another speedy, athletic linebacker who fits the scheme. Corner Jeremy Lane is raw but has the tools to eventually develop into a starter.
St. Louis Rams

I tweeted during the draft the question "did the Rams outsmart themselves by continuing to move back?" Had they stayed put at 6 they could have drafted DT Fletcher Cox. I'm not saying that top pick Michael Brockers isn't going to be a good player…he will, but he does not have the pass rush skills or athleticism of Cox who fits what Fisher likes to do on defense better than Brockers. I did a lot of work on Brian Quick and I think there is good upside but he will not stretch the field. He's a big possession receiver who is still raw. He will need a lot of work on developing his route running skills. Janoris Jenkins is as talented as any corner is the draft but he has a lot of issues that he may never overcome. Speedy Isaiah Pead will be an excellent complement to Steven Jackson and may eventually replace him. Trumaine Johnson is another talented corner with some issues. With Jenkins, it gives the Rams the best pair of rookie corners in the league (talent wise). Wake Forest's Chris Givens is an excellent vertical threat but he has small hands and some question his toughness. Rokevious Watkins is a big bodied tackle/guard who will give the Rams solid depth up front. On paper, the Rams may have the best draft in the league, but many of the players also have some degree of risk. It will be interesting to see how they progress during camp and the season.
San Francisco 49ers

Last year under Jim Harbaugh the 49ers became one of the better teams in the league. They have drafted very well the last few years and seem to have done the same thing this year. Receiver A.J. Jenkins is a legitimate deep threat but needs to become a bit more physical player. In running back LeMichael James they drafted a difference maker when he has the ball in his hands. Because of his size limitations his touches have to be limited. I don't see Joe Looney as an eventual starter but he provides quality depth, Linebacker Darius Fleming is a solid fifth round pick. He can play the run and rush the passer and fits in nicely with the OLBs the 49ers already have. Defensive back Trent Robinson from Michigan St. played safety in college but has the skill set to play either corner of safety in the NFL. He has excellent instincts. Many thought Cam Johnson from Virginia would get drafted in the top 3 rounds. He has the frame and athleticism but hasn't always converted those natural traits to production. He could be a 7th round steal.
Arizona Cardinals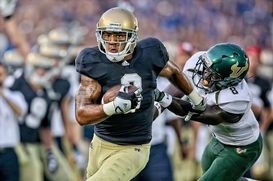 ICONMichael Floyd will make Larry Fitzgerald that much better.
Receiver Michael Floyd grew up idolizing Larry Fitzgerald. Now he gets to play with him. It was the perfect place for Floyd to go as he gets to learn from one of the game's best. Having Floyd around will make Fitzgerald that much better. Jamell Fleming is more of a zone corner with ball skills but he has the natural traits to develop the other parts of his game. He will become an eventual starter. Tackle Bobbie Massie is a steal in the 4th round. He has starter talent and gives the Cardinals a player at a position of need. Senio Kelemete played tackle at Washington but is more suited to play guard at the next level. He is tough and physical and could end up being an eventual starter. Justin Bethel is a talented small school corner who should excel on special teams as he picks up the nuances of the pro game. Ryan Lindley has size and arm strength but needs work on his release and accuracy. If he puts it all together the Cards may have found themselves a late round player. Tackle Nate Potter from Boise St. had to deal with some injury issues leading up to the draft but he is a tough kid who has the talent to become a a starting left tackle down the road. He was an excellent 7th round selection.