April 13, 2012 -
Greg Gabriel
A look back at the 2009 NFL Draft's first round
If you have been watching the NFL Network or ESPN the last few weeks we have seen a lot of coverage of this month's NFL Draft. As they go over many of the prospects in this draft they tell us how they will be difference makers or All-Pros for the club that drafts them. The fact is, very few really become difference makers. Most turn out to be average rank and file type players. Some are complete busts.
Right after the draft we will see many put grades on a team's draft which makes good reading for fans but in actuality is ludicrous. It takes a good 2-3 years to see of a draft turned out okay for most clubs. With that in mind, let's look back at the players taken in the first round of the 2009 Draft and see if they really lived up to their hype 3 years ago.
1) Matthew Stafford – Detroit – He has made a huge difference for the Lions and has played up to being the number 1 pick in the Draft.
2) Jason Smith – St. Louis – Has to be a disappointment. He was drafted to be their left tackle and was moved to the right side after 1 year. Now he is fighting for his job.
3) Tyson Jackson – Kansas City – Has been a steady run stopper but when you see just 2 sacks in 3 seasons that has to be a disappointment.
4) Aaron Curry – Seattle – Has already been traded to the Raiders because the people in Seattle didn't like his play. Disappointment.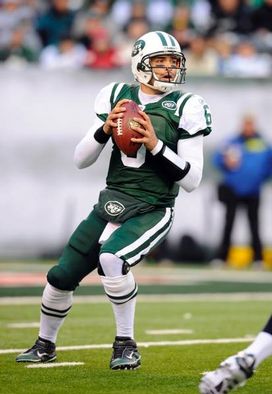 ICONCan Mark Sanchez be more consistent?
5) Mark Sanchez – Jets – Has been an inconsistent player at best. To date I think the Jets expected more. Disappointment.
6) Andre Smith – Cincinnati - Andre has been a steady but unspectacular starter at right tackle. Always has to watch his weight.
7) Darrius Heyward-Bey – Oakland - Was a disappointment his first two years. Came on in 2011 with 64 catches. If he can come back with another good season then he will have been a good pick
8) Eugene Monroe – Jacksonville – Has been a steady player at left tackle. Probably the Jags best offensive lineman.
9) B.J. Raji –Green Bay – A great pick! One of the better nose tackles in the league.
10) Michael Crabtree – San Francisco – Has been a steady player, but hasn't quite lived up to expectations when he was drafted. Has had to battle injuries.
11) Aaron Maybin – Buffalo – Bust! Has already been cut and trying to resurrect his career in New York with the Jets.
12) Knowshon Moreno – Denver – Started off well as a rookie but has been hurt by injuries. A smaller back who tries to play big and that doesn't work in the NFL.
13) Brian Orakpo – Washington – A college defensive end turned 3-4 outside linebacker. Has been very good with 28.5 sacks in 3 seasons. Does a great job with Geico commercials.
14) Malcolm Jenkins – New Orleans – We have to say a bit of a disappointment because he was drafted to be a lockdown corner and he is playing safety. Only 3 career interceptions.
15) Brian Cushing – Houston – Excellent pick! Except for a league suspension for the use of performance enhancing drugs he has been one of the leaders of the Texans defense.
16) Larry English – San Diego – Many felt English was a reach, his production to date bears that out. Flashes as a pass rusher, but injuries have also affected his play.
17) Josh Freeman – Tampa Bay – In 2010 this looked like a great pick but then the bottom fell out last year. Is playing for a new coach this year and so the jury is still out.
18) Robert Ayers – Denver – Another player held back by injuries but came on last year under new coach John Fox. The future looks bright.
19) Jeremy Maclin – Philadelphia – A steady number 2 receiver for the Eagles. Gets better every year. A solid pick.
20) Brandon Pettigrew – Detroit - An old-fashioned "Y" tight end. Can block, runs good routes and has good hands. A very good pick.
21) Alex Mack – Cleveland – A very solid pick. Centers don't get much pub, but Mack is a good player.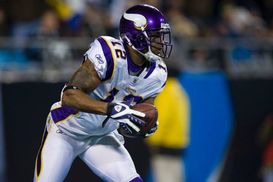 ICONPercy Harvin is still improving as a receiver.
22) Percy Harvin – Minnesota – As good as he has been, I think we all expected a little more because he has such great big play ability. Still getting better with experience and a player that defenses fear.
23) Michael Oher – Baltimore – Drafted to be a left tackle but had some trouble there but has been a steady winning right tackle. Good pick.
24) Peria Jerry – Atlanta – His career has been set back by injuries and hasn't done much when he has been able to play. Has to have a big year this season.
25) Vontae Davis – Miami – A starter at left corner and has been a steady player. Has 9 career interceptions.
26) Clay Matthews – Green Bay – One of the best picks in the first round. A Pro Bowler and feared pass rusher as a 3-4 outside linebacker.
27) Donald Brown – Indianapolis – Has only 1,423 career rushing yards in 3 seasons. Has to be labeled a disappointment.
28) Eric Wood – Buffalo – Started off strong but then had a horrific knee injury. Some thought his career may be over. Came back to play solid football last year. Should be a steady anchor for Buffalo's line.
29) Hakeem Nicks – Giants – After the Combine many felt he would be a top 15 pick but then gained about 15 pounds between the Combine and his pro day and some teams fell off him. Their loss was the Giants gain. Has been the best receiver in the 2009 Draft.
30) Kenny Britt – Tennessee – Injuries and off-field issues have held Britt back. Has unlimited talent but hasn't played up to that talent.
31) Beanie Wells – Arizona – Before last season Wells was thought of as a disappointment. If he can pick up where he left off last year he should be one of the better backs in the NFC.
32) Ziggy Hood – Pittsburgh – A solid but unspectacular starter on the Steelers 3-4 defense. Excellent versus the run but an average pass rusher.