August 13, 2014 -
Greg Gabriel
A new era
Shortly after the Jaguars selected Central Florida quarterback Blake Bortles with the third overall pick in May's draft, Jacksonville general manager David Caldwell announced that the team's newest acquisition would not be starting this season. Caldwell stated that the plan was for Bortles to watch and learn in 2014 and then assume the starting job in 2015. Through the first part of training camp, that philosophy has held true.
According to reports, Bortles has gotten very few reps with the first offense and has spent most of his time with the second unit. In the Jaguars' first preseason game against Tampa Bay, Bortles did not enter the contest until midway through the second quarter where he played with the second team offense.
As most readers of this site are already aware, I am not a Blake Bortles fan. In clarifying that, it's not that I don't like him. I just happened to feel that he was vastly overrated. I thought there were at least three quarterbacks better than Bortles in this past draft. Still, I recognize his traits and his upside.
In the opening game, there were various media reports that stated Bortles was outstanding during his first outing. After watching the game tape, I will say he played well for a rookie in his first game, but "outstanding" is a bit of a stretch.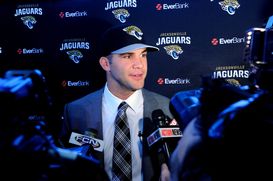 The first quarterback selected in the 2014 draft, Blake Bortles may not see the field until 2015.
Bortles was in the game for four series and the Jaguars put a total of three points on the board. His stats were good and, in all honesty, Bortles got a little better with each series. The field goal came on his final series of the game.
On the evening, Bortles went 7/11 for 117 yards. He did not throw a touchdown nor did he throw an interception. He ran one time for seven yards and was sacked once.
In his first series, Bortles played from both under center and in a shotgun. His first throw was broken up, mainly because he was late getting the ball out of his hand. The receiver had to wait on the throw, giving the defensive back an opportunity to close on the ball and make a play.
Bortles' next throw was a very nice toss and was completed for a 24-yard gain on a turn-in route. He showed good timing, a quick release and had good zip on the ball. His next throw was good for nine yards on a turn-in, but it was called back because of offensive interference. On that play, the rookie from Central Florida started down the receiver and never looked at anybody else. Had this play been against the starting defense it may have been intercepted. He had another throw in the series that was broken up by a defensive lineman. It was a short seam route and Bortles failed to see the defensive lineman drop into coverage.
During his next series, Bortles had an excellent throw on a comeback route. This was the first time he looked one way and came back to the other side of the field. Later in the game, he completed a pass on the same play. Bortles' second series ended when he was high on a deep out throw to the slot. He again stared the receiver down on the play.
The rookie's last series of the half lasted only three plays, as Bortles was sacked on second down and took away any chance of Jacksonville trying to score in the final minute of the half.
In the third quarter, Bortles played in Jacksonville's opening series and I thought this was his best effort of the night. He was 4/5 on that drive, including a nice 31-yard seam pass to Mike Brown. If there was a negative on this drive, it came on Bortles' final pass, which was high and behind his receiver who was running a slant. A completion would have kept the drive alive. Instead, the Jags had to settle for a field goal.
Overall, Bortles had a stronger game when compared to fellow rookies Teddy Bridgewater and Derek Carr. I thought Manziel's play was a little stronger and his command of the huddle was better. Both Bortles and Manziel had a confidence about them that was far more noticeable than with Carr or Bridgewater. Just to throw a little water on the fire, as good as Bortles and Manziel looked, Chicago's David Fales outplayed both of them….but that's for another article.
Follow Greg on Twitter: @greggabe