March 08, 2011 -
Greg Gabriel
A post-Combine look at the first round
After the combine there is always a group of players that get a post-combine bump and create some hype in the media. Scouts and coaches then go back and look at the tape to see if their original opinions are still valid. With that being said, and after talking to several scouts and coaches, there is a pretty good chance that the first round will come from the following group of players. Today we will look at the offense and on Thursday we will talk about the defense. As always, medicals, character checks and March workouts (both pro days and private) will also play into what will be reality come April.
Quarterbacks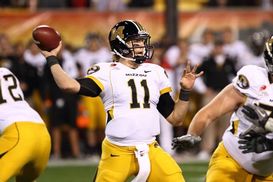 ICONWould you build your offense around Blaine Gabbert?
At this time, I am only hearing three names as potential first-round quarterbacks. They are Cam Newton of Auburn, Blaine Gabbert of Missouri and Ryan Mallett of Arkansas. In many years, a quarterback is taken number 1 overall in the draft. I don't think that will be the case this year. None of the three is in the same league as Sam Bradford, Matt Stafford (both went No. 1 overall) or Matt Ryan (who went No. 2 overall). Newton has some great traits to work with and has tremendous potential but he is a long ways away from being ready to play in the NFL. When you throw the character questions into play that makes him an even larger risk. He will go high but I doubt he will go in the top 3. Mallett has a group that likes him and another that doesn't (I'm in that group) but because of the value of the position he will probably go somewhere in the first round.
Running Backs
From what I'm told, there is only one sure first-round pick and maybe two. Mark Ingram doesn't have great workout numbers but he is has great production and has come up big time and time again in big games. His numbers aren't any worse than Emmitt Smith, who just happens to be the greatest rusher of all time. The other back I'm hearing could go in the first is Da'rel Scott of Maryland. He gets mentioned because of his great combine workout and not his overall production. He is 5-11 and 211 pounds, and he ran an average of 4.34 as well as having fairly good numbers in the agility drills.
Wide Receiver
This year is a strong receiver class, and teams looking to draft a wideout will get a good player into the mid rounds. On top of the list is Julio Jones, who not only had a great career at Alabama but he tore it up at the combine — with a broken foot no less! He will have surgery to repair the broken bone but it shouldn't have that big of an effect on his draft stock as long as the surgery goes well. I'm sure the interested teams will have post-surgical examinations done as well as check X-Rays close to the draft to see how his foot is healing. The other strong bet first-round wide receivers are A.J Green and Jon Baldwin of Pitt. A year ago Baldwin was looked at as a can't-miss first-round pick but his play fell off during the 2010 season. He recovered with a strong combine and his '09 tape is excellent. There are a few other receivers who could go in the first round. They would be Leonard Hankerson of Miami, who had a strong Senior Bowl week and followed it up by running a lot faster than many though he could. His 40 times averaged 4.3. Torrey Smith of Maryland has good tape and can run (4.42) but his small hands concerned (8 5/8) some teams and he was very average catching the ball in Indy.
Tight End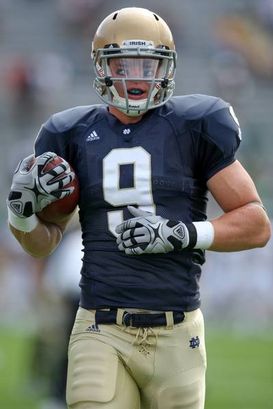 ICONWill Kyle Rudolph's injury history scare teams off?
Last year was one of the best tight end classes in years; this year's class has some good players but is not nearly as strong as the class in 2010. The only player that people have told me has a fairly sure chance of going in the first round is Kyle Rudolph of Notre Dame. He is a junior coming out early and has been very productive but he also has had durability issues. He still hasn't worked out following surgery in late fall. If he doesn't work out well, he could drop to the second round.
Offensive Line
The "Big Uglies." Many feel they are boring picks but you can't win in the NFL without a strong offensive and defensive line. The safest picks you can make high in a draft is with offensive linemen. In most years, 6 to 8 linemen go in the first round. This year will be no different. If a team doesn't do a good job drafting offensive linemen they end up mortgaging their future by overpaying in the free agent market. I believe you should draft at least one offensive lineman every year. The linemen who should go in the first are Gabe Carimi of Wisconsin; he has been a very productive starter and should be able to play right or left tackle. Anthony Costanzo of Boston College is a good pass blocker but needs to become a better run blocker. Nate Solder of Colorado is similar to Costanzo; he has good pass block skills but needs to improve his run blocking. Ty Smith of USC is a junior and maybe the most athletic of the offensive linemen. Mike Pouncey of Florida isn't quite as good as his twin brother in Pittsburgh but he can have value at two positions. Derek Sherrod of Mississippi State has great size to go along with good power and athleticism and played well in the best college football conference in the country. Ben Ijalana of Villanova is a dominant FCS player who was hoping to prove his talent at the Senior Bowl. He had double sports hernia surgery in December and hasn't been able to work out yet but will before the draft. Because of the surgery and coming from a small school he is still a question mark, but scouts tell me you can't discount his excellent tape.